Celebrity Smiles
Stars share their stories of cosmetic and implant dentistry to benefit you!
Some of the most captivating celebrity smiles have been featured in Dear Doctor magazine over the years. Our cover actors, athletes, musicians and television personalities have shared with us all kinds of information about their own oral health that, well, no one before Dear Doctor ever thought to ask. So how did these luminaries come by such beautiful smiles? For some, it's been as simple as good oral hygiene, attention to nutrition, and an occasional over-the-counter whitening treatment. For others, it's the culmination of years of "braces… and pretty much every contraption that you can have around braces," according to one young star we spoke with not long ago. Still others needed significant restorative work after painful accidents. Happily, all of these stories end well. In the following pages, we bring you the most interesting tidbits and tips we've heard in our exclusive interviews with some of your favorite stars. What they reveal may surprise you!
Christie Brinkley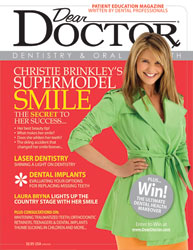 Since her debut in the early 1970s, Christie Brinkley's cheerful, wholesomely beautiful face has graced more than 500 magazine covers — including an unprecedented three consecutive Sports Illustrated swimsuit editions. Christie told us she was lucky to inherit her mom's beautiful, straight teeth, "along with the intelligence to take care of that gift by practicing good oral hygiene and having regular dental appointments." When she injured her beautiful teeth in a helicopter crash while back-country skiing, Christie benefited from today's state-of-the-art tooth-replacement technology. "I fractured two molars in the back of my mouth and I had to get two dental implants," she said. "I am grateful for the dental implant technology that feels and looks so natural."
Read Christie Brinkley Interview
Howie Mandel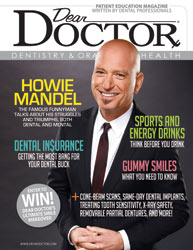 As a comedian who specializes in hilarious, adrenaline-fueled stunts, Howie Mandel smiles constantly. In fact, you'd be hard-pressed to find a picture of him not smiling. But even the most ready smile can lose some of its luster. After several decades in show business, the stand-up comic, actor and TV host decided his teeth could use some brightening. "I'm 57 years old and you have a tendency to lose the [appealing] color," he said, "so I did some work and I had them made nice." Howie opted for dental veneers — thin, tooth-colored coverings that give the teeth a whiter, more uniform appearance.
Olivia Newton-John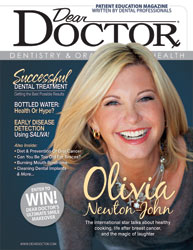 International pop sensation Olivia Newton-John's mom taught her healthy habits that have served her well — especially during a battle with breast cancer in which Olivia was the victor. "I took good care of myself with diet, exercise, meditation and positive thinking to get myself through it," Olivia told us. Maintaining her oral health is also a top priority. "My mum always made us brush and floss after every meal so, once again, like the foods we ate, she taught us early about the importance of great dental hygiene," said Olivia. Today Olivia protects her radiant smile with a custom-made oral appliance. "I wear a nightguard to prevent wear on my teeth, custom-made by my dentist," she said. "I love it!"
Read Olivia Newton-John Interview
Jerry Rice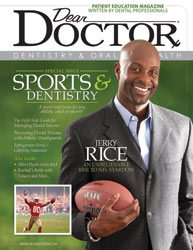 As legendary wide receiver Jerry Rice knows, "football can be brutal — injuries, including those to the face and mouth, are a common risk for any player." Fortunately, Jerry's smile is intact after a stellar 20-year NFL career that landed him in the Pro Football Hall of Fame as soon as he became eligible in 2010. He told us that he did chip a couple of teeth during his decades on the field, but full-coverage dental crowns restored them to full form and function. In fact, it was only upon joining the NFL that he became a regular visitor to the dentist's office. "We only went to the dentist when we needed to," he recalled of his youth. These days, Jerry goes regularly for dental cleanings and occasional teeth-whitening treatments.
Read Jerry Rice Interview
Mario Lopez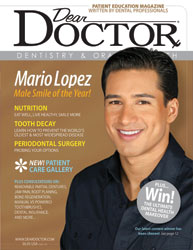 Since he won Dear Doctor's Male Celebrity Smile of the Year title in 2008, TV heartthrob Mario Lopez has become a husband, a father and host of the talent competition X Factor. He credits his seemingly boundless energy and sparkling smile to a lifestyle of good nutrition and regular exercise. "The only way I can meet the demands of life — including career and family — is to take care of my body," said Mario, an amateur boxer and fitness book author. That commitment to overall health and fitness extends to his much-admired smile, which he maintains with disciplined oral hygiene and occasional use of over-the-counter teeth-whitening products. "A family history of healthy teeth has also helped," Mario said.
Kristin Cavallari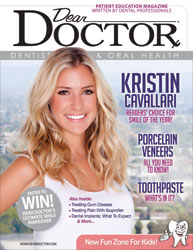 Reality TV star and new mom Kristin Cavallari needed lots of help from her orthodontist to achieve the beautiful smile that Dear Doctor readers voted the best of 2012. "I had braces growing up and pretty much every contraption that you can have around braces," she said. Kristin's orthodontic treatment began in sixth grade when she was fitted with a device called a palatal expander, which is used to guide upper jaw growth in younger patients. Kristin had four braces put on her front teeth for about six months, a technique often used along with an expander to shorten overall treatment time, and then a full set of braces for another year. When she was done, the results were spectacular. "Thank goodness, since my parents spent all that money for dental work!" she joked.
Read Kristin Cavallari Interview
Vanna White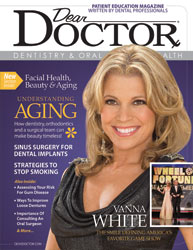 As one of television's most recognizable game show hosts, Vanna White has charmed viewers with her warm smile for three decades. The Wheel of Fortune letter-turner has had several cosmetic and restorative dental treatments to help her look her best, including professional whitening treatments with custom-made bleaching trays. "Once or maybe twice a year I will do a little bleaching because I do drink coffee and occasionally some red wine," Vanna said. "I have done over-the-counter and professional bleaching, but I do like the trays my dentist made because they fit perfectly." Vanna also has a dental bridge to replace a missing tooth, and protects her smile with a nightguard. "I do sleep in a nightguard because I grind my teeth," she said.
Nolan Gould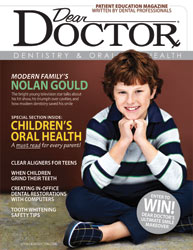 Teen television actor Nolan Gould impressed us with his dedication to keeping his teeth healthy. "I want to put dental care and oral hygiene first because it's really important," the Modern Family star told us. Nolan started visiting an orthodontist at age 7 because, in his words, "my teeth used to be pretty messed up. I had two extra teeth when I was born. They hadn't come out (erupted) yet. And all the other teeth that were already there were starting to point backwards because it was getting so crowded in my mouth." After Nolan's two extra teeth were extracted, he began wearing removable orthodontic appliances called Crozats to bring the rest of his teeth into alignment. "You can't see them," Nolan said. "I can wear them 24/7 and nobody will ever notice."
Jillian Michaels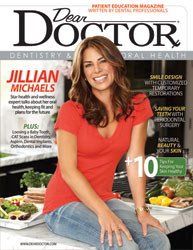 The Biggest Loser host Jillian Michaels has a winning smile — thanks to cosmetic dental treatments that restored the two front teeth she knocked out in a swimming-pool accident when she was a child. Jillian now has two completely natural-looking dental crowns, and she makes sure to protect them. "I generally wear a mouthguard if I'm doing anything where my teeth have any chance of being knocked out," the fitness expert and former martial artist told us. Jillian's radiant smile has also benefited from braces and whitening treatments, along with regular professional care. "I have an amazing dentist who I see at least twice a year for cleanings," she said.
Read Jillian Michaels Interview
Kathy Ireland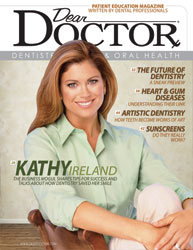 After suffering a serious blow to her world-famous face in a fall off her children's wagon, supermodel Kathy Ireland — who graced the cover of the best-selling Sports Illustrated swimsuit issue of all time — needed several cosmetic dental treatments to restore her stunning smile. These included numerous dental veneers and a dental implant, which Kathy said was a "pretty easy" procedure to tolerate. "I remember my dentist explaining what was going to happen — that was interesting," Kathy said. The rest of the treatment was uneventful. "I have to tell you, after being a mom and having kids, going to the dentist for me is like going to the spa. I get to sit down and relax," she said. "Oh my gosh, one time I even fell asleep in the dental chair! I love getting a moment to relax."
Cheryl Burke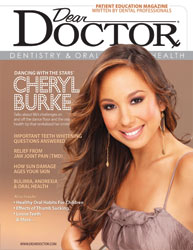 As a professional ballroom dancer, Cheryl Burke of Dancing with the Stars understands the impact of a bright and beautiful smile. "As a performer, you're basically smiling the whole time," Cheryl told us. "It's just really important to take care of your teeth and have a great smile." Cheryl admitted that she wasn't always so good at this, particularly when it came to flossing. "I think when you do floss frequently, it helps to reduce the chances of getting cavities," Cheryl said. "It took me a while to figure it out." Because Cheryl's dentist step-dad treated her with tooth-colored fillings during her cavity-prone days — and she had braces as a child to correct an overbite — Cheryl's smile looks great on camera. She's also become an avid flosser. "I carry floss with me wherever I go," she said. "I have no shame busting out my floss in the middle of a restaurant!"