Olivia Newton-John
The international star talks about healthy cooking, life after breast cancer, and the magic of laughter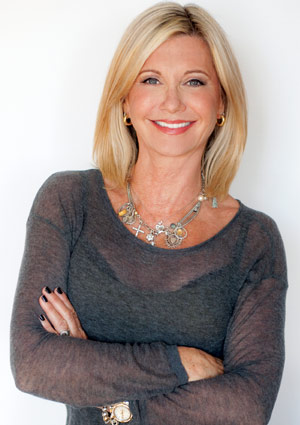 Photo by Michelle Day
You can call Olivia Newton-John a cancer survivor, but she'd rather be known as a cancer "thriver." And these days, the Grammy-award-winning performer is doing all she can to help others who are dealing with the disease to thrive as well.
"I took good care of myself with diet, exercise, meditation and positive thinking to get myself through it," Olivia recently told Dear Doctor. "I am happy to say that this year marks my 20th year as a cancer thriver." It will also mark the opening of the Olivia Newton-John Cancer and Wellness Centre in her hometown of Melbourne, Australia.
In agreeing to lend her name and considerable fundraising prowess to this ambitious project, Olivia laid down one condition: that the campus include a section devoted to wellness.
"When I went through breast cancer 20 years ago, it was very important to me to do other things besides the chemotherapy and surgery," explained Olivia, who underwent a partial mastectomy followed by reconstruction in 1992. "I did meditation, acupuncture and many other alternative therapies to help heal the whole person — mind, body and spirit. The Wellness Centre is going to be a wonderful place for patients and their families to go to during their treatment to have access to the same therapies."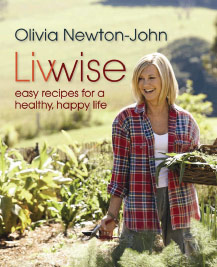 To raise money for the project, Olivia has just published her first book, LivWise: Easy Recipes for A Healthy, Happy Life. In it, she has compiled some of her favorite dishes, including poached eggs with cilantro pesto, refreshing watermelon gazpacho, and lots of salads.
"I love greens, and as many organic vegetables as possible," Olivia said. "From spinach to salads to beets — pretty much any and all greens!"
Some of the recipes come from Gaia, the Australian health retreat and spa she has co-owned since 2005, and some from her own kitchen.
"People always ask me how I stay so healthy and what I eat," said the perennially youthful 63-year-old singer, who is not a vegetarian but eats mostly plant-based foods. "So it seemed like a great idea to create a book that can help people be more aware of the foods they eat while, at the same time, raising funds for the hospital."
Olivia's love of healthy foods was cultivated throughout childhood by her German-born mother, Irene, who used pumpernickel rather than white bread for sandwiches and served baked fruit for dessert — complete with a dollop of homemade yogurt.
"Growing up, my mum really taught us some great eating habits," Olivia recalled. "When I was a girl in school, all of my friends would have cakes and cookies and fun foods but my mum was all about teaching us to eat healthy foods and to be very aware of what we were putting into our bodies. At the time I was annoyed about it, but looking back now I thank her for teaching me at an early age to eat healthily."
Irene was also vigilant about her children's oral health. "My mum always made us brush and floss after every meal so, once again, like the foods we ate, she taught us early about the importance of great dental hygiene," said Olivia, who has an older brother and sister.
Olivia passed these healthy habits down to her own daughter, Chloe.
"I always insisted on regular dental checkups and limited sugar, especially in soft drinks — they were never in our fridge," said Olivia, who also came up with a very effective home remedy for teething.
"When Chloe was a baby and teething I remember using a frozen bagel for her sore gums," Olivia said. "She loved it!"
"I wear a nightguard to prevent wear on my teeth, custom-made by my dentist."
Today, Olivia protects her radiant smile with a custom-made oral appliance. "I wear a nightguard to prevent wear on my teeth, custom-made by my dentist," she said. "I love it!" She maintains the brightness of her smile with a whitening rinse. "I tried the professional whitening but my teeth were too sensitive," she said. (For information on reducing sensitivity during teeth whitening, please see the Dear Doctor article "Important Teeth Whitening Questions Answered," vol. 6, issue 1.) Olivia has regular dental checkups, including oral cancer screenings. "My dentist checks my mouth every time for any possible cancer," she said. "Early detection is key to survival!"
This is something Olivia knows all too well, as she was the one who discovered the cancerous lump in her breast. Even after a mammogram and needle biopsy yielded negative results, Olivia felt something wasn't right about the tender-feeling bump under her skin and opted for a surgical biopsy, which did indeed confirm cancer. She continues to check herself every month.
"I perform monthly breast self-exams because with a little education we can notice changes in our own bodies more easily," Olivia said, adding that she helped create a small, handheld device called the Liv Aid to help women perform self-exams more easily (www.Liv.com). "Of course I get my annual mammograms and see my doctor as well on a regular basis," she said.
At the beginning, being a cancer patient was scary, but Olivia found her own unique ways of coping.
"I laughed a lot," she said. "I know that sounds strange but I always find that laughter helps me through very uncomfortable and awkward situations. My doctors were shocked that I took it all in with humor. But in reality I was very scared after the diagnosis because of course you wonder: Has it spread anywhere else?"
Still, Olivia didn't believe the disease would claim her life — notwithstanding the cancer-related death of her own father, Welsh-born college professor Brin Newton-John, the very same week of her diagnosis.
"I knew deep down I would be alright because I had a wonderful support team around me — my friends and family," she said, "and I kept a positive attitude — that is very important when dealing with any life-threatening illness." (Please see "Oral Health During Cancer Treatment" for tips on how to help a family member undergoing cancer treatment.)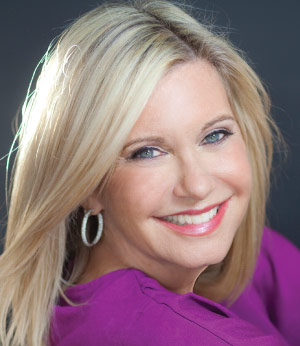 Photo by Michelle Day
Music also helped her through the ordeal. During this period she released Gaia: One Woman's Journey, named (like her spa) for the earth goddess in Greek mythology. It is her most personal album to date, with songs such as "Not Gonna Give In To It," which includes these lines:
There are times when I feel
If I sleep I'll die
But I dare not cry
And I run from my tears
And I fight them back with my fears
"At the time of my diagnosis," Olivia recalled, "I thought, 'oh, I am going to retire and enjoy life more when I get through this.' But during my treatments, these songs kept popping into my head at night. The songs were just pouring out of me. Music has always been a major source of therapy in my life!"
In fact, Olivia has been singing for as long as she can remember.
"Music has always been a part of my family," she said. "My father was a wonderful singer with a beautiful voice."
Born in Cambridge, England, Olivia moved to Melbourne, Australia with her family at age 5. By 15 she had formed an all-girl singing group. That same year she won a talent competition on the popular television show Sing, Sing, Sing, which earned her a trip to London. She never returned to school — with her parents' blessing.
"My parents were very supportive of my music career when they could see that I was serious about it and could support myself doing it," said the multiplatinum pop sensation, who has by now sold more than 100 million albums. "They had wanted me to go to university, but after I won a talent contest with a prize trip to England, it was my mum who really encouraged me to go overseas."
In 1966, Olivia and her mother left for London, where she began playing gigs and recording.
"I missed home terribly and wanted to go back to Australia," Olivia said, "but every time I tried to book my return ticket home, my mum canceled it!"
It was lucky that she stayed; she received her first big break there as a regular on British pop star Cliff Richard's weekly television show. But that was only the beginning.
"My career was doing quite well in England when I found out that some of my songs were big country hits in the USA," Olivia said. "I didn't set out to be a country singer, I just loved great songs and that was the genre they were put in." Then fellow Aussie singer Helen Reddy advised Olivia in the early 1970s to move to the United States, where her career really took off.
"Helen Reddy told me that if I wanted to be successful in America, I'd need to move there, so I did," Olivia said, adding, with a laugh, "I guess it was the right decision!"
Perhaps her best decision was to go out for the role of "Sandy" in the 1978 movie version of the Broadway musical Grease, co-starring John Travolta.
"Grease really changed my life and career," Olivia said. "I had already had some wonderful success and hit songs in the early seventies, but that really took my career to a whole new level."
"Grease really changed my life and career," Olivia said. "I had already had some wonderful success and hit songs in the early seventies, but that really took my career to a whole new level."
Grease became the most successful movie musical of all time (with a best-selling soundtrack) and made Olivia one of America's brightest, most recognizable stars. She still has legions of fans worldwide, as the crowds and cameras swarming her at recent book signings attest.
"There are pros and cons to being a celebrity," she said, "but the pros so outweigh the cons. Without celebrity I would not be able to do the work I do today to bring awareness to breast cancer and to cancer and health issues in general."
When she's not traveling ("home lately seems to be on airplanes," she joked), Olivia divides her time between her farm near Byron Bay in Australia (which she calls her "heart home") and the Jupiter, Florida waterfront home she bought in 2009 — a year after marrying second husband, eco-entrepreneur John Easterling, founder of the Amazon Herb Company.
Wherever she is, she tries to "get physical" every day.
"It is hard to have a routine with all of the travel I do," Olivia said, "but I always like to go for a long walk when I arrive at a new destination if I can, and play tennis and kayak when I am at home in Florida. Anything I can do out in nature is my favorite way to get exercise — whether it's walking on the beach with my husband or playing a game of tennis with my friends."
While filming her latest movie, A Few Best Men, Olivia got quite a workout — swinging from a chandelier!
"Swinging from the chandelier was pretty fun — and scary too," Olivia said. "We did that without any net — just a bodyguard underneath me in case I fell!"
In the film, a British-Australian wedding comedy described by one reviewer as "97 minutes of sparkling mayhem," Olivia plays the loopy mother of the bride — who has obviously never been mellow.
"It really was fun — probably the most fun I have ever had on a movie set," Olivia declared. "The cast was so hysterical we pretty much laughed the entire time. It's really a crazy farce that is intended to just make people laugh, and like I said earlier, laughter is very important — to all of us!"
Even during her toughest moments, Olivia has managed to do just that. So what's most likely to bring out that sunny signature smile?
"Being with my husband and daughter always makes me smile," Olivia said, "and being out in nature, enjoying the beauty that is all around us."