Cheryl Burke
The Dancing with the Stars professional talks about stepping up to life's challenges on and off the dance floor, and the oral health tip that revitalized her smile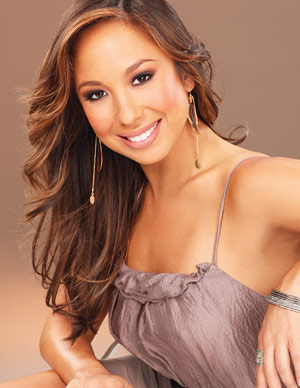 Photo by Charles William Bush
As a professional ballroom dancer admired by millions of television viewers, Cheryl Burke of ABC's Dancing with the Stars understands the impact of a bright and beautiful smile. "As a performer, you're basically smiling the whole time," Cheryl told Dear Doctor in a recent interview. "It's just really important to take care of your teeth and have a great smile."
Cheryl's gotten a lot of advice on how to do exactly that over the years, having grown up with a dentist stepdad. She admits, however, that she didn't always heed it — to the detriment of her dental health. "I definitely had my share of cavities," Cheryl recalled. "I didn't use floss. My dad would say, 'make sure you floss,' but I never really listened to him. I was very, very stubborn."
Finally, when she reached her twenties, Cheryl decided to follow her dad's advice, and cavities became a thing of the past. "I think when you do floss frequently, it helps to reduce the chances of getting cavities. It took me a while to figure it out," Cheryl said, adding that these days she's never without those little boxes of minty string. "I floss after every meal," she said. "I carry floss with me wherever I go. I have no shame busting out my floss in the middle of a restaurant!"
Cheryl's regular oral hygiene routine also includes brushing with a manual toothbrush and whitening toothpaste. But while Dad is available to professionally bleach her teeth, Cheryl said that unlike many of her friends, she doesn't feel she needs it. "I've never actually bleached my teeth," she said. "I think because I've been taking care of them so well, I don't feel the need to actually bleach them white. I don't think they need to get whiter than they already are."
Because Cheryl's dad treated her with tooth-colored fillings during her cavity-prone days — and she had orthodontic treatment (braces) as a child to correct an overbite — Cheryl's smile looks great on camera. And the joy she expresses with it is no act. When she dances she said, she just can't help feeling good. "You have chemistry with your partner and you feed off each other's energy, so you do smile a lot," she explained.
That energy was evident from the moment she took to the Dancing with the Stars' stage in 2006 with her first celebrity partner, singer Drew Lachey. Their cowboy-themed freestyle finale got the judges on their feet and won Cheryl and Drew the mirror ball trophy. It also made the formerly unknown ballroom competitor a household name. Is this something Cheryl would have predicted for herself? "Absolutely not — no way!" she declared.
Cheryl Stephanie Burke grew up in suburban San Francisco. When she was still a baby, her parents divorced and her attorney father eventually moved to Thailand. Her mother, a nurse-turned-entrepreneur, worked long hours to establish a healthcare company and give her daughter opportunities she herself had not had as one of seven siblings growing up in the Philippines. Ballet classes began for Cheryl at age 4. Still, Cheryl said, as hard as her mom worked, she always made sure there were healthy meals on the table.
"We lived a very healthy lifestyle, we never ate fast food," Cheryl said. "We always had home-cooked meals."
While Cheryl admits she has not inherited her mother's cooking talent ("I don't cook at all — I'm horrible!" she said), she has stuck to the no-junk philosophy. "I definitely don't do fast food," she said. Favorite healthy meals she enjoys on the set include egg-white breakfast burritos with tomatoes and salsa, and grilled chicken with steamed vegetables and Caesar salad. She prefers green tea to coffee. And, she said, "I try not to drink red wine because that definitely stains your teeth."
When Cheryl was 9, her mom married her stepfather, and her family grew to include a stepsister and a new baby sister, who turned out to be a bit accident prone, according to Cheryl.
"My little sister got in a huge accident when she was 6 or 7" while riding her toy scooter, Cheryl said. "She fell and knocked out her two front teeth. So two of her teeth are not her actual teeth. To this day my dad has to make sure her teeth are still okay." (For more on treatment for this type of dental injury, please see the Dear Doctor magazine article Dental Implants for Teenagers.)
When her stepfather wasn't filling Cheryl's cavities or patching up little sister Nicole, he and Cheryl's mom were enjoying a new hobby: ballroom dancing.
"My mom and stepdad started doing it for fun," Cheryl said, "and then they got me into it and I just fell in love with it. I took it to the next level and started competing."
Cheryl entered her first competition at age 12, and began the rigorous training that would eventually win her several championship titles in the US and England. It was at a 2005 dance competition in LA that she attracted the notice of Dancing with the Stars. Six months later, she was teaching stars to shine on a Hollywood dance floor. Only 21 years old then, Cheryl herself still had a lot to learn about being in the limelight.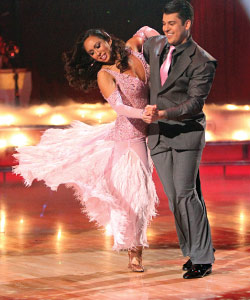 Photo Provided BY ABC Photo
"When I was a little kid and in my teenage years, too, I was very quiet," Cheryl explained. "I would always express myself through dance and never really could express myself through words." The person who helped her find her voice was her first celebrity partner, Drew Lachey.
"What Drew taught me was to express myself also through words, to engage in a conversation and to be able to do interviews," Cheryl said. "He was the one who kind of taught me how to live in LA and deal with all the scrutiny I would be under. He basically took care of me for all the years to come in Hollywood."
Cheryl said she has bonded with each of her partners. Of all of them, reality star Rob Kardashian came the farthest from where he began as a dancer. The key, Cheryl said, was building confidence.
"He improved so much every single week," Cheryl said. "It was more his issues with self esteem and his confidence. When you don't have that, when you feel like you're not very good at something, it shows; you see that when someone performs."
But those grueling practices paid off. "As the weeks went by, he started getting great feedback from the judges," Cheryl said. "He started becoming more confident, and I feel like it showed in his dancing."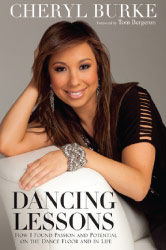 Cheryl, too, has struggled with issues of self-esteem. In her memoir Dancing Lessons: How I Found Passion and Potential on the Dance Floor and in Life, Cheryl said that being abused at age 6 by a family acquaintance (who later served a lengthy prison sentence) caused her to have trouble believing she deserved respect. Cheryl now wants to help others who have suffered abuse to heal and pursue their dreams.
"I find that it's really important to be able to speak about that type of thing," Cheryl said. "I feel like that was the only way to heal, to be able to really be open with yourself and talk through your struggles, through your emotions. I feel like I have a gift to be able to do that, and I would love to share it with other girls and women."
Cheryl has found that as she has opened up, so too, have many new doors. And she is eager to dance through them. She now owns two dance studios in California, and is planning to franchise more around the country. And she has become a spokesperson for Macy's line of Fitness wear Ideology.
"I have so many different businesses that I'm thrilled to be a part of," Cheryl said.
Still, dancing remains Cheryl's biggest thrill. Her fans will be delighted to know her new business ventures are not about to carry her off the dance floor.
"It's the adrenaline rush I get when I'm performing and the excitement that keeps me going," she said.
By dancing with the stars, Cheryl Burke has become one.