Jillian Michaels
The Biggest Loser's health and wellness expert talks about her oral health, keeping fit and plans for the future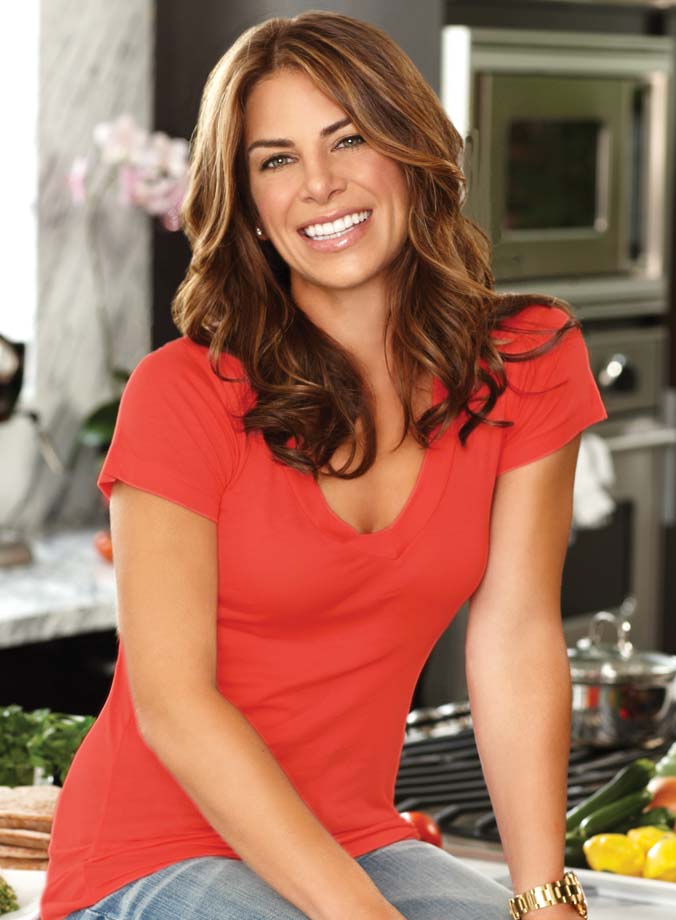 Photo by Andrew Southam
Americans are in the middle of a health crisis that has been triggered by poor eating habits and a lack of exercise. This fact first grabbed the nation's and media's attention in a 2005 report conducted by the National Institutes of Health (NIH) that found the average American's life expectancy is on track to decline by as much as 5 years unless aggressive steps are taken to address the problem of obesity. The good news is that thanks to the passion, expertise and tough love of people like Jillian Michaels, the New York Times best-selling author, fitness and life coach, and star of The Biggest Loser and Losing It With Jillian, there is hope for those wanting to make a change.
"The U.S. could be facing its first sustained drop in life expectancy in the modern era, researchers say, but this decline is not inevitable if Americans — particularly younger ones — trim their waistlines or if other improvements outweigh the impact of obesity."
To understand the real Jillian Michaels, you must look past the persona so many people are most familiar with from her role as America's toughest trainer on The Biggest Loser. You must go back to her childhood to learn her story so that you can understand her passion. She was born in Los Angeles, CA on February 24, 1974. When Jillian was 5, she started therapy because of night terrors — she thought sharks were coming out of the bathtub drains to get her or that aliens would capture her at night while she was sleeping. By age 12, her parents divorced and she responded as many children do, she became difficult and angry. To make matters even worse, this anger and unhappiness contributed to Jillian's weight soon ballooning up to 175 pounds, a substantial amount given her 5'2" frame. To address the weight gain and give her daughter an invigorating physical activity, Jillian's mother enrolled her in martial arts. This martial arts training and the fact that she was on her own at 17, forced Jillian to grow up. She quickly embraced everything martial arts stood for, both physically and mentally. "I started training when I was 17 and always loved it but never thought it would end up being my career. I did a brief stint at a talent agency, got myself fired, ultimately ended up training once again and then started on The Biggest Loser shortly thereafter." And while the show may be called The Biggest Loser, for Jillian, she became the show's biggest winner — it became the springboard that launched her career.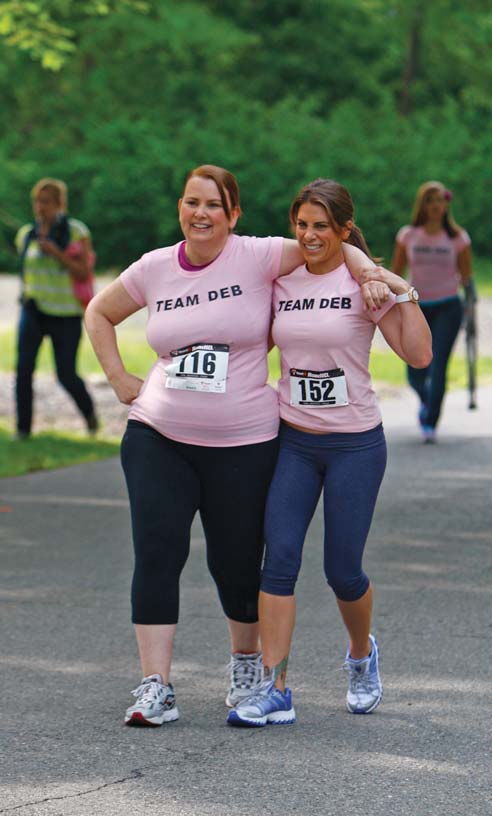 Jillian Michaels helps make people believe that they hold the power to change, as seen on the television show Losing It With Jillian (Photo by Trae Patton/NBC)
Jillian is often asked about the Jillian we see on TV versus her true self. "The Biggest Loser Jillian is more of a character that I play on TV, unfortunately it's what a lot of people have come to know me as. On Losing It With Jillian, I got to show more of me but there's still a part of the real Jillian that never really makes an appearance on TV. I'm actually incredibly spiritual, sensitive and completely nerdy...truthfully." While Dear Doctor did not experience any "nerdiness" in conducting this interview, we were impressed that she took time out of her busy schedule to answer all of our questions. It enabled us to see that she is genuine and wholly committed to helping people improve their health and lives.
In fact, this commitment and passion for helping others overcome their obstacles is her driving force. It truly defines her. Sure, as we see on TV, she can be tough. But this toughness is fueled by her unwillingness to compromise for anything less than her best. She expects her clients and the countless fans who seek her advice and assistance to do the same. She doesn't water down the facts: it takes hard work and commitment, along with eating healthy and maintaining good oral health if you want to look and feel your best.
Jillian is also extremely concerned about America's problem with obesity — especially in children. This is one of the reasons she entered into the computer gaming industry with her Wii game, Jillian Michaels' Fitness Ultimatum. The third of the fitness game series is being released in the fall of 2010. "My business partner and I were brainstorming ideas on how we could do our part to combat this ever-growing problem and we decided that a video game would be the most effective way to go. If you turn exercise into a game, it's much easier to get kids to join in. I also teamed up with the NFL and Play 60 to help fight childhood obesity because it is such a growing problem in this country and the NFL is a huge organization that can bring widespread attention to this issue, again in a fun and effective way." However, it doesn't stop there. To really make an effective change you must involve the parents and the entire family's lifestyle. "It starts with the parents setting an example for their kids, showing them how to eat healthy, taking time to go outside and play instead of sitting in front of the TV or playing video games where you just sit for hours on end. I know a lot of families that have started gardens together and in the end, the kids are more likely to eat something that they've grown."
In addition to the crisis with children, Jillian herself knows the tremendous amount of pressure many women feel about weight and body image thanks to Hollywood, the fashion runways and the media. "Unfortunately, the world we live in places women of incredibly slim stature in the spotlight so women are faced with that "ideal" picture — that truthfully isn't healthy. Educating women on the importance of a healthy diet and exercise program is essential, but also getting them to realize that women are supposed to have curves and itís a beautiful thing is equally important."
As for the future, Jillian's weight loss website, www.jillianmichaels.com, has well over 4 million members and is growing exponentially. She recently signed an endorsement deal with K-Swiss fitness gear and apparel, and she has a new book, Unlimited, slated for publication in the spring of 2011. According to Jillian this book will be quite different from her most recent best seller. "It's a 'how-to' guide for building an exceptional life, escaping from your unfulfilling job, realizing your true potential and living the life that you have always dreamed of living." The book is yet another tool to help her accomplish her goal of empowering people to find true happiness through a healthy lifestyle.
We ended our interview with one final question, "You often speak of empowering people, so what empowers you?" Jillian's response was both concise and precise, just as you would expect, "A drive to be one of the good guys."
Oral Health Q + A with Jillian Michaels
Describe your daily oral health routine as well as supplements you take, foods you eat and visits to your dentist to maintain your smile.
I brush my teeth twice a day with an electric toothbrush, sometimes three depending on what I may be eating and flossing daily is key. I have an amazing dentist who I see at least twice a year for cleanings. As for supplements, I take a multi vitamin as well as a B-complex.
Since breaking your two-front teeth as a child and having them repaired with crowns, have you had any other dental scares given your love of martial arts and other vigorous forms of exercise?
No, no dental scares since then. Now, I generally wear a mouthguard if I'm doing anything where my teeth have any chance of being knocked out.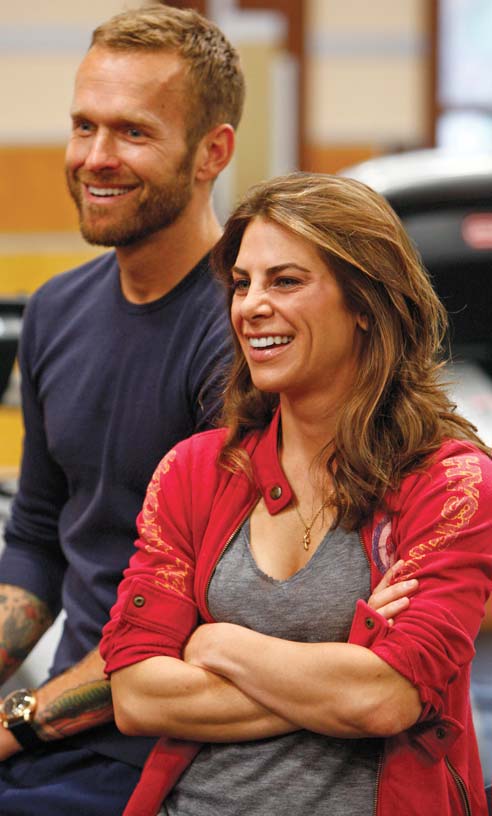 The Biggest Loser
Photo by Trae Patton/NBC
Speaking of your crowns, have you had any other cosmetic dental procedures?
I did have braces when I was younger, and I have had my teeth whitened.
In your show, Losing It With Jillian, an overweight father and husband was featured who suffered from sleep apnea and needed a device to help him breathe at night. In previous issues of Dear Doctor, we have addressed this serious health issue by educating the public about sleep apnea. How often do you see this problem in your career? And what do you want to tell people who are suffering with this problem?
It's incredibly common and affects millions of people. When I encounter sleep apnea it is obviously weight related and can be treated and often eventually cured by weight loss. It can be rough and frustrating at first but I tell people that it's not a life sentence, sleep apnea appliances won't be a permanent fixture on their bedside table and it will get better with hard work and a clean diet.
If we were to look inside your purse, gym bag or overnight/travel bag, what oral health products would we find? And what do you never leave home without?
You would find toothpaste, an electric travel toothbrush and floss...nothing too exciting. And I never leave home without some sort of lip gloss.
If you had to choose between giving up going to the gym or brushing your teeth for a 24-hour period, which would you select and why?
I would choose to not work out. I can go for 24 hours without working out — everyone needs a day off — but not brushing my teeth for a day wouldn't go over well with me or anyone else.