Howie Mandel
The famous funnyman talks about his struggles and triumphs, both dental and mental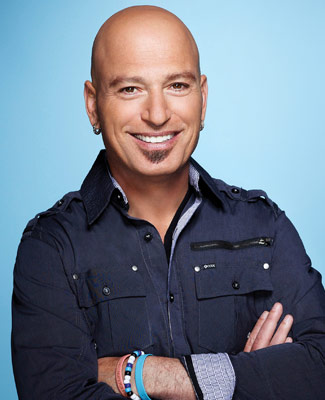 Photo provided by Fox
"I've never been interviewed about my teeth, but my teeth have taken part in interviews." So began Dear Doctor's interview with comedian Howie Mandel. And what an entertaining discussion it was!
Howie told us that before he became a judge on America's Got Talent, or the host of game shows Take It All and Deal or No Deal, he cut his teeth in the movies. Literally. It happened while filming Walk Like A Man, a 1987 comedy in which Howie played a boy raised by wolves who is reunited with his human family after he's fully grown. In one scene, another actor was supposed to rip a bone out of Howie's clenched teeth.
"With all his might he ripped out the bone and ripped out half of my front tooth," Howie recalled. "It was incredibly painful." Still, he was able to return to filming that very same day once the tooth was crowned.
Not long ago he had the crown redone when he decided to enhance his ever-ready smile with dental veneers. These thin, tooth-colored coverings give the teeth a brighter, more uniform appearance. In explaining his decision to have a smile makeover, Howie, a married father of three grown children, noted that his teeth weren't as white as they had been when he was younger.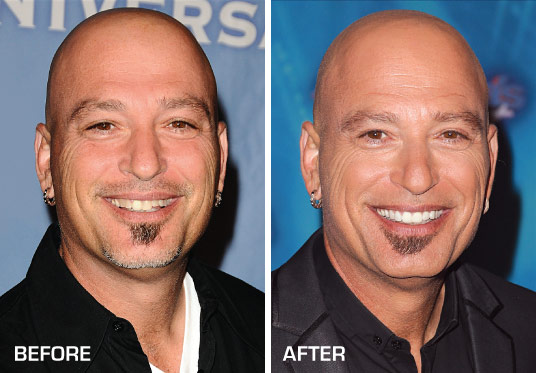 "I am happy with my veneers," Howie said. "I have a great dentist, and it was painless."
"I'm 57 years old and you have a tendency to lose the [appealing] color, and I happen to be in this business," he said, "so I did some work and I had them made nice." The results were "wonderful" and the procedure was easy, he said. "I am happy with my veneers," Howie said. "I have a great dentist, and it was painless."
Howie must conquer an inordinate amount of anxiety when he visits the dentist, but it's not fear of pain; it's actually fear of germs. And it's no joke. He suffers from obsessive-compulsive disorder (OCD), which triggers a sense of danger even when there isn't any.
"I am in therapy, I am taking medication and I am coping," Howie said. "I'm not triggered all the time, but when I am triggered it can be inhibiting. If I felt my hand was dirty, I would go wash it, and then I'd wash it again, and then I'd wash it again and sometimes I would just get stuck."
To reduce his anxiety, Howie's dental team has developed a set of procedures just for him. For example, they put on their gloves in front of him, straight from the package, so he sees they have never touched anything but his own mouth.
"I am so distraught having a [dental] cleaning, just having somebody else's finger in my mouth," Howie exclaimed. "Even as a baby, I never sucked my own thumb, let alone somebody else's!"
As of the last several years, Howie's been very candid about his mental health issues, particularly in his 2009 memoir, Here's the Deal: Don't Touch Me. And he feels very strongly that routine mental health checkups should be as common as a visit to the dentist's office.
"We take care of our dental health but we don't take care of our mental health," he said. "You will go to a dentist two or three times a year for cleanings and to check that everything's OK, but we don't sit down with somebody to find out if how we react to everyday life is OK." Howie said that if this were done routinely for everyone, we would not only improve quality-of-life but we would also see fewer tragedies like mass shootings by people with mental health issues.
"I think there isn't a person alive who at some point in their life shouldn't have some sort of professional therapy. These [therapists] are trained to give us coping skills and it's not part of our curriculum in life."
That was definitely true for Howie, who did not get help for his OCD, or for the Attention Deficit Hyperactivity Disorder (ADHD) that made school an insurmountable ordeal, until adulthood. Meanwhile, his inability to curb his impulsive behavior or to focus cost him a high school diploma, as all three Toronto high schools he attended asked him to leave for perpetrating pranks that now seem equal parts heartbreaking and hilarious.
For example, he once called a construction firm — using his real name — and said he wanted them to come out and give his high school an estimate for a new library addition. When they arrived, he enjoyed watching them take measurements for the new addition from his classroom window. It was meant as a riff on Candid Camera, Howie's favorite TV show. All that was missing was a camera and an audience; unless you count the teenager who had set up the prank.
"I thought it was funny to watch these guys 'cause I had called them," he said. "Then I see the principal go out there and talk to one guy and then I hear the announcement, 'Would Howard Mandel please come down to the office?' He said, 'did you authorize an addition onto our library?' And I said very seriously, 'well I'm just getting bids.'"
Howie's parents were called in and he was asked to leave the school. Permanently.
"My mom would say, 'why? You don't have an audience. Who's laughing? Who's the joke on, Howard?' I'd go, 'well it's funny.' And I'd laugh. Because I didn't have a lot of friends, I'd entertain myself. Comics often say, if I make one person laugh, I'm doing my job. For years, that one person was me."
This begs the question of why Howie's parents, whom he describes as loving and supportive, didn't get help for their older son. He said they did not want him to suffer the stigma that going to a psychiatrist would bring. So the whole family (mom Evelyn, a homemaker; dad Albert, a cab driver who later sold commercial lighting; and younger brother Steven) developed unique coping methods.
"I was allowed to use 37 towels and take all those showers and not touch the top of the laundry hamper and it became part of our norm," he said, "but we still felt that somebody who went to a psychiatrist was just insane."
Meanwhile, after leaving school, Howie continued his bizarre, impulsive behavior. Getting a job as a carpet salesman, he once took off his shirt in the middle of taking measurements in the client's home and sketched the room on his bare chest, just to see what kind of reaction he'd get.
"You can't imagine the awkwardness the family felt at the sight of a strange, bare-chested man standing in their living room," Howie related in his book. "I can't tell you how many times they just looked back and forth at one another in silence. I know they wanted to flee, but this was their house."
Of course, these days, Howie gets paid for doing just that type of thing.
"To this day, I like to see how real people react in awkward and maybe even uncomfortable situations," he said. "This is a big part of my comedy."
Take Mobbed, a television show Howie hosts and helped create for Fox Television, in which an ordinary person who has something important to say to someone else does so, much to the shock and amazement of the person receiving the news — in a flash-mob-style musical dance number with a carefully orchestrated cast of thousands. It's never a sure bet the recipient will take the news well — or even show up to hear it!
"Every time I do it, I don't know if I can pull it off, but that's exciting," Howie said. "People pass out, people scream, people cry. You see the rawest, most adrenaline-rushed emotions that you could ever imagine and they're real, and that's what I'd like to bring to television."
He will get another chance to do just that with his new game show Turbulence, soon to debut on truTV. "Turbulence is Cash Cab in an airplane," Howie explained. Contestants will win money in direct proportion to the amount of free-falling antics they can endure as their plane spirals out of control.
"Just to watch these people under the duress!" he said with obvious excitement. "They have kill buttons where they can stop it," he explained, but since they will be working in teams of two (usually a married couple), both contestants will have to agree that they've had enough. "One of them is getting sick and doesn't want to play the game," Howie said of the pilot episode. "And the wife is going, 'we gotta play the game — one more answer and we get five hundred dollars!'"
This particular mix of anxiety, exhilaration, and hilarity has become Howie's hallmark. "I have carved out a niche for myself in doing edge-of-your-seat television," he noted.
"That's what I do 200 dates a year. That kind of freedom to go anywhere is where I have the most fun."
Still, after more than 30 years in show business, stand-up comedy remains Howie's great love. "That's what I do 200 dates a year," he said. "There are no marks to hit, no lines to recite, no commercials to throw to, no time to be aware of, and no boundaries. That kind of freedom to go anywhere is where I have the most fun."
The stand-up stage is, in fact, where Howie got his start in the late 1970s. It happened spontaneously at a comedy club in Toronto called Yuk Yuk's, which put out a call for volunteers from the audience. Without a second thought, Howie made the leap from spectator to performer. "I went up and I was blanketed with the warm response of laughter and being the center of attention," he recalled. "I got asked to come back and I went on the next night."
Impulsiveness, then, has not always been a negative for this self-described outcast. "I've always just stepped through these little doors of opportunity which I think exist for absolutely everyone," he said. "We can always find reasons to say no; we can always find reasons to not do things. And I never have."
It's been a turbulent ride to prime time. But Howie Mandel no longer has to laugh alone.