Male Smile of the Year
Mario Lopez's attention-getting smile gets its shine from a healthy lifestyle.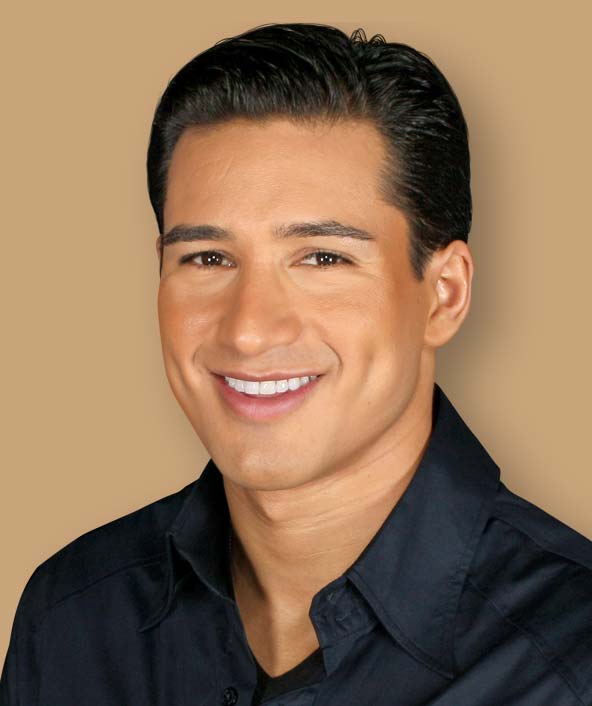 Dear Doctor and our readers named Mario Lopez as our "2008 Male Celebrity Smile of the Year." (photo by MTV Networks)
Mario Lopez has been one busy man since his appearance on Dancing with the Stars in 2006. The 34-year old performer delighted audiences with his charismatic presence and incredible footwork — something that surprised him as much as it did his fans. "I knew going into it I had a little rhythm, but I didn't know I could really do some of the routines we did."
It's been virtually non-stop since then - he became a recurring commentator for HBO Boxing and starred in two made-for-TV movies. This season he returned as a host on Randy Jackson's America's Best Dance Crew, a dance competition show on MTV. And, he recently took on the role of Zach the director in the Broadway revival of A Chorus Line, as well as being named the host of the entertainment news shows Extra and Weekend Extra.
You'd expect someone as busy as Lopez to look just a little fatigued. Quite the contrary - his contagious smile and handsome looks exude vibrancy and good health. So much so that People magazine recently named him their Hottest Bachelor of 2008.
This combination of health and vitality bound up in one of America's brightest smiles has led Dear Doctor and our readers to name Mario Lopez as our "2008 Male Celebrity Smile of the Year."
So what really turns up the wattage on Lopez's dazzling smile? He credits his seemingly boundless energy to a dedicated lifestyle of good nutrition and regular exercise. It's also why he took the time in this very hectic year to write and publish Mario Lopez's Knockout Fitness, a health and fitness program based on his own experience.
"Exercise and maintaining a healthy lifestyle has always been an important part of my life. People always ask me what I do to stay in shape, so I wanted to share what I've learned," says Lopez. "I really enjoyed putting the book together — and I hope it's the first of many for me."
Born in San Diego, Lopez made his first acting appearance in the ABC comedy a.k.a Pablo in 1985. His big break came when he was cast in 1989 as A.C. Slater in Saved by the Bell, a popular sitcom about high school life that ran for five seasons. Since Saved by the Bell, Lopez has enjoyed a steady career climb with a variety of hosting and acting jobs to his credit.
His commitment to fitness goes back to his high school days when he competed in wrestling and placed seventh in his state. This led to an interest in boxing and the workout regimens associated with it. The levels of training intensity required by those sports are reflected in his workout program.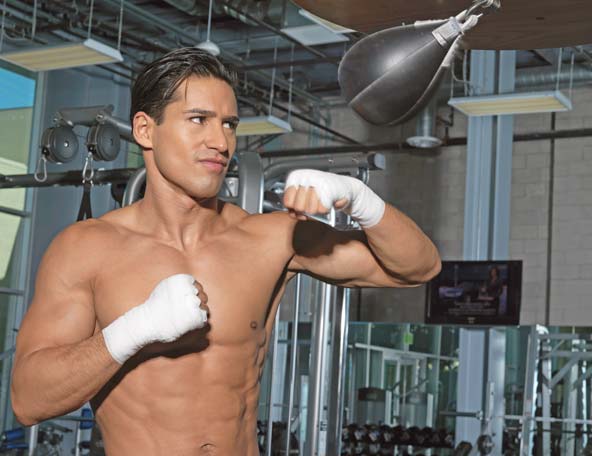 Mario Lopez's Knockout Fitness book is a health and fitness program based on his own experiences. (photo by Joan Allen)
If you're looking for the latest fad or "secret" exercise program in his book, Lopez says you'll be disappointed. His program consists of a variety of traditional fitness activities that have been found to work — and much of it from his own experience.
"This is as much about the mistakes I've made over the years I've trained, and what I learned from them," says Lopez. "My approach is to combine cardiovascular exercise with resistance training — a lot of times people will emphasize one or the other in their workouts. It shouldn't be an either/or, but both."
Lopez also puts the spotlight in his book on healthy eating and getting a good night's sleep, something you might expect to hear from your mother, not from one of the nationís hottest bachelors. But Lopez believes taking care of your body is critical to living life to the fullest.
"The only way I can meet the demands of life — including career and family — is to take care of my body," says Lopez.
He credits his healthy lifestyle — as well as a family history of healthy teeth — with helping him maintain his dazzling smile, one of his most admired assets. While it's definitely part of his persona, he says he really doesn't give it much thought.
"I'm generally a happy guy who is in a good mood most of the time. I think when you naturally express yourself it can be infectious — you get back the vibe you give off."
According to Lopez that smile is natural — he has never undergone any orthodontic or cosmetic procedures, and has only occasionally used over-the-counter whiteners. That doesn't mean he's cavalier about his smile. He remains disciplined about his oral hygiene as an integral part of his overall health and fitness.
So, if you happen to catch a glimpse of that infectious Mario Lopez "Smile of the Year" — on Broadway, at a dance competition or at a book-signing at your local bookstore — just remember there's a lot of healthy living going on behind it.