Jerry Rice
This sports legend wowed fans for twenty seasons — and came out smiling.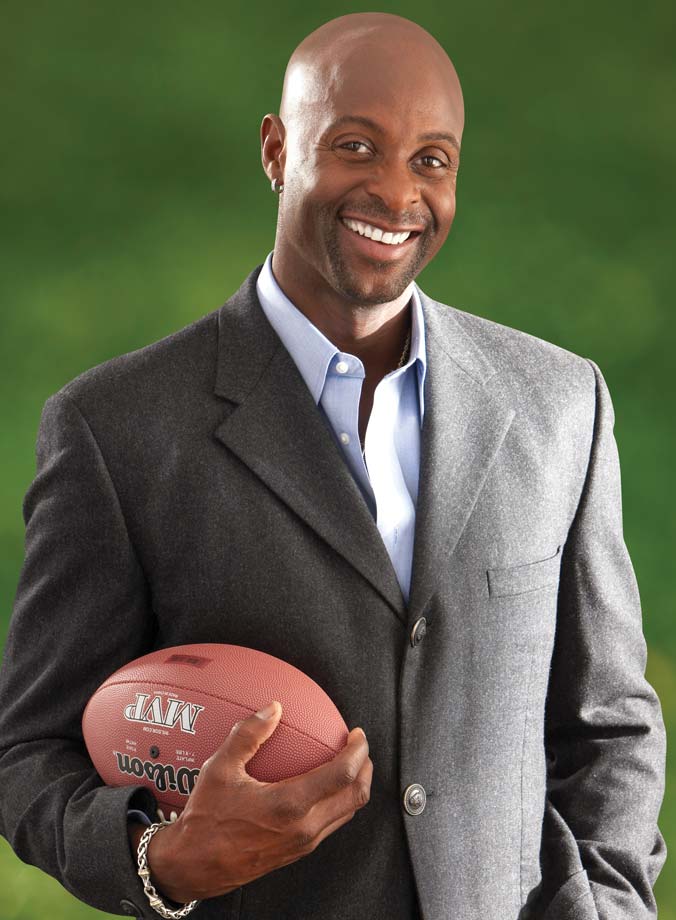 "Football can be brutal — injuries, including those to the face and mouth, are a common risk for any player."
Photo by Marcy Maloy Photography
Ask any group of NFL aficionados, whether they are professional sports analysts or the Sunday crew at the local sports bar, to name the greatest wide receiver of all time, and you'll overwhelmingly hear one name — Jerry Rice. And for good reason — Rice holds the top spot on some of football's most important records for wide receivers: most career pass receptions (1,549), most consecutive games with a reception (274), most career passing yards gained (22,895) and most career touchdowns (197) — to name a few.
But as a teenager growing up in Crawford, Mississippi, no one would have predicted Rice's amazing NFL career. According to Rice, he didn't even play football until his sophomore year at B.L. Moor High School — and only after outrunning the school principal.
"I was playing 'hooky' from school, and the principal spotted me," says Rice. "I just took off running — the principal later said all he could see was my red jacket. The next day I got about twelve licks and then was told to report to the football coach."
The coach was equally impressed with Rice's speed and ball-handling abilities. He had especially strong hands built up from working with his father, a brick mason by trade. And although his mother was initially opposed to his playing football, he says she relented after seeing that "I really loved the game and put my whole self into it."
Making a Big Splash in College
During his senior year, Rice received letters from a number of major schools including Mississippi State just a few miles up the road in Starkville. He decided, though, to play for Mississippi Valley State University, in the heart of the Mississippi Delta.
So why did Rice pass on larger, big name schools? "Coach Archie Cooley — he was the only coach who actually came to see me in person," says Rice.
Rice blossomed as a wide receiver during his college career. With quarterback Willie Totten, nicknamed "Satellite," the two became known as "The Satellite Express," rolling up passing yardage under Coach Cooley's spread offense. At the end of his senior year, Rice had made over three hundred catches for more than 4,600 yards and fifty touchdowns.
Making a Name in the Pros
After a shaky start, Rice finally began to make a splash in the NFL in his 1985 rookie season with the San Francisco 49ers — and never looked back. Rice played for twenty seasons in a profession where the average career length is four. And incredibly, from 1985 to 1997, Jerry Rice never sat out a game.
During his career, Rice worked right along side some of the greatest football stars of the Eighties and Nineties. One teammate with whom he had developed both a close working and personal relationship with was legendary San Francisco quarterback, Joe Montana.
"Montana was truly a student of the game," says Rice. "He knew he didn't have a super strong arm, but he made up for it by analyzing the opposition and getting the ball away quickly. I would just be out of my running pattern and the ball would be in the air."
One of his favorite memories was Super Bowl XXIII in 1989 against the Cincinnati Bengals where the 49ers won in the last thirty-four seconds of the game, 20-16. The 49ers were down 16-13 late in the game when the offense got the ball on their own eight-yard line with little more than three minutes left on the clock. Rice remembers that first huddle after they took possession.
"Montana was just pulling up grass and taking it cool," says Rice. "Somebody happened to be looking up in the stands, and then pointed saying, 'Look it's John Candy!' You wouldn't know the entire Super Bowl was on the line. Finally, Montana says, 'Okay guys, we're just going to move this ball eighty or so yards down the field.' And, we did."
Rice also took his share of hard hits from opponents. Rice says Darrell Green and Deion Sanders were two of the best cover players he faced, followed by Denver's Steve Atwater and Dennis Smith.
"You just couldn't outrun Green or Sanders ñ you had to double or triple move them off their base. Atwater and Smith were really big hitters, and your only hope was to bounce off of them when they hit you."
Rice Survives the NFL with Body — and Smile — Intact
Amazingly, Rice didn't experience a major injury until 1997 when two serious knee injuries put him on the sidelines for the first time in his career. He credits his longevity to the work ethic he learned growing up in a rural Mississippi community. For his family, he was determined to always "represent himself the right way."
"Football is a tough game — the key is to be able to stay focused all four quarters and try to wear your opponent down. I determined early on that I would be the best-conditioned athlete I could to avoid injuries and go the whole game," says Rice. "My first ten years in the league I never took a vacation — I continued to work out throughout the off-season."
Not only did he continue to work out through the off-season, he was so structured and dedicated that his workouts were also scheduled for a particular time each day.
And, everything he put in his body was calculated to give him the finest nutrition and energy possible. He believed the maintenance of his weight was a top priority for him to be the best-conditioned athlete he could be. He calculated every single aspect of training, nutrition and even the amount of sleep he received to improve and refine his performance.
"Football can be brutal — injuries, including those to the face and mouth, are a common risk for any player." Rice also had the benefit of a professional football team's trainers and protective equipment to keep him off the injured list — and to preserve his famous smile.
That wasn't always the case in his earlier years in football.
"There wasn't a lot of focus on protecting your teeth in high school," says Rice. "You had to buy your own mouthguard. Things changed, though, when I went to college."
Fortunately, Rice only encountered a few minor dental injuries — just a couple of chipped teeth that were corrected with caps (full crowns). While in the NFL he became a regular patient to the dentist — something he wouldn't have done on his own as a youth.
"We only went to the dentist when we needed to," says Rice. "Back then I didn't like it because I associated it with pain," he laughs. He also admits to being more afraid of going to the dentist than facing 300-pound football players on the field.
Did his children inherit the same reticence about visiting the dentist? "I donít think so," he answers. "Both my daughters had braces, and all my kids were regular visitors to the dentist. I think they just grew up in an atmosphere where it was a normal part of life to go to the dentist."
Rice seems to have gotten over his early hesitancy about dental work. He regularly goes for cleaning and occasional whitening for a brighter smile — a smile that comes easily nowadays.
"There's a lot that makes me smile now — what I accomplished when I was on Dancing with the Stars and my other media and hosting work," says Rice. "I would say, though, my biggest joy is my kids — I just dropped by the other day to watch my son [Jerry Jr.] practice with UCLA. It's just great to see them come into their own."
When asked if he thought dancing would benefit football players in preparation for playing, he replied, "Dancing is a lot harder than you would think and is great for conditioning. A lot of players would benefit from it, especially for balance and footwork."
Rice will soon be eligible to enter the Pro Football Hall of Fame. Most analysts think he will be a unanimous, first-ballot Hall Of Famer and not many would argue that he is the greatest receiver of all time. No matter the case Jerry Rice will continue to look back fondly at his long illustrious career with a smile.