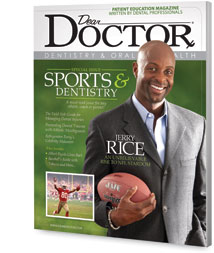 Reception Area Dental Magazines
Dear Doctor - Dentistry & Oral Health is a magazine containing 68 pages of up-to-date, accurate dental information encompassing all topics related to dentistry.
Written by the world's top dentists and leading professionals


Beautiful design and colorful graphics enhance our smile-inspiring articles which are fun and interesting to read


Trusted Information that is endorsed by leading dental organizations like the AACD, AAE, TMJA, and ICOI
Office subscriptions of 5 copies per issue (20 copies total) start at $59.95




Promotional Bookmarks/Appt. Cards


Bookmarks are both practical and useful and can serve many purposes.

Designed For You - Each bookmark is personalized with your office information and designed to fit the needs of your practice


A Branding Tool - Promote your office or website. Bookmarks provide an excellent vehicle for word-of-mouth marketing as patients pass them along to friends and family.


The Perfect Reminder - These helpful two-sided bookmarks can remind patients of an upcoming appointment, serve as a referral card or showcase a special offer
Prices start at $200 for 1,000 bookmarks
Trifold Brochures
Trifold brochures provide detailed information about you, your practice and the services you provide. They can match the look and feel of your website or magazine brochure.
Easy & fast to design
Economical to print
Promote a special offer, discount or coupon
Prices start at $600 for 1,000 brochures
Special Offer Postcards / Coupons
Postcards make an excellent addition to your marketing mix.They are simple to create and designed to promote a special offer, discount or coupon. They can be handed out in office, mailed to patients or included in magazine mailings.
Affordable
Versatile
Proven
Easy to measure
Prices start at $250 for 1,000 cards
(Mailing not included)
For more information or to get started today call (866) 821-5458