Martha Stewart
The Lifestyles Entrepreneur Talks About Eating Right, Aging Well and the Value of a Great Smile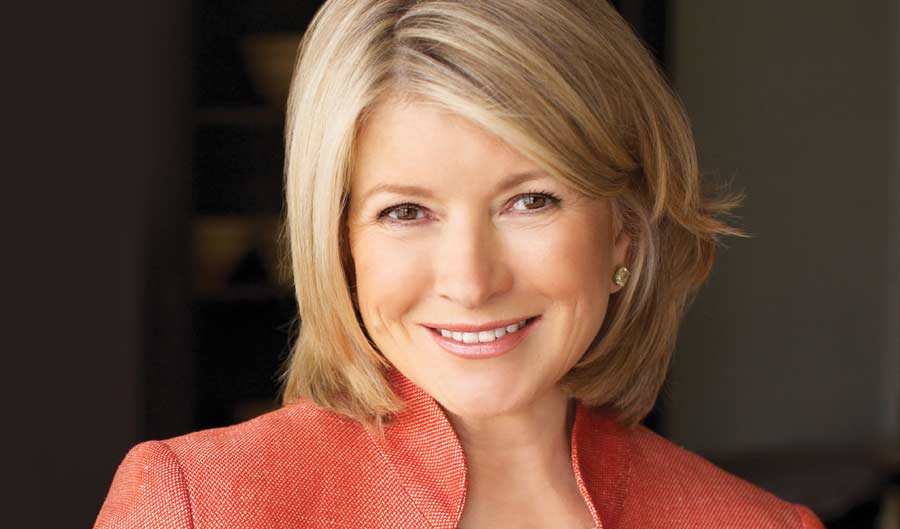 Photo by Scott Duncan
For decades, Martha Stewart has helped her fans create beautiful homes and gardens. Now 72, the magnate of gracious living shows no signs of slowing down. She is a constant presence across all media platforms and has an ever-expanding portfolio of retail products, the latest being a new line of dietary supplements. Yet she still finds time to gather eggs with her two young grandchildren at her Bedford, New York farm, and to try online dating. It should come as no surprise to anyone who's followed this energetic entrepreneur that the profile she recently posted to Match.com specified her willingness to date men 15 years her junior.
"I truly do believe age is just a number," Martha told Dear Doctor recently. "If you're uncomfortable with your chronological age, then don't put all the candles on the cake! Ignore the number. Just keep doing all the things you love, within reason. Do plan ahead for your advanced years, but don't let somebody else define what being young or old means to you."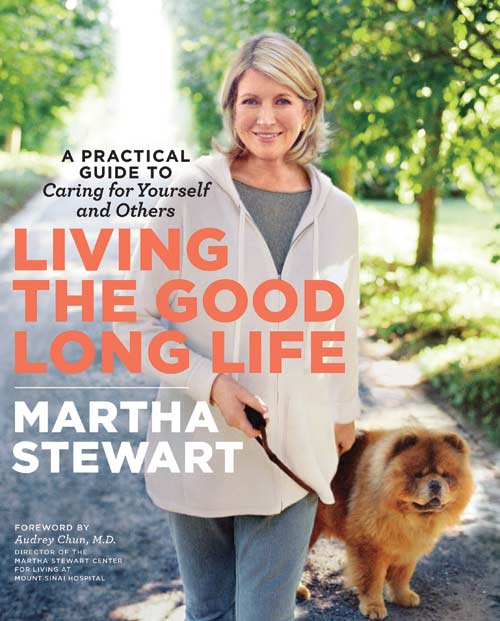 Martha Stewart published a book called Living the Good Long Life.
Martha has plenty more to say on the topic of maintaining health and quality of life through middle age and beyond. So much, in fact, that she recently published a new book called Living the Good Long Life.
"I wanted to create a practical, straightforward, no-nonsense, guide to living a long life that's as good and healthy and carefree as possible," she explained. "We are bombarded by anti-aging messages everywhere we go. But in reality, there is no anti-aging pill we can take, no cream, no potion or elixir that will stop the clock. To live is to age. The real question is: How do we live gracefully and healthfully, with energy and enthusiasm, even as we grow older? The book is intended for people who have begun to ask themselves that question."
The answer, according to Martha, involves a mix of eating right and taking nutritional supplements as needed, physical and mental exercise, and preventive medicine — under the guidance of healthcare professionals who inspire confidence.
"It's very important that you find healthcare practitioners who you can confide in and trust," she said. "If your current physician doesn't fit the bill, then you should start looking for one who does. Consulting the right professional at the right time is essential to taking good care of yourself." Ever the organizer, she added: "Try to schedule your routine visits and age-appropriate medical tests for the entire year all at once. That way, nothing gets forgotten, and everything gets done when it should be."
"Healthy teeth — that can bite into crisp fruits and vegetables and chew nutritious whole grains and nuts — make a vital difference in your quality of life."
In a section of the book devoted to oral health, Martha — who is the sister of a dentist — stresses the importance of getting regular dental checkups and maintaining an effective daily routine of brushing and flossing so you can keep your natural teeth for life. "Healthy teeth — that can bite into crisp fruits and vegetables and chew nutritious whole grains and nuts — make a vital difference in your quality of life," she noted. Plus, they look great! "A beautiful smile is authentically yours," she said. "No one else in the world has a smile exactly like yours. It expresses your unique personality, your sense of humor, and your intelligence."
In pursuit of her own best smile, Martha has had several cosmetic and restorative dental procedures in recent years. Not long ago, she live-tweeted photos of herself in the dental chair, having her teeth professionally whitened, and getting a bridge to replace a broken tooth that could not be saved. She said she was "extremely satisfied" with the results. "When observed, you cannot tell that it's not my real tooth," she said of her dental bridge.
"My dentist is wonderful, and we collaborated and discussed every treatment in detail, each step along the way," she added. "He always makes me feel comfortable [about] asking as many questions as I want and helping me learn as much as I can about oral health."
Her current dentist's efforts to put her at ease with clear explanations and appropriate anesthesia stand in contrast to Martha's childhood experiences of visiting a dentist "who caused a great deal of anxiety and was not a painless dentist," she said. Fortunately, she and her five siblings all got good checkups most of the time. "Not one of us needed braces and none of us had bad teeth," she said. "We had very few cavities and very few fillings."
Martha credits her mother, affectionately known as "Big Martha," for efficiently organizing routine healthcare visits for her large brood. "My mother was an extremely organized schoolteacher who paid close attention to her children and their well-being," she said. "She was our unofficial but very visible standard of perfection."
Martha Kostyra, who died in 2007 at the age of 93, is still an inspiration to her daughter — especially when it comes to health and wellness.
"My mother lived a full and productive life and was in good health almost until she died," Martha said. "Her most interesting and, I think, strongest characteristic was her curiosity. Her mind was always alert and open. She ate well and did not smoke or drink excessively — an occasional glass of wine made her happy. Also, she had an excellent and small group of medical experts who cared for her well."
To make that type of care a reality for more American seniors, Martha founded the Martha Stewart Center for Living at Mount Sinai Hospital in New York City the year her mother died.
"Our goal at the center is to use research and the practice of geriatric medicine to elevate the level of elder care and its importance in our society."
"Our goal at the center is to use research and the practice of geriatric medicine to elevate the level of elder care and its importance in our society," Martha said. "Our aging relatives and the families who care for them are yearning for basic information and resources." The nation, she said, is facing a serious shortage of geriatric care providers. "Right now, there is one geriatrician for approximately every 8,500 to 9,000 patients over 65," she said. "That's not a very good ratio. It's frightening."
Martha chose a bonsai tree as the symbol for the center because these carefully cultivated potted plants, with their knotted trunks and bending boughs, are the embodiment of graceful aging. "When properly tended, bonsai can thrive and flourish, growing even more appealing and interesting with age," she noted in the introduction to Living the Good Long Life. "Unlike a painting or a sculpture, it is a work of art that is never finished."