Cat Cora
America's first female Iron Chef talks about her crusade to boost the health of her family, her country, and even the world — one meal at a time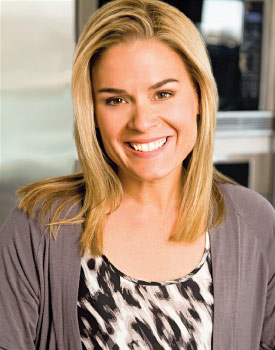 (Continued)
So do all four sons, ages 1 through 7, go with the program?
"Right now my 7-year-old tries to be picky, but it's really about us being consistent as parents," Cat said. So what happens when one of the boys asks for a slice of pizza? "We settle that by saying Friday is pizza and movie night," Cat said. This comes complete with air-popped popcorn — hold the butter. And no soda, which can be damaging to teeth and health.
One thing on which Cat does relent is a before-dinner snack if the kids just can't hold out. "Parents are afraid to give them a little something but I think it's okay, as long as there's space before dinner," she said. In fact, the family sometimes has a late-afternoon "happy hour" with healthy snacks like cheese and crackers — and, of course, Greek olives.
The children have been getting used to different foods and spices since their infancy, when Cat sprinkled cinnamon on their baby cereal. She got rid of bottles and sippy cups as soon as possible to prevent tooth decay, and keeps sugar out of the family's diet by using fruit purees in baked goods and barbecue sauces. She is also a big fan of the natural sugar substitute Stevia (Learn more about low calorie artificial sweeteners that do not promote tooth decay.
Parents will have an easier time getting their kids to eat better, she said, if they include them in meal planning and preparation. "The biggest thing is getting them involved in the meal," Cat advised. Ask them which vegetable they would like to have, not whether they want a vegetable, she said. As you plan and prepare a meal with your children, you can pass on information about healthy choices. "It's a conversation you can have while the kids are helping you cook," she said. "We involve our kids. Once they get involved, even if they didn't want to get involved, they're having a good time."
This involvement can even extend to growing the food and harvesting it for a meal. Cat works with an organization called Teaching Garden, which helps city kids plant gardens for their schools.
"That's been fantastic," Cat enthused. "The kids harvest the garden and whatever is in the garden goes into the cafeteria for lunch."
Another important step toward good health is to maintain an active lifestyle, Cat said. And the best role models, once again, are the parents.
"They see us exercising every day," Cat said of her boys. "We get them out, we limit television. We tell them to go out and play — You're a boy, you're young, go play!"
The boys have a trampoline they love to jump on, but as Cat found out, this form of exercise is not without risk. When 7-year-old Zoran got knocked in the mouth by another bouncing child's head, they had a mouthguard professionally made to protect his newly erupted adult teeth. He also wears it to play soccer.
Cat herself has lost some teeth but not by accident. All four wisdom teeth were pulled when she was in her thirties, she said, and another extracted tooth was replaced by a dental implant. Comparing the two experiences, Cat said the implant was "much easier for me."
"It feels very natural," she said. "Now I don't even think about it."
As for maintaining the brightness of her smile, Cat opts for occasional professional whitening sessions and over-the-counter whitening strips. This, she said, is just par for the course in her line of work. "With what I do, whitening your teeth is like getting your hair done, your nails done and everything else you have to do to be on television," she said with a laugh. But she will only go so far: "I want my teeth to be white and healthy looking — but not stark white or looking like they could glow in the dark," she quipped.
Her smile will soon be on display in a new venue: A television show on the Oprah Winfrey Network. Without giving too much away, Cat said it will not be your ordinary cooking show. Rather, it will show how food could be "a catalyst for a better quality of life."
Cat has already helped improve the quality of life for many through her philanthropic work. In response to the 2004 Tsunami that devastated 11 countries bordering the Indian Ocean from Africa to Thailand, she founded Chefs for Humanity. Modeled after Doctors Without Borders, this not-for-profit alliance of culinary experts provides nutrition education and emergency food aid throughout the world. Closer to home, Cat is working on adopting a school in Santa Barbara as part of Michelle Obama's Chefs Move to Schools program.
"I want to do things that have substance," she explained. "I want people to have an 'aha' moment. Everything I do now I look at that — how is this going to change people's lives?"