Cat Cora
America's first female Iron Chef talks about her crusade to boost the health of her family, her country, and even the world — one meal at a time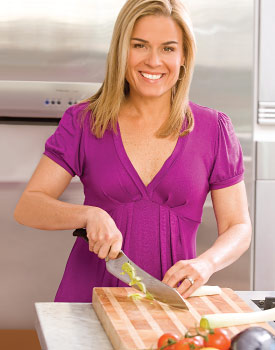 When First Lady Michelle Obama decided last year to enlist celebrity chefs in her battle against childhood obesity, she knew just whom to call — Cat Cora. The Iron Chef America star and Jackson, Mississippi native has built her culinary reputation by blending her Southern and Greek heritages into a tasty recipe for better living.
"It's really about eating healthier," Cat recently explained to Dear Doctor. "I love the flavors of the South," which is notorious for its deep-fried delicacies. "How can I have the same flavors of the South but in a healthy way?"
Cat answered that question in her most recent book, Cat Cora's Classics with a Twist: Fresh Takes on Favorite Dishes, in which she lightens up old favorites. Her baked "fried" calamari, for example, is dipped in buttermilk and breaded with crushed organic cornflakes. According to Cat, reducing fat, sugar and calories doesn't have to mean reducing flavor. You just need to know the right tricks.
"I honestly know I can make a great risotto without butter," the 44-year-old Iron Chef asserted. How? She uses corn to impart a buttery taste, along with stock and olive oil for a rich yet healthy finish. In fact, olive oil — which is far lower in saturated fats than other oils — is a major feature of her cooking, just as it was in the Greek Orthodox home of her childhood.
Reducing fat, sugar and calories doesn't have to mean reducing flavor. You just need to know the right tricks.
"When my friends were eating fried okra, we were eating steamed artichokes with olive oil and lemon," Cat recalled. "We always used olive oil unless we were baking, and that was way before people knew what the heck olive oil was."
Citrus also continues to be a favorite healthy ingredient in Cat's cooking.
"I use a lot of citrus to brighten flavors," Cat said. "Citrus is fat-free, calorie-free, good for you, and has lots of vitamin C."
Another tasty trick: use yogurt, Cat said, as a savory substitute for sour cream.
But what if you love the flavor of cheese? Cat returned to the risotto example.
"Finish it with a little Parmesan cheese to give it that nice, cheesy flavor, but it doesn't have to be a whole cup. That's the problem with our generation," she mused. "We think, a half a cup's good but a whole cup's even better. Well, no. You don't have to have that to make a dish taste great."
Cat said knowing which tastes work well together is also key to making satisfying substitutions.
"Knowing the techniques of cooking, you can really make things taste phenomenal," she said. "An egg-white omelet tastes different from a full-egg omelet, but it still tastes delicious if you add sun-dried tomatoes and feta cheese, a little spinach," she explained. "It's giving that flavor boost that can be so amazing."
Feta cheese was another lower-fat staple of the flavorful Greek cuisine Cat refers to as "my soul food." As a teen, Cat, born Catherine, aspired to open her own Greek restaurant as her father and grandfather had done. After college, she got valuable culinary career advice from Julia Child, whom she met at a book-signing and then several more times before the acclaimed chef passed away in 2004.
"She was a wonderful role model," Cat recalled, adding that Meryl Streep's portrayal of her mentor in the movie Julie & Julia was "true to form."
Cat followed the real Julia's advice to enroll at the Culinary Institute of America in Hyde Park, New York. Apprenticeships in the US and Europe followed.
After making her way to California, Cat landed her first television role as co-host of Food Network's Melting Pot with Rocco Di Spirito in 1999. In 2005, she became the first female Iron Chef in the franchise's history.
These days, when she's not battling other world-class chefs to maintain her kitchen supremacy, she's facing down a foe that threatens her four young sons: junk food. It's a campaign she's definitely winning.
"My kids have never had fast food," Cat reported. It's a decision for which she's happy to assume full responsibility, as she believes all parents should. "The parents have a choice to do that or not," she said. "The kids are not going to the grocery store to shop; the kids are not driving themselves through fast food chains." She summed up her attitude toward her sons' eating habits as follows: "When you're old enough to drive and you're out of my sight, and there's nothing I can do about it, then it's up to you. But right now, I'm making the choices."
Continue to the next page to read more about Cat Cora.