The Hidden Consequences of Losing Teeth
How Dental Implants Stop Gradual Bone Loss and Replace Teeth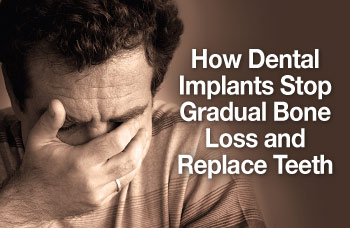 The goal of modern dentistry is to restore normal function, comfort, aesthetics, speech, and health to individuals who are missing teeth. Given that our population is both aging and growing, an increasing number of people are being affected by the loss of teeth. However, the more teeth a person is missing, the more challenging this task can become. As a result of continued research in the development of diagnostic tools and innovative treatment, predictable success is now a reality in many challenging dental situations. This is a blessing, because tooth loss has some serious consequences — particularly for older people, who are more likely to be missing teeth.
The Unseen Effects of Tooth Loss
The most obvious effect of missing teeth is aesthetic. The way you look affects the way you feel, and the psychological and social consequences of tooth loss can also be profound, as we shall see. But it's not just about unsightly gaps; there's something less apparent going on in the area of a lost tooth that can affect function, health, facial aesthetics — just about everything.
Believe it or not, in the beginning and at the end — it's not so much about teeth as it is about bone, which needs stimulation to maintain its form and density. In the case of alveolar (sac-like) bone which surrounds and supports teeth, the necessary stimulation comes from the teeth themselves. Teeth make hundreds of fleeting contacts with each other throughout the day. These small stresses are transmitted through the periodontal ligament ("peri" – around; "odont" – tooth) that suspends each tooth in its socket, prompting the bone to remodel and rebuild continually.
When a tooth is lost, the lack of stimulation causes loss of alveolar bone — its external width, then height, and ultimately bone volume. There is a 25% decrease in width of bone during the first year after tooth loss and an overall 4 millimeters decrease in height over the next few years.
As bone loses width, it loses height, then width and height again, and gum tissue also gradually decreases. Ability to chew and to speak can be impaired. The more teeth lost, the more function is lost. This leads to some particularly serious aesthetic and functional problems, particularly in completely edentulous (toothless) people.
And it doesn't stop there. After alveolar bone is lost, the bone beneath it, basal bone — the jawbone proper — also begins to resorb (melt away). The distance from nose to chin decreases and with it, the lower third of the face partially collapses. The chin rotates forward and upward, and the cheeks, having lost tooth support, become hollow. Extreme loss of bone can also make an individual more prone to jaw fractures as its volume depletes more and more.
So-called bite collapse can occur when only some of the back teeth, which support the height (vertical dimension) of the face, are missing. This can cause the front teeth to be squashed or pushed forward. They were not designed to support facial height or to chew food — only to hold and incise or tear it. Toothless people appear unhappy when their mouths are at rest because their lips, too, have sagged; unsupported by teeth and gum tissues they just cave in. Without teeth present, the tongue spreads into the space and the face collapses. The same is true of self-confidence.
The First Teeth To Go
In the United States, 70% of the population is missing at least one tooth, usually a back tooth. The first, or "6-year molars" are the first permanent (adult) teeth to erupt into the mouth and, unfortunately, are often the first teeth to be lost — as a result of decay, failed endodontic (root canal) therapy or fracture. In addition, they often have one or more crowns, which are still susceptible to recurrent decay. Longevity reports for crowns vary widely. The mean life span at failure of a crown has been reported as 10.3 years. Other reports range from a 3% failure rate at 23 years to a 20% failure rate at 30 years. Ultimately heavily restored and root canal treated teeth fail to recurrent decay, infection, structural failure or fracture. These teeth are at risk for extraction as a result of these complications, which are the leading causes of single posterior (back) tooth loss in adults.
Research has shown that while a natural tooth fixed bridge may replace a missing tooth, the teeth used to support the bridge are more susceptible to tooth decay, root canal problems, and gum disease.
Up until now, the most common — but not necessarily the best — option for replacing a single back tooth has been a three-unit fixed partial denture (FPD), also called a fixed bridge. In this case, the two teeth on either side of the gap, known as abutment teeth, are crowned and the two crowns together support a "pontic" — a false tooth in the middle (from the French word for bridge). This type of prosthesis (false replacement) can be fabricated within one to two weeks and provides normal shape, function (eating, talking and smiling), comfort, aesthetics and health. Because of these benefits, FPDs have been the treatment of choice for the last six decades. Every dentist is familiar with how and when to use them; they are widely accepted by the profession, the public, and dental insurance companies.
FPDs are not invariably successful over time. If not well maintained, the pontics can act as reservoirs for bacterial biofilm and the abutment teeth can decay. As a result, the supporting abutment teeth are susceptible to structural failure from decay, failed endodontic therapy and/or fracture, increasing their risk of loss.
The abutment teeth of FPDs may be lost at rates as high as 30% within 14 years. Such unfavorable outcomes of FPD failure include the need to replace them and the loss of an abutment tooth or teeth.