Lorna's Smile Makeover Story
Dear Doctor's 3rd smile makeover contest winner results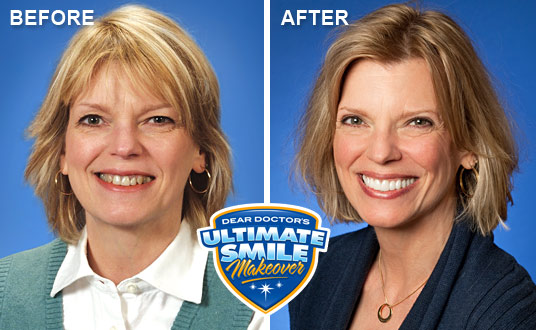 Lorna Ficker can't stop smiling. "I still can't believe it, it's too exciting," said the newly unveiled winner of the free Ultimate Smile Makeover Contest from Dear Doctor magazine. "People will stop me in the middle of a sentence and say, 'Your teeth, I just can't believe those teeth!' It's just been amazing."
"Winning this smile makeover is a dream come true!"
When Lorna says, "All my life I wanted to get my teeth fixed," she's not exaggerating. As a youngster, her smile never really had a chance: One of her top permanent teeth didn't grow in and another arrived misshapen and peg-like. Then, when she was 8 years old, she fell and broke her two front teeth. And at the time, dentistry didn't have the technology to help a child so young.
"I had to go around with broken teeth," Lorna recalled. "They didn't have bonding back then. There wasn't anything available."
It was rough growing up with a damaged smile, said Lorna. "I was called 'can-opener mouth,' 'the girl with the chipped teeth.' I always had my hand in front of my mouth — always. I never wanted to show my teeth. It was terrible."
Lorna remembers, at age 15, trying to construct her own "normal" teeth.
"My friend and I, we used to draw teeth on pieces of paper and put them across my teeth to see what I would look like. I always wondered what it would be like to have normal teeth. It's just been a fantasy of mine."
Finally, when Lorna was 16, she was able to get her two front teeth and the peg-tooth capped. But this didn't fully solve her problems because her lack of a full set of top teeth caused her smile to appear off-center. "It looked like I had three front teeth," she said. Lorna needed orthodontics and a prosthetic tooth, but the family couldn't afford it.
"Unfortunately my father had passed away and we didn't have insurance. My mother did the best she could — I just got caps put on; I wasn't able to do the orthodontics."
Over the years, Lorna's teeth continued to shift, decay and discolor, while her caps stayed white. "Everything was all a mismatch and off-center, it just was a mess," she said. "The older and older I got, the worse and worse my smile was looking. And there was no quick fix. To get it to look normal would be such a major production that I just thought it was impossible; I would never be able to do it."
Then Lorna saw an announcement for the Ultimate Smile Makeover Contest in an issue of Dear Doctor – Dentistry and Oral Health magazine. The feisty 55-year-old mother of two grown children reacted this way:
"I said, okay, they want a challenge, I'll give 'em a challenge! Never in my life did I think that I would win."
Lorna was no stranger to challenges that went above and beyond her dental problems. During the prior 15 years, she had been battling multiple sclerosis (MS), an autoimmune ("auto" – self; "immune" – defense/resistance system) disease that had compromised her ability to walk. And this figured into her decision to enter the contest.
"I thought, I can't really do anything about my MS," Lorna explained. "But I could fix my smile if I entered. So that's what I decided, I'm gonna go for it."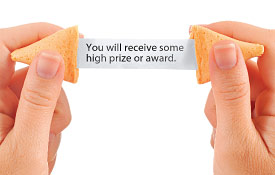 Lorna will never forget the moment she found out she was a contest finalist. She was having a takeout Chinese dinner with her family. "I got a fortune in my fortune cookie that said, 'you will receive some high prize or award' and then the phone rang," she said. "I'm not kidding you, it was Dr. Vilardi (publisher of Dear Doctor magazine) telling me that I was a finalist."
Ten finalists are selected from thousands of entries and a Dear Doctor participating dentist evaluates each patient. After those evaluations have been completed, the treatment recommendations, x-rays and photographs are sent to Dear Doctor to help the magazine select the winner. The next step was for Lorna to be evaluated by Dr. Richard K. Whalen, a dentist in Poughkeepsie, New York.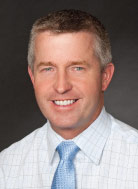 Dr. Richard Whalen
"When Lorna first came to see me, she had a whole bunch of different issues that needed to be sorted out to fix her teeth and smile," Dr. Whalen recalled. "I decided then that this couldn't be just a simple smile makeover — we needed to improve the entire health of her mouth! She had a mix of old, failing restorations with decay, a missing tooth, shifted midline, and many other issues to address."
Dr. Whalen said he could see that Lorna's treatment would have to involve a team of dental professionals, including an orthodontist and a periodontist (gum specialist). "This was certainly not a simple case of placing new crowns and veneers, as there were too many other factors that needed to be dealt with to restore health and aesthetics," he said.
Lorna was very interested in Dr. Whalen's analysis, but still had her doubts that she would be chosen as the winner. That is, until she received the second fortune.
Back at the Ficker's dinner table shortly after her evaluation by Dr. Whalen, Lorna was opening another fortune cookie. The little slip of paper read, "Your winsome smile will be your sure protection." She took it as a sign.
"I just had a feeling that I was gonna get lucky," she recalled. And she did. Dr. Vilardi called with the great news shortly thereafter.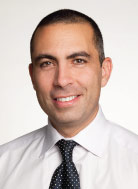 Dr. Ahmed Mansour
During Lorna's next office visit, Dr. Whalen explained that his first goal was to restore her mouth to the best possible state of health before sending her for orthodontic treatment with Dr. Ahmed H. Mansour of Sunshine Orthodontics in Wappingers Falls, New York. Over three visits, Dr. Whalen removed and replaced nine old, failing fillings and did one root canal. He also told Lorna that she would need to improve the condition of her gums before she began orthodontic treatment and take better daily care of her teeth — something Lorna admits to neglecting over the years.
"I didn't really take care of my teeth because I didn't really like them," She said. That was about to change.
Lorna was given a thorough periodontal cleaning and instructed on proper techniques for brushing, flossing, and rinsing with an antibacterial mouthwash. She was given a Nimbus toothbrush specially designed to reach into gum margins to remove bacterial plaque gently with microfine ultrasoft bristles. What makes the Nimbus toothbrush unique is that the soft, rounded, flexible bristles actually protect against gum recession. She took her new oral hygiene routine seriously, because it made such a difference.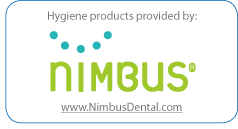 "I thought, if they're going to do this for me, I'm going to take much better care of my teeth and improve my gums," Lorna said. "And those Nimbus toothbrushes — I just love 'em."
It was possible, she learned to lose bone around her teeth during the orthodontic treatment if her gum tissues were not free of inflammation. With less bone support, her teeth could be less stable and then start shifting after orthodontic treatment was completed.
Lorna's diligence paid off. Six months later, when she had her second visit with Dr. Mansour, the orthodontist was impressed.
"He thought I had been on antibiotics or something because my gums had improved so much from the cleanings and me caring for them," Lorna said proudly. "It made me feel good and then I wanted to keep up with my regular cleanings and hygiene."
Dr. Mansour put braces on Lorna's top teeth to create a space for the congenitally missing lateral incisor that never grew in next to her right front tooth.
"Congenitally ("con" – together with; "genital" – relating to birth) missing upper lateral incisors are not uncommon," said Dr. Mansour. "Orthodontic treatment was necessary to open space to replace the missing tooth." He noted that the line between Lorna's upper front teeth, known as the dental midline, was considerably off to the right. "We had to shift a significant number of teeth to create the space," he said. "We were able to accomplish our goals in about 15 months using state-of-the-art orthodontic appliance technology."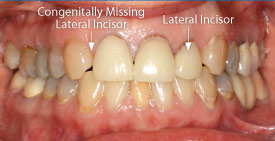 Note the missing lateral incisor which creates a smile that lacks symmetry as her front teeth do not line up with her face.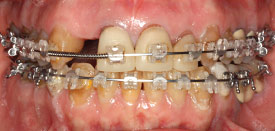 Orthodontic therapy created space for her missing lateral incisor and corrected her facial symmetry lining her upper front teeth with her face.
The braces are removed and her teeth are now ready to be restored.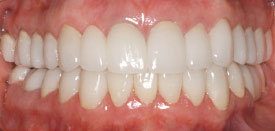 Photograph showing the final result.
(For more information on congenitally missing lateral incisors, please see "When Permanent Teeth Don't Grow.")
In a little over a year, Lorna had enough space for a new, artificial tooth.
"I couldn't believe what he accomplished in that amount of time with the braces," Lorna said. "He shifted the teeth and made a space to put a tooth in there; I never thought it could be done."
Lorna's appreciation of her makeover team continued to grow. "They were great, both of them," She said. "I looked forward to going there, I didn't dread it any time I had appointments. The people couldn't be nicer. It's just been wonderful."
With her braces off, Lorna was given a retainer with a temporary artificial tooth to hold the space created for it until her final veneers, crowns and bridgework could be made. Now she had to put some more thought into what she wanted her new smile to look like.
"We have a book of tooth colors and shapes that patients get to choose from, including Hollywood, Natural, Softened, etcetera," Dr. Whalen explained. "We looked at Lorna's existing teeth, her face, and skin color to help determine our plan. But she had full control of what she ultimately wanted to do!"
Lorna chose the "natural" smile. (For more information on choosing tooth-shades during a smile makeover, please see "Smile Design Enhanced with Porcelain Veneers.") She also wanted her canine (eye) teeth to appear slimmer and more feminine — an effect Dr. Whalen could create with her new crowns.
As a permanent solution for her missing tooth, Dr. Whalen discussed with Lorna two options, a three-unit fixed bridge as well as a dental implant. Since Lorna's teeth were going to need crowns anyway, Lorna choose the three-unit bridge because it also had the advantage of stabilizing her recently moved teeth and preventing further shifting. Dr. Whalen proceeded to construct a three-unit fixed bridge whereby a false tooth was attached to teeth on either side by way of the crowns.
Two and a half years from her first appointment with Dr. Whalen, the makeover was complete.
"It makes me smile and I just love it," Lorna gushed, the happiness evident in her voice. "It just helps to have a nice smile. I'm so grateful. I never in my life thought I would ever see it."
Lorna still keeps those tiny paper fortunes; they are mementos of the news that would change her life.
Lorna's Smile Makeover Team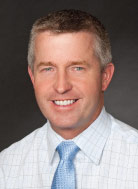 Dr. Richard Whalen – Cosmetic Dentist
Dr. Richard K. Whalen of Dental Design Studio in Poughkeepsie, NY has been providing comprehensive oral care since earning his Doctorate of Dental Surgery from the State University of New York at Stony Brook School of Dental Medicine in 1992. He has received advanced training at many institutions of continuing education, including the Las Vegas Institute for Advanced Dental Studies and the Misch International Implant Institute. Dr. Whalen is a member of several renowned Dental Associations, including the American Dental Association, International Association of Comprehensive Aesthetics, American Academy of Cosmetic Dentistry, and Academy of General Dentistry.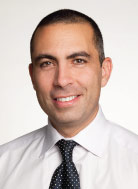 Dr. Ahmed Mansour – Orthodontist
Dr. Ahmed H. Mansour of Sunshine Orthodontics in Wappingers Falls, NY has been providing excellent patient care since 1995. He earned his Bachelor of Dental Medicine and Surgery with Honors from the Faculty of Oral and Dental Medicine at Cairo University in Cairo, Egypt. He went on to earn Postgraduate Certifications in Advanced Education in General Dentistry, Prosthodontics and Orthodontics at the University of Rochester Eastman Dental Center in Rochester, NY. Dr. Mansour is a published author and Board Certified Orthodontist. He is a member of the American Dental Association and the American Association of Orthodontists, and a diplomate of the American Board of Orthodontics.
Learn More or Enter Today!
Learn more or enter our latest Ultimate Smile Makeover by visiting www.DearDoctor.com/makeover.