Debra's Smile Makeover Story
Our latest makeover contest winner results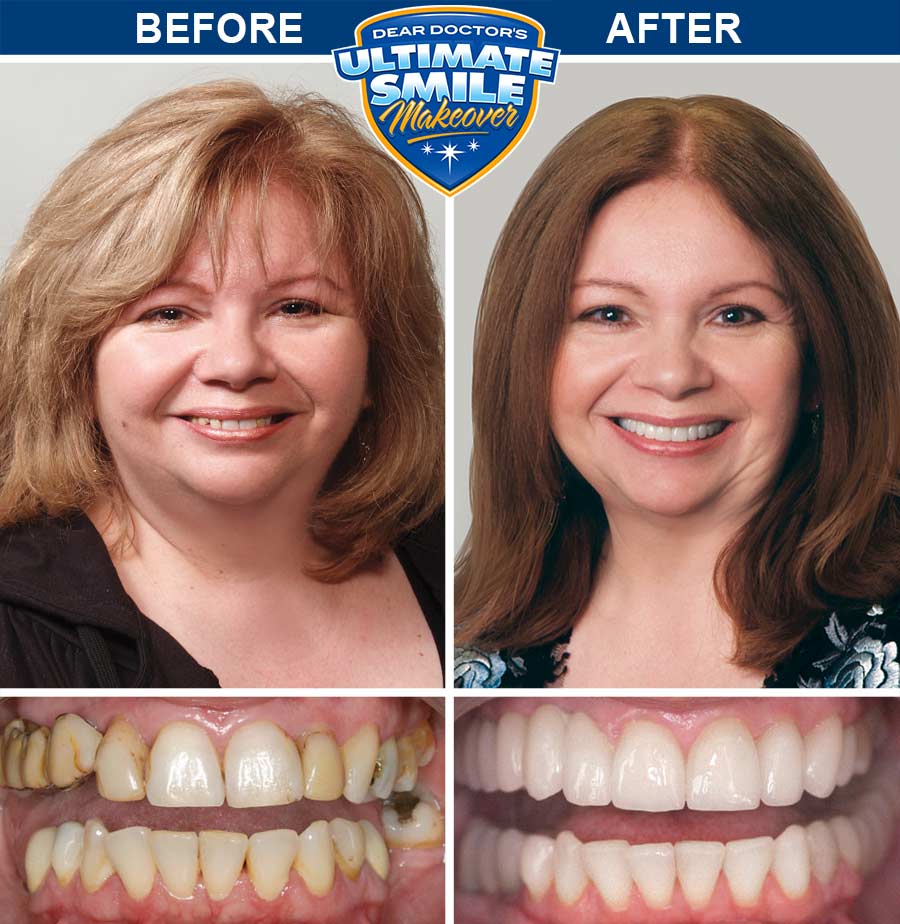 Debra couldn't remember a time when she was happy with her smile. By age 54, she was so upset with the appearance of her teeth and had become so self-conscious that she would either avoid smiling in various social situations, or cover her mouth with her hand. "I hated to smile, truthfully. When I had pictures taken I never showed a full smile," she said.
Her displeasure stemmed from the appearance of several discolored and missing teeth, a mouthful of unsightly fillings, and a very old bridge that was placed when she was 18, which had gradually lost all of its aesthetic appeal. She both needed and wanted a smile makeover for years. Although she had even gone for dental consultations, she realized that the cost of the extensive dental work she needed was far beyond anything she could afford.
Then, along with some other holiday mail, the latest issue of Dear Doctor magazine arrived in her mailbox. In it, she spotted an ad for Dear Doctor's Ultimate Dental Health Makeover Contest. "I thought, I'll never win, but I filled out the online entry form anyway," she said. A few months later, she received a call from Dr. Mario Vilardi, the president and publisher of Dear Doctor magazine, telling her that she had been selected as the winner of the smile makeover contest. But she was so shocked that the good news barely registered. "When I got off the phone, I still couldn't believe I had won the contest. I thought maybe he said I was being considered — it didn't penetrate."
Things started to fall into place quickly once she visited the Integrated Dental Esthetics office in Kinnelon, New Jersey, where she met Dr. Jessica Logan, the dentist who would spearhead her smile makeover. "Dr. Logan explained every procedure in detail so I knew exactly what to expect. Her staff was very warm and caring. I had a full series of x-rays of my teeth and molds were made to study my bite. After some planning, Dr. Logan and her team showed me what my options were and, together, we decided what to do."
Even though Debra thought a few major procedures might be in her future, the proposed plan of action was more extensive than she had imagined, and would involve multiple visits to both Dr. Logan and another Dear Doctor specialist, a periodontist.
"We at Dear Doctor wanted to help give Debra back her confidence and create a smile for her that was not only more aesthetically pleasing, but one that was more structurally and functionally sound. As importantly, we wanted to restore her dental and oral health so that it would be self-sustaining well into the future," said Dr. Vilardi. "Her case was very challenging cosmetically due to the fact that she had some missing teeth, and also loss of facial support caused by previous tooth loss. What further complicated matters was that after the teeth were removed, the bone supporting the teeth resorbed — melted away. Bone grafts, which can maintain bone volume, were not placed at the time of extraction, making tooth replacement with dental implants more challenging."
Debra's Journey With Dr. Logan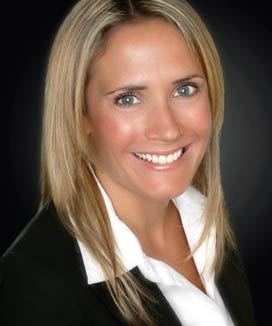 Debra's smile makeover needed to be carefully orchestrated. Dental implants were a necessary part of her treatment plan to replace missing teeth. Implants were particularly crucial to her transformation because her remaining natural teeth were too weak and brittle, and the spaces between them too large to support well-constructed bridgework.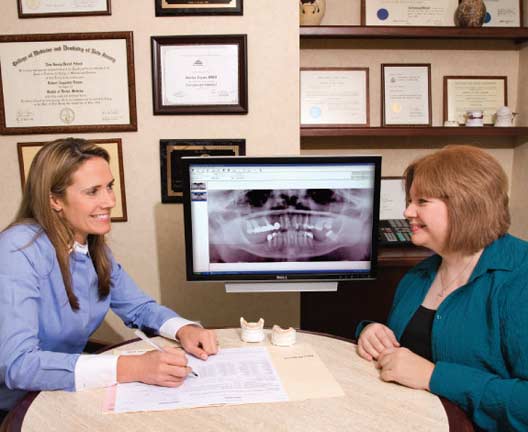 Before the smile redesign could truly get underway, Debra's journey began with a thorough dental examination by Dr. Logan. The examination process began with a cancer screening examination and careful look for any abnormal or suspicious tissue in the lining membranes of her mouth. Further examination revealed that Debra's periodontal tissues (which include the teeth and the supporting bone) were unhealthy; she had gum disease with some early bone loss that needed to be addressed immediately. Controlling inflammation and infection would ensure a healthy foundation upon which her teeth and smile could be reconstructed. This was accomplished by providing Debra with instruction in proper oral hygiene techniques and professional cleaning to restore her gum tissue to optimal health.
Periodontal (gum) tissue health ensures that no loss of bone support or periodontal attachment to the teeth will occur during orthodontic treatment. Orthodontic treatment was needed to realign her lower front teeth. Healthy gum tissue was also an important first step, and necessary pre-requisite to ensuring an ideal functional and cosmetic result, since many of her teeth were going to be restored using crowns and bridgework.
"When you have crowns and bridgework, you do have to take care of your teeth in a different way and learn new oral hygiene techniques. I also learned about diet and how snacking on chips and other starches can create acids causing decay that are bad for your teeth," Debra said. "I would never have thought of that before."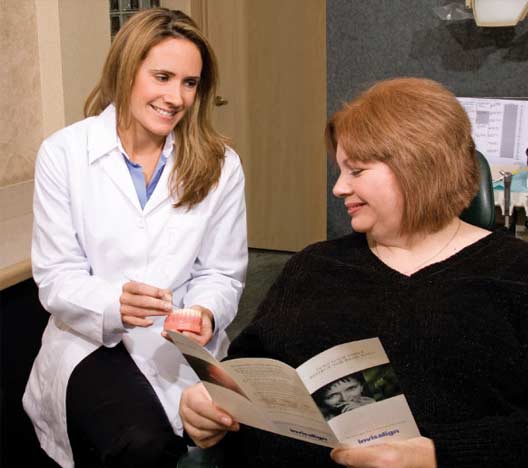 Once her gums were healthy, Debra received Invisalign appliances to straighten her teeth. Due to the complexity of the dental procedures needed, full treatment took over two years to complete. Throughout that time, laboratory-processed temporary crowns were used that were very attractive and durable, ensuring both her physical and emotional comfort.
"My smile makeover was an exhilarating experience from beginning to end. Seeing the gradual transformation of my teeth to how they look today was like putting a jigsaw puzzle together; each piece is set into place until you see the total picture. Then suddenly it's done and you can smile again," Debra said.
Inside Debra's Treatment
Debra had many dental problems that needed to be addressed during her smile makeover. Because the overall health of her mouth was poor and restoring the foundations of her teeth and gums to adequate health was a top priority, her treatment plan was sophisticated and necessitated a carefully orchestrated, step-by-step approach utilizing some of the latest technologies available in cosmetic, surgical and implant dentistry.
Phase 1: The Initial Consultation
One of the first things Dr. Logan did when she met with Debra was go over her full medical history to determine if she had any medical conditions that could compromise her dental health and makeover. Radiographs (x-rays) were taken and models of her teeth were created for study purposes. Dr. Logan also examined Debra's head, neck and face, and evaluated the health of the mucosal lining inside her mouth to screen for oral cancer. A periodontal exam revealed early periodontitis, which needed to be treated before reconstructive work could begin.
Phase 2: Periodontal Therapy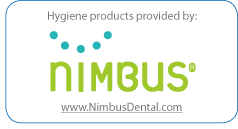 The next phase of Debra's treatment included periodontal therapy, during which she was provided with the Nimbus toothbrush and given detailed instructions on how to use it to control dental bacterial plaque, the main cause of tooth decay and gum disease. The Nimbus toothbrush is unique; it is a microfine ultrasoft brush designed to reach into all gum margins without using pressure or force to remove plaque. It is especially beneficial for patients with thin gum tissues who are very prone to gum recession. Periodontal therapy resulted in control of infection and inflammation after deep cleaning appointments in addition to her new oral hygiene regimen. In the lower right area, she also needed a gum tissue graft, a small surgical procedure to provide a zone of protective gum tissue where none existed.
Phase 3: Orthodontics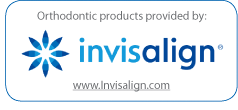 In order to straighten her lower front teeth, Debra was treated with one of the most innovative products in orthodontic technology. The Invisalign system uses computer generated clear, removable custom designed aligners, which gradually straighten teeth. "When I first went to see Dr. Logan, she showed me exactly how the Invisalign system works and how my teeth would line up. It's all done by computer; it's amazing." Having witnessed her daughter, who developed ulcers when wearing traditional metal braces, Debra was thrilled by the comfort and the ease of use of these clear aligners. "You could wear them during the day and, since they're clear, nobody knows you have them. I was not at all self-conscious." Dr. Logan gave Debra a peroxide-type solution to occasionally put in the aligners that acted as a bleaching agent to whiten her natural teeth so that they could be matched to porcelain veneers, giving her as bright a smile as possible to ultimately complete the makeover process.
Phase 4: Extractions and Bone Grafting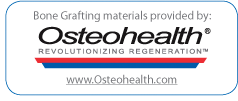 Dr. Logan and our team of Dear Doctor specialists determined early on that Debra had several hopeless teeth that had to be removed due to either extensive decay or failed root canal treatments. Her upper right lateral front tooth, in particular, was severely damaged. At the time of extraction, a bone grafting material, BioOss-Collagen, manufactured by Osteohealth, was placed into the extraction sockets to improve the healing and minimize the dimensional changes that normally occur after extraction. Bone grafting procedures to tooth sockets are crucial to maintaining bone volume and preparing the sites for the dental implants that she so desperately needed.
Phase 5: Implant Therapy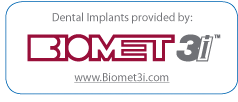 Restoring Debra's mouth to full function required the placement of three Biomet 3i dental implants. These implants provided additional anchorage and the foundation to replace Debra's missing teeth in the upper right jaw, as well as the missing molar in the lower right jaw. Replacing her lost teeth with implants improved her appearance but, more importantly, offered additional bite support that reduced the pressure on Debra's remaining natural teeth. "When I had the implants placed, I have to say there was no pain at all. It wasn't like years ago when I was a kid. Dentistry has come such a long way; it's unbelievable." She had to have a few minor adjustments to ensure that her bite was completely aligned and comfortable, but Debra says the implants feel like her own teeth. "It's like I've always had them. I can't remember what my old teeth even looked like!"
Phase 6: Restorative Dentistry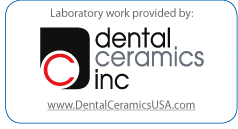 Once the root structures were healthy and implants placed securely, Dr. Logan refined the tooth preparations for final crowns and bridgework to restore Debra's teeth. Dr. Logan always works with the finest dental laboratories in the country to achieve outstanding results. She enjoys working with Dental Ceramics of Ohio and their skilled dental technicians. They made the state-of-the-art customized porcelain crowns and bridgework that were used to complete Debra's transformation and create the aesthetically pleasing smile that she had always dreamed about. Communication between Dr. Logan and the skilled laboratory technicians at Dental Ceramics was key to completing Debra's smile makeover. With Debra's input, Dr. Logan determined exactly what color, size and shape the porcelain crowns and bridgework were needed to best compliment her appearance, facial shape and the look of her natural teeth. Dental Ceramics technicians, skilled in the art of tooth design, then created the new, life-like crowns and bridgework, providing Debra with her dream smile.
After Debra approved the final restorations, they were inserted during a two-hour appointment. She had a few follow-up visits to refine her bite, as is traditionally the case when someone is getting accustomed to their new teeth. Debra became very comfortable very fast. Not only was her appearance greatly improved, but also her comfort and chewing function. To protect her new teeth, she was fitted with a lab-fabricated nightguard, which she continues to wear every night to protect her new teeth and smile.
Debra's New Life
Since her smile makeover, Debra says she has a lot more confidence and is much more outgoing. "I'm much more comfortable now talking to people. I don't feel self-conscious about my mouth." Her newfound confidence is coming in handy, as more and more of her friends and neighbors are becoming aware of her makeover, thereby turning Debra into somewhat of a local celebrity.
"It's funny because many people in my community read Dear Doctor magazine and people have been coming up to me saying that they saw me in the magazine. A relative of mine called to tell me that her sister was in my dentist's office and saw my picture in the magazine. That's the kind of reaction I'm getting!"
But Debra has welcomed the notoriety and said she is beyond pleased with the entire process and the overall results of her smile redesign. In fact, she still can't believe how lucky she was to be chosen the winner.
"How many contests are there where you can win a smile makeover and become a new you? How many people get a new smile? I waited my whole life for new teeth and I finally got them. I can't stop looking at them. Now when I look in the mirror, I can smile and look at my teeth, whereas before I couldn't even look at myself. Words can't describe how grateful I am. I can't thank Dr. Logan enough; she did a beautiful job on my teeth."
A Final Note From Dear Doctor
Has Debra's story sparked a desire in you to someday improve upon your own smile? Dear Doctor is currently accepting entries for our next smile makeover contest.
Dear Doctor would like to thank Dr. Jessica Logan and her staff, along with Nimbus toothbrushes, Invisalign, Osteohealth, Dental Ceramics of Ohio and Biomet 3i, all of our contest sponsors for their professional and compassionate support to patient care. Without our sponsors, The Ultimate Dental Health Makeover Contest would only be a dream.