Cara's Smile Makeover Story
Our latest makeover contest winner's results
Cara Neely knows firsthand what a difference a smile makes. For an entire decade, the 35-year-old Pilates instructor wasn't able to smile without worrying about it. She admitted, "It terrified me for a long time just to look at my teeth." But ever since she won the Dear Doctor Ultimate Smile Makeover contest, Cara hasn't been able to stop smiling.
A Life of Pain and Embarrassment
While she was still a teenager, Cara began suffering from rampant tooth decay, which she admits was not helped by her fondness for sweet, acidic beverages. Both her parents had poor oral health as well: Her mother started wearing dentures in her 20s and her father in his 30s. Cara herself had a history of root canals and numerous fillings. Then she stopped having dental treatments altogether about ten years ago. "And things absolutely got worse," she told Dear Doctor.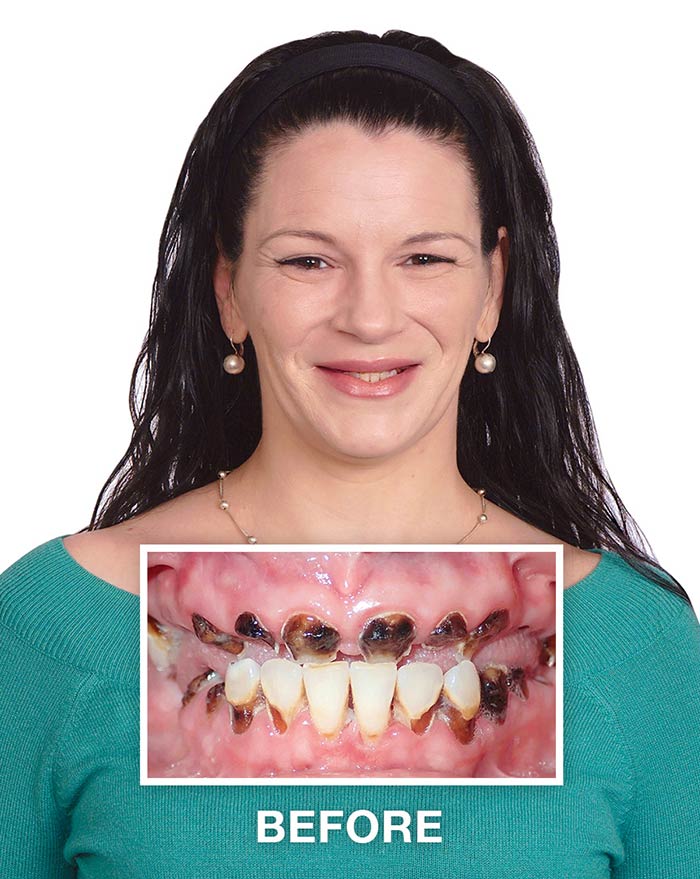 Cara before smile makeover
Cara's teeth weren't healthy enough to chew solid food, so she was restricted to a soft diet consisting mostly of bananas, mashed potatoes, baked sweet potatoes and over-steamed vegetables. She lamented, "I haven't been able to eat a steak for ten years."
Her life was marred by trouble with digestion, debilitating sinus headaches and near-daily fibromyalgia flares. Her career was affected as well. "I'm a Pilates instructor. It's health-based, and the healthier you look, the further you go. For obvious reasons, you want someone healthy teaching you to be healthy." She had aspirations of studying to become a psychologist but couldn't imagine people feeling comfortable enough in a face-to-face situation with her to tell her their problems.
As Cara's dental condition worsened over the years, so did her self-esteem. She hid her smile not only from her clients, but also from her own daughter. Before her makeover, she revealed that she had become a hermit. "I don't go out. I don't date. I don't go on social media. I'm embarrassed. I don't want anybody to see me like this."
The Phone Call That Changed Everything
All that changed the day Cara got a call from Dr. Mario Vilardi, president of Dear Doctor, with the news that she had won Dear Doctor's Ultimate Smile Makeover contest.
She had entered the contest on a lark at the urging of her mother. "I was completely shocked that I won. I never thought it would happen," Cara recalled. "It's like winning the lottery. It was just an amazing, amazing day when Dr. Vilardi called and told me!"
Steps Toward a New Smile
Cara first met with Dr. Sandra Vargas, the leader of her smile makeover team. "I saw a beautiful person who needs her smile back." Dr. Vargas said.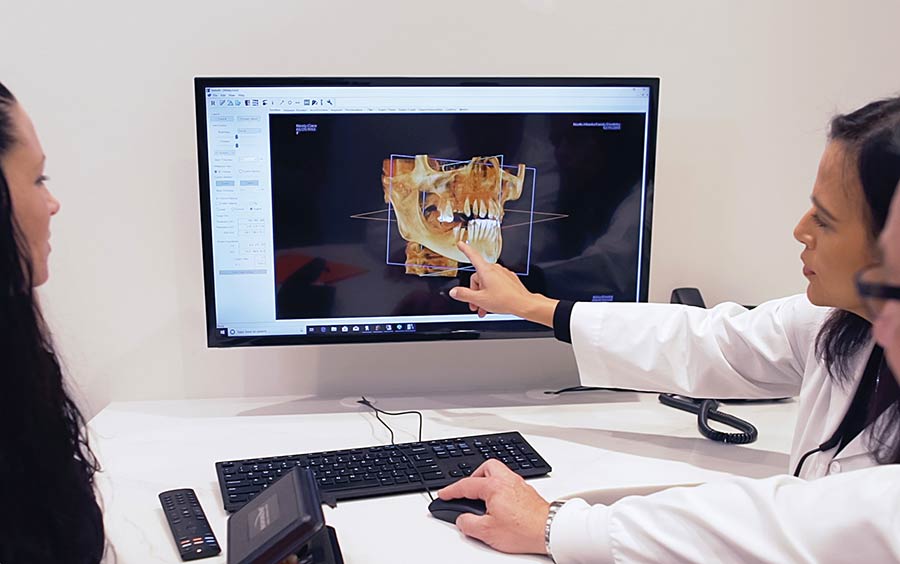 Drs. Vargas and Zinney reviewed Cara's CT scans and discussed a treatment plan with Cara.
Cara's teeth couldn't be saved due to the tremendous amount of decay present. Periodontist Dr. William Zinney, another key member of Cara's makeover team, noted, "She really had no teeth. Everything was broken at the gum line."
The makeover team discussed tooth replacement options with Cara. Because of her young age, removable dentures were not a good choice for her. Removable dentures restrict the types of food you can eat, and they lead to bone loss over time. When teeth are missing, the bone that used to support them begins to diminish, "debilitating the patient year by year," in Dr. Vargas' words. Dental implants, in contrast, stimulate the jawbone to keep it strong, so they are the optimal long-term solution for missing teeth.
Dr. Zinney evaluated CT-scans of Cara's mouth and confirmed that she had enough existing bone to support dental implants. He and Dr. Vargas agreed that the best plan for Cara was to remove all of her remaining teeth and replace them with dental implants.
The team opted for the TeethXpress tooth replacement system by BioHorizons, which Dr. Vargas described as "the closest we could come to her natural teeth, and the best way that we could improve her bite, her aesthetics and her functionality."
Robin Johnson of RJ Dental Creations, who was also an integral member of Cara's smile makeover team, performed a facial analysis on Cara so his lab could create the most natural-looking teeth for her. He measured her face, looked at her eyes and took measurements inside her mouth to determine the size, shape and position of Cara's new teeth. Then models were taken of Cara's mouth. From these, the lab made a surgical guide to show where the implants should be placed.
Cara's Transformation Begins
On the day of surgery, Cara showed up early for her 7 a.m. appointment because she couldn't wait for her new smile. She said the moment was made even better because the entire office staff was so happy for her, exclaiming, "Yay! It's your day!"
"It takes a big team and a big team effort to make these happen," acknowledged Dr. Vargas. The full team was assembled and Cara was placed under conscious sedation, so although she would not remember the procedure, the makeover team would be able to check her bite and the fit of her temporary teeth. Her remaining natural teeth were gently removed; then four dental the implants were placed in the top arch and five were placed in the bottom arch. (It is not necessary to replace each tooth with a dental implant. Rather, as few as four dental implants can support a full arch of replacement teeth.)
After only a few hours, Cara left the dental office with her provisional set of teeth, so there was never a time after the implants were placed when Cara had to be seen without teeth.
"The transformation happens immediately," remarked Dr. Zinney. "It looks like they've had a facelift. They lose about ten years off their appearance." He added that the healing after an implant procedure is minimal, with the majority of patients taking only ibuprofen afterwards.
Cara wore her temporary teeth for several months as the implants integrated with the bone. After the healing period, Cara returned for her final teeth. At this stage, Cara let the team know if she wanted any changes from the temporaries, and her smile was honed to perfection.
Feeling Like Herself Again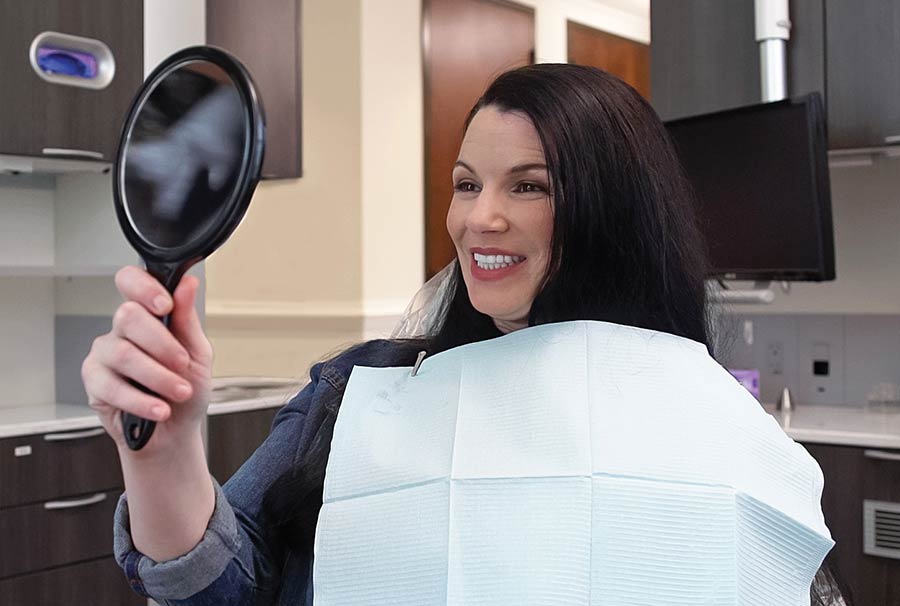 "Shock is what I felt when I saw my teeth for the first time. They were so close to what my natural teeth looked like!" Cara exclaimed.
"Shock is what I felt when I saw my teeth for the first time. They were so close to what my natural teeth looked like!" Cara exclaimed.
Cara's mother was completely overjoyed when she saw Cara's new smile. "You look exactly like you used to look before," she told Cara.
Dr. Zinney had a sense of satisfaction when Cara told him that she looked like herself again. "To me, that's the greatest reward," he said. "To see this young, beautiful, vibrant lady with this gorgeous smile and her confidence—that's why I do this."
Cara, along with Dr. Vargas and Dr. Zinney, credits dental lab owner Robin Johnson for his part in Cara's new look. "Robin, the artist who made my teeth, is amazing. I told him two or three things about what my teeth looked like. I didn't bring a picture and he got it spot-on. He's so amazing."
Beyond Teeth
No longer concealing her teeth, Cara is once again enjoying time with family and friends. "Everyone that has seen my teeth has told me how beautiful they are," she said. "And I have been eating everything in the world…I'm so happy and more healthy now that I can eat whatever I want."
In fact, Cara's health has drastically improved. She hardly ever has sinus headaches, and her fibromyalgia flare-ups have gone from daily to perhaps one a month. "I had an autoimmune condition that is almost completely gone," she said. "I'm so unbelievably thankful that this has had an impact on the rest of my life."
Noting the dramatic improvement in Cara's fibromyalgia and sinus problems, Dr. Vargas stressed the connection between dental infections and systemic health. "To be able to improve someone's health to the point that they can live their life normally, I think that's the best part," she said.
Looking Forward
Besides being able to eat normally, Cara looks forward to going back to school and not being embarrassed to raise her hand to ask questions in class. She is thrilled that she no longer has to worry about what people think of her. Before her treatment, she said, "Everywhere I went when my focus was supposed to be on something else, it was actually on hiding my teeth."
"This is absolutely a life-changing experience in all aspects of my life," Cara said. She summed up how she feels now that she has her new smile: "Extremely fortunate and blessed and excited about the future!"
Cara's Smile Makeover Team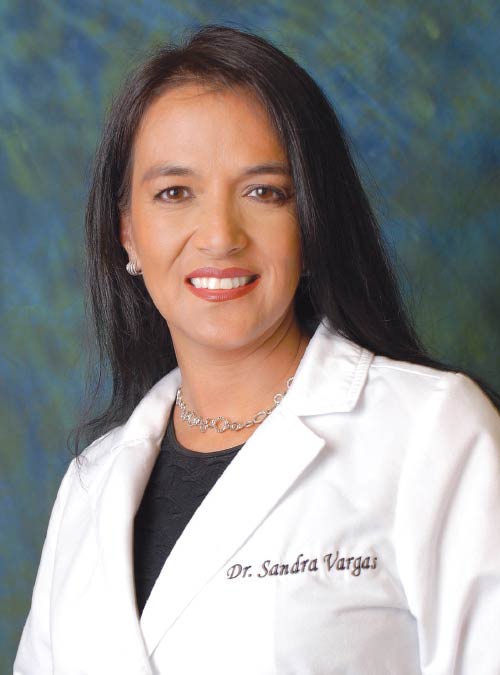 Dr. Sandra L. Vargas – Restorative Dentist
Dr. Sandra Vargas, owner of North Atlanta Family Dentistry, is an experienced, caring dentist who has been restoring smiles with dental implants for over a decade. She also offers a full range of cosmetic dentistry services and gum care. Dr. Vargas received her degree from The Boston University Goldman School of Dental Medicine Advanced Standing Program and has completed both the Southeast and the Northeast Regional Dental Boards. She received further training in implant dentistry from the Comprehensive Implant Residency Program and the AIE Implant Mastery Program. Dr. Vargas is a Fellow of the International Congress of Oral Implantologists and a member of Women in Implant Dentistry, the American Dental Association, the Georgia Dental Association and the Academy of General Dentists. She aims to provide the highest quality dental health care for patients in a professional, compassionate, and comfortable environment. Learn more about Dr. Vargas by visiting www.smilegeorgia.com.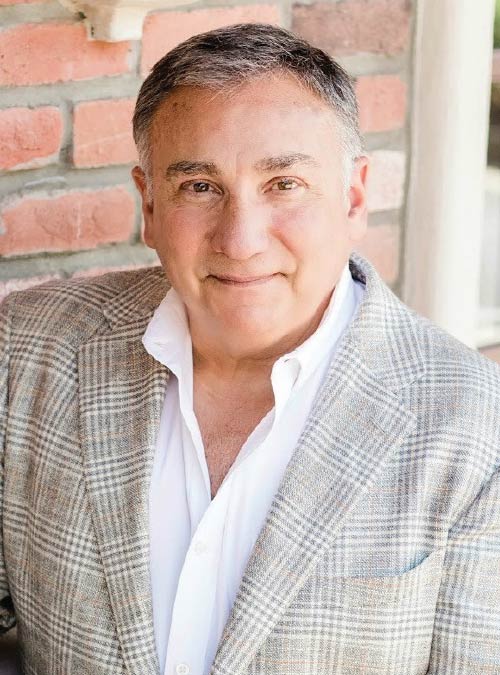 Dr. William Zinney – Periodontist
Dr. William Zinney of North Atlanta Family Dentistry is a board-certified periodontist who has been practicing in the greater Atlanta area for over 30 years. He earned his dental degree from the Emory University School of Dentistry in 1986 and completed his Periodontal Surgery residency in 1988. Restoring his patients' oral health and creating a vital, healthy smile are his driving passions. Dr. Zinney's practice focuses on implant dentistry and microsurgical and regenerative techniques. He lectures on aesthetic periodontal plastic surgery, dental implants and the impact of systemic disease on oral health. A pioneer in implant and aesthetic periodontal procedures, Dr. Zinney employs state-of-the-art technology and offers the most innovative treatments available. He strives to truly understand his patients' wants and needs to provide highly specialized treatments that meet his patients' goals. Learn more about Dr. Zinney by visiting www.smilegeorgia.com and Instagram @williamzinneydds.