Nancy O'Dell
Access Hollywood anchor is enjoying good times on the set — and at home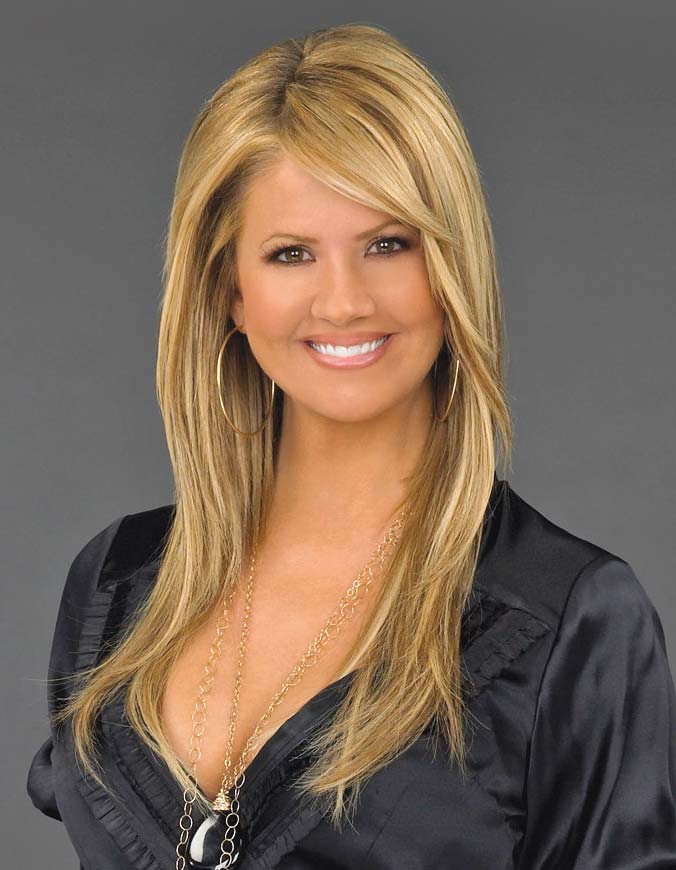 "I love to smile," says O'Dell. "And smiles are so important to set people at ease, like when you walk into a room of people you don't know. When you genuinely smile you're able to dissolve that natural wall that exists between strangers."
Photo provided by Access Hollywood
As co-anchor for Access Hollywood, the popular entertainment news show, Nancy O'Dell has interviewed hundreds of A-List stars and celebrities — a dream job if there ever was one.
So, what really makes her smile?
"Coming home at the end of a hard day, and my little girl Ashby running into my arms with the biggest grin — that's a definite smile moment", says O'Dell.
That neatly illustrates what's really important to this respected entertainment journalist who's had up close and personal encounters with many of America's best-known personalities. First and foremost, she's a mom, a wife — and the hometown girl from Myrtle Beach that made it big.
Born in Sumter, South Carolina, O'Dell's family moved to Myrtle Beach before her first birthday, where she grew up. After high school she won the Miss South Carolina pageant in 1987: her appearances as the reigning Miss South Carolina gave her valuable experience and confidence that would serve her well in her future career.
"That year went a long way towards helping me develop skills I still use today with Access Hollywood," says O'Dell. "One of the most important was learning to ad-lib when the program didn't quite match the script — which happened a lot."
After graduating summa cum laude from Clemson University in 1990, she landed her first broadcasting job at WPDE-TV in Myrtle Beach, followed by WCBD-TV in Charleston, South Carolina, and then on to WTVJ-TV in Miami, Florida. During her career at these locales she built a solid reputation as an investigative reporter — one of her stories at WCBD-TV, in fact, led to DUI reform (Driving Under the Influence) in South Carolina.
Moving on to Los Angeles in 1996 her journalistic reputation and on-air persona caught the eye of producers for a new project called Access Hollywood.
O'Dell is now the show's only remaining on-air personality from its debut thirteen seasons ago. In the last few years, O'Dell has also contributed to NBC's The Today Show, and has appeared as a guest or guest host on The View, Jimmy Kimmel Live, and Project Runway — to name a few. As a member of the Academy of Country Music, she was also the original host and consulting producer for Nashville Star on the USA Network.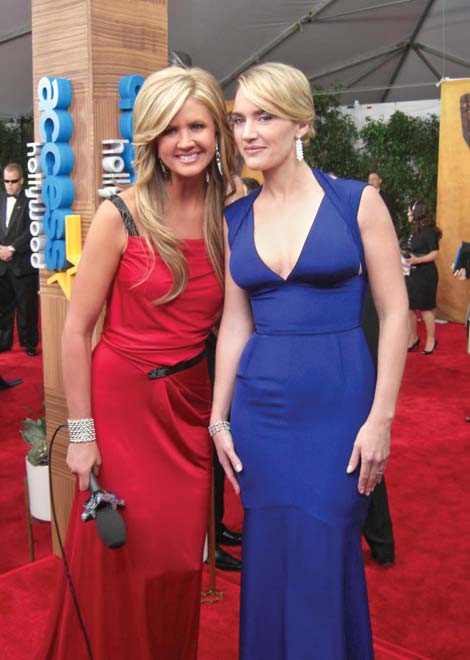 Nancy O'Dell takes advantage of a photo opportunity posing with Kate Winslet after an Access Hollywood interview at the 2009 SAG Awards.
Photo provided by Access Hollywood
No wonder Television Week once named her one of the "Ten Most Bankable Stars in Syndication" — she's one of the most sought after hosts and interviewers in television today. She is that rare talent among journalists — a warm and friendly person who is able to make those she interviews comfortable and open.
That friendly and easy manner is best expressed by her vivacious smile — one that comes from the heart.
"I love to smile," says O'Dell. "And smiles are so important to set people at ease, like when you walk into a room of people you don't know. When you genuinely smile you're able to dissolve that natural wall that exists between strangers."
Other than routine dental care, O'Dell has never had any major cosmetic dentistry, just a little whitening used mainly to enhance her onscreen appearance. She credits her naturally white teeth to the fluoridated water she grew up with in Myrtle Beach.
Her smile also expresses a willing spirit to help others — O'Dell is heavily involved with several charitable organizations. She has been a spokesperson for the March of Dimes since the late 1990s when she first helped with their "Blue Jeans for Babies" campaign.
She's also involved with the American Red Cross after seeing their work first hand — in several places. "I always seemed to be showing up for new jobs in places where disaster had just struck," says O'Dell, "South Carolina after Hurricane Hugo, Miami after Hurricane Andrew and on the West Coast after a major earthquake. In every case, I saw the Red Cross do an amazing job helping people."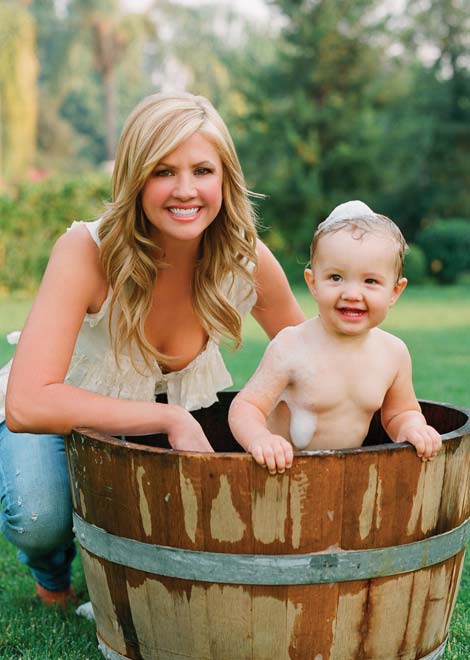 Photo by Ulrica Wihlborg
She became involved with the Muscular Dystrophy Association after seeing how they cared for someone close to her. "After my mom was diagnosed with ALS ["Lou Gehrig's Disease"], MDA came in and helped out in incredible ways — from giving moral support and understanding to providing medical equipment. They stayed with us up until she passed away this past summer, and even afterward."
Of course, the biggest event in her life that made her smile was the birth of her daughter Ashby in 2007. While a joyous occasion for her and husband Keith Zubchevich and her two stepsons, it was also a succession of near-panic moments for a first-time "mom-to-be".
"I would encounter something during my pregnancy that would just about terrify me and I would call one of my friends about it. Inevitably they'd say 'Oh, that's normal, nothing to worry about,'" recalls O'Dell. "And then I would think, well, why didn't you tell me about it before I panicked?"
Those experiences led her to take some of the scrapbook writing she had been doing during her pregnancy and compile it into a book for first-time pregnant mothers. Full of Life: Mom to Mom Tips I Wish Someone Had Told Me When I Was Pregnant, is out this spring. "It's like sitting down one-on-one with a new mom-to-be and putting her mind at ease about changes to her body and life before and after the baby is born."
In Full of Life, O'Dell covers a vast array of topics, from cravings and "snoodling" (something that involves a life-size pillow) to developing a "birth plan."
Importantly, she also covers topics concerning oral health — for both mother and baby.
"While my dental health has always been relatively normal, pregnancy did cause me some concern about my teeth and gums. With my dentist's advice and treatment, the few problems I had were minimized."
O'Dell relates how in her first trimester, she began to crave milk — lots of milk. "I found out only later that a baby's teeth begin to form about that time," says O'Dell. "It was as if my body were telling me the baby and I needed more calcium."
She also developed a case of sensitive gums, especially to certain foods. Her dentist diagnosed her with "pregnancy gingivitis," the result of hormonal changes during pregnancy that increases blood flow to the gums. To new mothers-to-be she passed along his treatment advice: a softer bristled toothbrush, gentle brushing and flossing, and mild salt-water rinses.
On the career side, O'Dell's celebrity continues to grow. She had been named to partner with dance pro Tony Dovolani in the 2009 season of Dancing with the Stars (even favored to win in an unofficial TV Guide poll). But during a training session O'Dell tore her knee meniscus in two places.
"I couldn't continue without doing more damage to my knee," says O'Dell. "I was so disappointed that I had to drop out. The dance rehearsals were tough, but very rewarding, so I hope to get an opportunity to compete again on an upcoming season."
While she recuperates, O'Dell continues with her anchor duties with Access Hollywood — and her number one job as Ashby's mom. These days for Nancy O'Dell, smiling just comes naturally.