Tim Conway
Still making people laugh — just as he did in the Golden Age of Television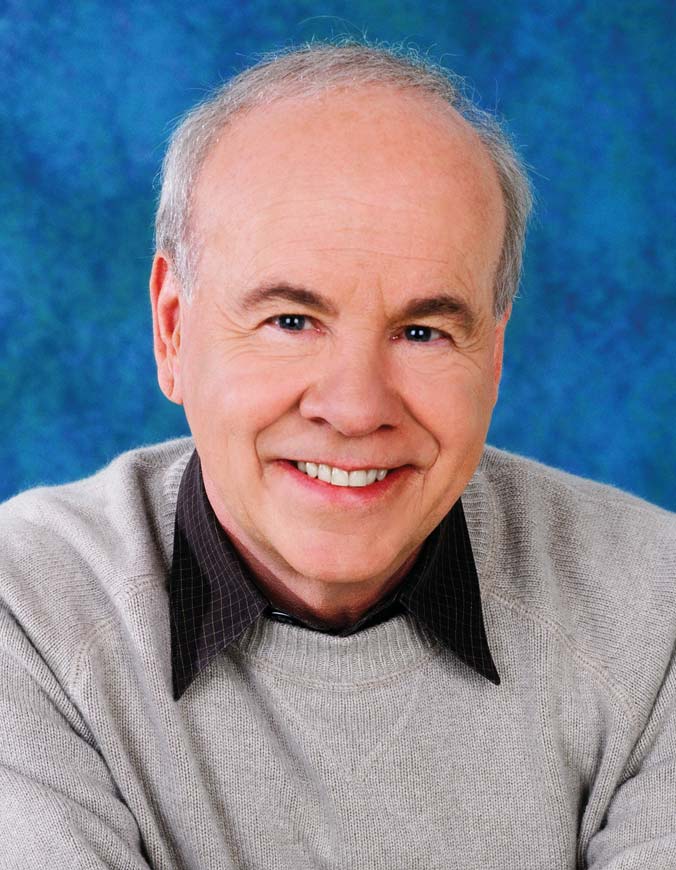 "All of us on The Carol Burnett Show
took pleasure in bringing happy
moments to our audience."
For eleven television seasons, viewers tuned into the hit variety series The Carol Burnett Show if for no other reason than to watch Tim Conway "torment" his fellow cast members, especially Harvey Korman. With a graceful slapstick touch, impeccable comedic timing and a quick improvisational wit, Conway always seemed to find a way to make Korman, Burnett and every other unfortunate soul in the sketch collapse in spasms of belly laughs.
The son of an Irish father and Romanian mother, Conway grew up just outside Cleveland, Ohio. After attending Bowling Green State University, he served a stint in the U.S. Army ("defending Seattle," he says), after which he began working for local television and radio stations. Moving to New York City in 1956, Conway got his first big break when he landed a regular spot on The Steve Allen Show.
In the early 1960s, Conway co-starred in the hit sitcom McCale's Navy with Ernest Borgnine and Joe Flynn. As Ensign Charles Parker, Conway gave America a glimpse of the bumbling but loveable soul they would see again in numerous characters Conway later created: Amos Tucker in The Apple Dumpling Gang, the Old Man and Mr. Tudball on the Burnett show and Dorf in satirical "how-to" videos Conway produced in the 1980s.
Now in his seventies, Conway has yet to succumb to retirement. He recently provided the voice of Barnacle Boy on SpongeBob SquarePants and Freddy Frog on Garfield's Fun Fest. He's also written and published a children's book, Little Leo's Big Adventure.
Conway recently talked with Dear Doctor about his life and pertinent to our interests, that hilarious dental sketch from The Carol Burnett Show.
Q + A with Tim Conway
Dear Doctor: We've all heard the saying "laughter is the best medicine." How has being in the business of laughter contributed to your health?
I am seventy-five years old. If I hadn't spent most of my life laughing and making others laugh, I would feel like seventy-five. As it is, I never grew up. I consider myself about eight years old — make that seven.
Explain the process that goes into creating a memorable sketch. How much is refined or revised before actually performing it in front of an audience?
I don't think you create memorable sketches, they create themselves. The Novocaine portion of the dentist sketch wasn't planned — it just happened. That's the magic of comedy; you never know when it is going to sneak up on you and make you laugh.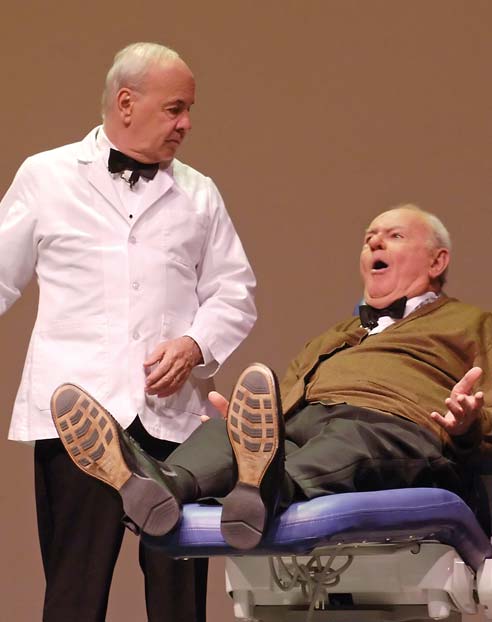 "Carol always wanted the show to have a "live" feel to it so we left in everything as it happened."
Speaking of that sketch, whose idea was it to do it on dentists? Have you ever had a fear of dentists?
The dentist sketch came from my dentist who, while a dental student working on a student patient, administered Novocaine and stuck the needle into his own thumb. Need I say more? He numbed his own thumb and didn't want to mention it to the patient. I did the same thing to Harvey, only he didn't know it was coming. The idea of Novocaine was a surprise to him; he hadn't seen that part of the sketch until we were taping.
Did the taping go as planned or did Harvey's laughter cause you to alter the script or throw it out completely? How much of that sketch was improvised?
The sketch was taped the actual way we performed it. Carol always wanted the show to have a "live" feel to it so we left in everything as it happened.
You managed to crack Harvey up with laughter quite a bit and in this scene especially. Was it your intent to get him to crack?
My object was to find places in the sketch where I knew I could break up Harvey. I don't think I ever missed. If I tried something to make him laugh, and it didn't work, I'd just stare at him until he finally would crack. But I admit, he was a very easy target. To us, the show was about breaking each other up.
When you did this skit, did you have any idea it would be as memorable as it has become? Over 700,000 people have watched it on YouTube.
Back then I had no idea which, if any skit would become a part of pop culture and induce laughter in future generations. All of us on The Carol Burnett Show took pleasure in bringing happy moments to our audience and I'm grateful that we continue to bring smiles to people.
When did you realize that you wanted to be an entertainer and how did you get into comedy?
I was the smallest kid in my class so I had to be either funny or get smacked around. I was funny on the first day of school and I've tried to stay funny especially in 'Big and Tall' stores.
Who were some of your heroes or inspirations as far as comedy goes?
I was definitely inspired by Sid Caesar, Steve Allen, Jackie Gleason, Red Skelton, Bob Newhart, Rowan and Martin, Dick Van Dyke, Don Rickles, Don Knotts, Harvey Korman, and of course, the Master — Carol Burnett. And as you may have noticed, Laurel and Hardy stole a lot of stuff from me.
Has your mouth ever gotten you in trouble?
A lady in the men's section in a department store mistook me for a clerk and asked me where my underwear was. So, I showed her, and she called security. Some comedy has a penalty.
You are probably best known for your role on The Carol Burnett Show, an eleven-year stint that garnered five Emmy Awards, a Golden Globe and numerous accolades from critics. Talk with us about those years.
I think that sometimes I receive awards because of my acceptance speeches, though the speeches never have anything to do with my work or the award or the organization giving the award. I remember one year I thanked the people who put in the new Mark Twain Hole at the local Tarzana Pitch and Putt. Another year, Harvey and I walked up and stood by Red Foxx before he finished calling out the other nominees. We both lost and just sat down while the award was presented to the winner. Once, Harvey won an award and I just followed him on stage and while he accepted the award, I made faces. He didn't thank me.
Tell us about your new children's book. How will it make children smile?
My granddaughter Courtney slept between my wife Charlene and I until she was seven and every night she would ask for a story. I must have told her the story of Little Leo's Big Adventure a thousand times, but she always wanted to hear it over and over. Leo, by the way, was her white fluffy puppy. I decided to pass on the story for other children to enjoy, along with very beautiful and artistic illustrations. Leo's escapades reflect some wonderful moral lessons that kids can easily grasp — that it's fun to be nice to others and life is full of adventures and good people.
Speaking of family and morals, your reunion shows with the cast of The Carol Burnett Show have done very well. Do you think the special was a success because people are hungry for that kind of fun, family-friendly entertainment?
People are looking for the "next" Carol Burnett Show to come along. Will it? It won't if it has foul language, violence or nudity and I don't see the networks producing many shows without them. It looks like the internet is going to be the answer. The Christian TV Network is going to be a network of family entertainment where a show like the Burnett Show could thrive. Will I be part of it? You can bet on it.