Laura Bryna
Lighting Up The Stage With Her Smile
Country music recording artist Laura Bryna has a beautiful smile — and a lot to smile about.
Her career has blossomed since her move to Nashville several years ago. This past spring Bryna released her first CD "Trying to Be Me;" on the heels of opening for Clint Black during his "Up Close and Personal" tour that took in 40 cities.
But Bryna — a self-proclaimed "Countrypolitan" with her eclectic country chic and city style - is much more than an up and coming performer. Behind that vibrant smile is a heart that's touched by the hardships of others — hardships she's also experienced in her own life — and a desire to help and bring joy to their lives.
Bryna grew up in Mount Airy, Maryland, a small town about 45 miles from Washington, D.C. She was a young child when her father passed away suddenly. Not long after, her thirteen-year old brother suffered a brain aneurysm and lapsed into a coma for six months.
Two important parts of Bryna's life came to the forefront during this trying time. The first was the kind of music that would shape her future career.
"I grew up listening to country music — performers like Patsy Cline, Elvis and Wynonna Judd. They all were great influences for me," says Bryna. "But it was those months my brother was in the hospital that had a real impact on me. My mother and I would listen to those artists on the radio while driving to and from the hospital in Washington, DC. That really helped us get through a lot of tough times."
The other important part of her life was her encounter with the Make-A-Wish Foundation, an organization dedicated to making wishes come true for seriously or terminally ill children. While visiting her brother, she saw a number of celebrities visit many of the children in the ward.
"It was touching what joy that brought to those kids," she says. At age 15, Bryna began volunteering for the organization, a relationship that continues to this day.
After high school — and several performing opportunities during her teen years, Bryna attended Philadelphia's University of the Arts. It was during this time that she was asked to join the cast for the soundtrack of the Broadway-bound musical "Rasputin." Soon after, with a packed car and a hopeful heart, Bryna moved to Nashville to further her career. She enrolled in music courses at Belmont University and obtained internships at Sony Tree Publishing and DreamWorks Publishing.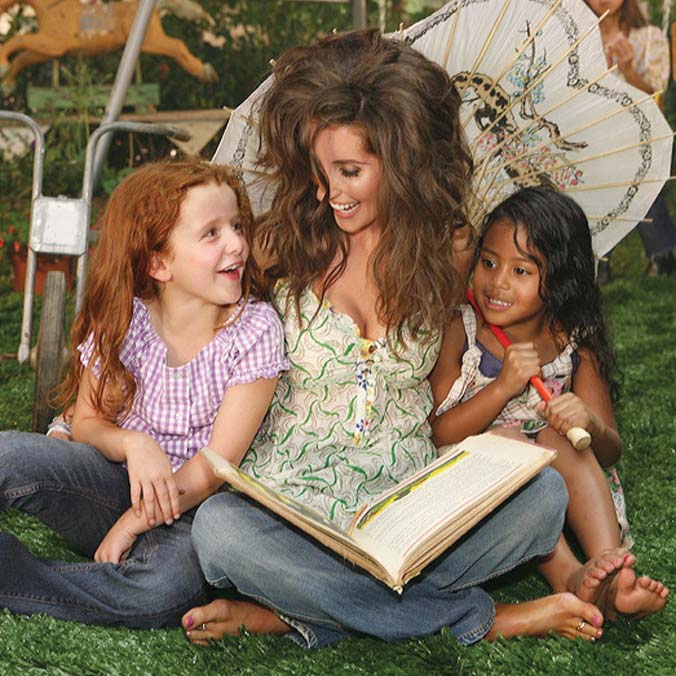 Laura Bryna brings joy to children through her volunteer work with the Make-A-Wish Foundation.
"These were important experiences for me, both for my life and my career," says Bryna. "I decided right at the beginning that I wanted to learn everything I could about the music and publishing business."
She also continued volunteering with Make-A-Wish. As her performing career developed, Bryna became more and more a spokesperson for the foundation. Just last year she co-wrote and recorded the song, "Make a Wish" which now is on her debut CD.
The song has helped promote the mission of Make-A-Wish, as well as help Bryna express her passion for what they do. Because of her commitment, she was recently asked to join the associate board of directors for the Mid-Atlantic Chapter of the Make-A-Wish Foundation.
As Bryna would say through her music, "Life is Good." It's also hectic — with a new album she's busy performing at venues all across the country. Which brings us back to that beautiful smile of hers — how does she care for it and maintain it?
"I've been fortunate in that our family had a great dentist in Mount Airy where I grew up," says Bryna. "Dr. Richard Schoebe, and now his son John, have cared for my teeth most of my life. He also took the time to sit down with me and talk about my teeth and dental needs."
Bryna says her regular care included frequent cleanings, sealants, and composite fillings for the few cavities she's developed, and clear ceramic braces for her front teeth. While she still sees the Schoebes, she also has a dentist in Nashville, Dr. Steven Hecklin. He's continued the same great care for Bryna as her hometown dentists.
Most important, Bryna herself is diligent about her oral care. She has a professional cleaning every three months, uses both in-clinic and home whitening applications — and still wears her orthodontic retainer.
Bryna believes dental care is extremely important for protecting and enhancing her most important tool in expressing her vibrancy and love for her fans — her smile. "People are beautiful on the inside," says Bryna. "Your insides shine when you smile."
That's what caught the attention of the Air National Guard's director of Recruiting and Retention. After seeing Bryna perform in concert, he contacted her about the possibility of becoming the voice and spokesperson for their new major advertising campaign. After an exhaustive, nationwide search, the Air Guard selected Bryna as the voice of its campaign. She co-wrote the song, 'Hometown Heroes', which is being used on all Air Guard commercials over the next year. Her reissued CD, released on September 2, has a version of 'Hometown Heroes' on it. The song was also released in September as a single and a video of "Hometown Heroes" debuted in September as well.
Bryna is looking forward to her new role with the Air Guard, which will include performing at concerts, air shows and other ANG-sponsored events. There may even be a trip oversees to entertain the troops. "I'm very excited and honored to be asked by the Air Guard to promote their incredible service," says Bryna.
So, what does Laura Bryna hope is ahead for her life and career? "I hope to pursue acting as well as continue to sing. I really just want to connect with people, to touch them with my music and to be touched by them. There's nothing else like it." Gauging by her smile, she's right on track to a great future.