Mayim Bialik
The Big Bang Theory actress talks about the science of growing up and the art of good oral hygiene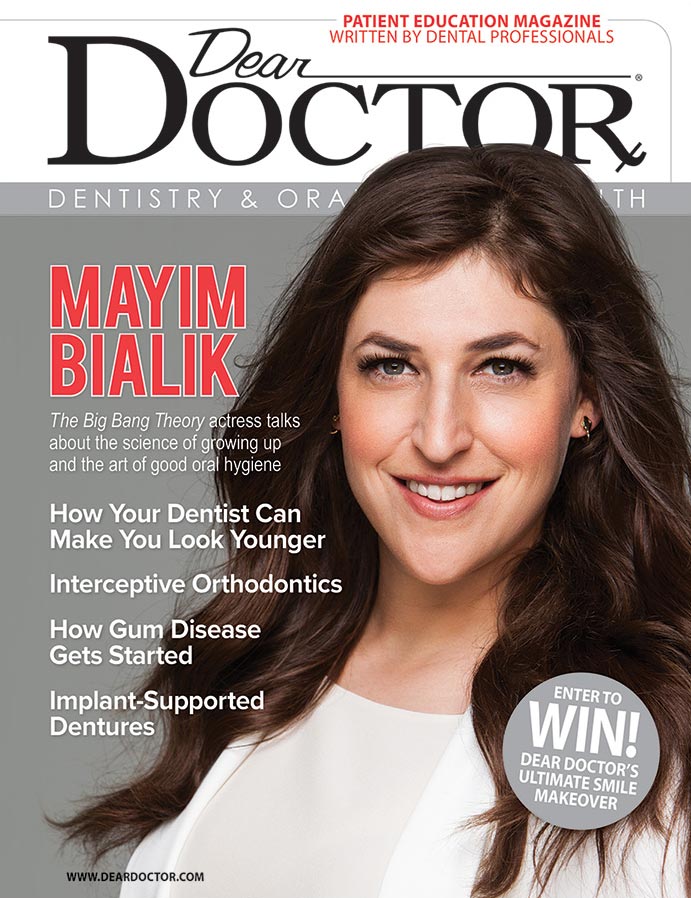 Throughout her childhood, Mayim had excellent oral health — not one cavity!
Photo by James Banasiak
Mayim Bialik plays a neuroscientist on the wildly successful TV comedy The Big Bang Theory. And one of the show's best punch lines is the fact that she actually is one!
The former child actress earned her PhD in neuroscience from UCLA in 2007. But fans of the CBS show know her as Amy Farrah Fowler, the nerdy love interest of main character Sheldon Cooper, played by Jim Parsons. In an interview with Dear Doctor, Mayim said that the character of Amy is not that far off from her true, very geeky personality.
"Oh, I'm pretty awkward!" she said, noting that she has always been something of an outsider. "I was definitely a weird kid. And as an adult, I don't really fit in either, so I've been pretty consistent if nothing else."
In Mayim's view, the comedic yet truthful portrayal of the social difficulties nerdy people face is one of The Big Bang Theory's great strengths.
"I'm different, and I can't not be different," she explained in a video posted on her engaging website GrokNation.com. "And that's the thing I love about our show: We're not showing geeky characters who finally make it in the cool kids' club. We show characters who grow up to still be left out. Because for a lot of us, that's just how it's gonna be. But we can also learn to be more comfortable with who we are. And with that comfort comes less anxiety about not fitting in."
On the other hand, being "different" isn't always a bad thing, especially when it comes to her family's health. The divorced mother of two has been raising her sons, ages 8 and 11, on a vegan diet since they were born — a choice made by less than 5% of the U.S. population, according to some estimates. Mayim believes that avoiding all animal products benefits her children's teeth, along with their general health.
"Being vegan means that a lot of candy is limited and I'm kind of glad for that," she said. "Most candy has dairy in it. They've never had M&Ms or anything like that because those are dairy."
Not being familiar with the taste of so much candy means the boys may not crave it as much as other kids do.
"We really try to encourage their palate to appreciate fruit in its natural state and sweet things in their natural state so they're not constantly craving that," she said. "It's a battle for all parents."
So how does she handle Halloween? A lesser-known associate of the Tooth Fairy takes care of that sugar-coated holiday.
"We don't do candy for Halloween," Mayim said. "We have a Halloween fairy who takes it all away and they get to choose a small LEGO toy in its place."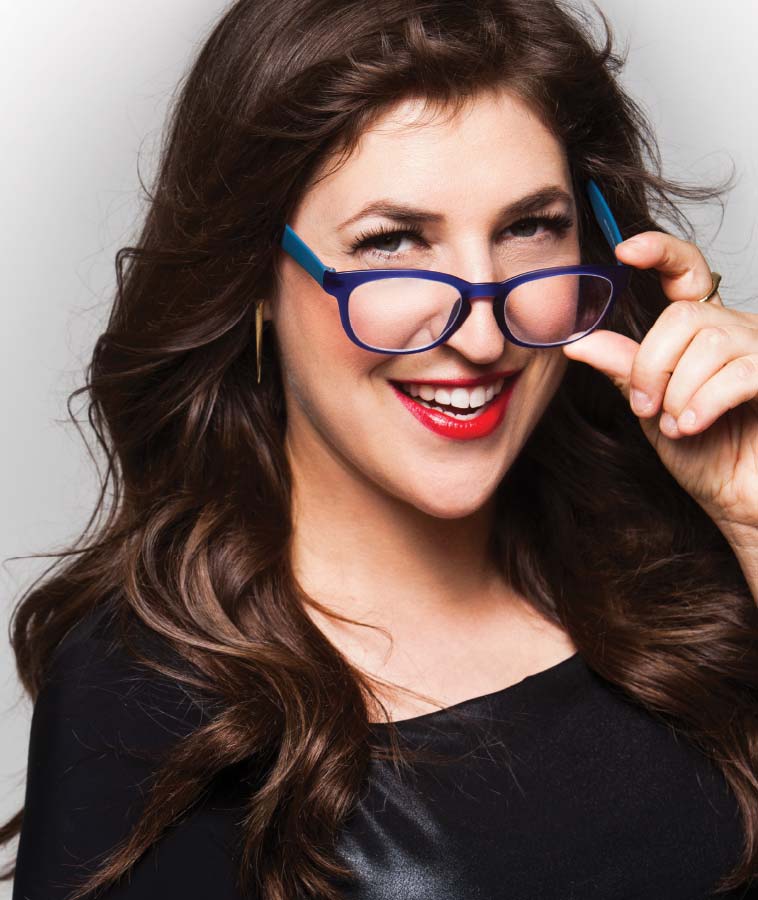 Photo by James Banasiak
The family's dental health is also aided by a lack of soda and juice in the house. In fact, Mayim said, the boys pretty much only drink water.
"On a special holiday or if we're in synagogue they can have a couple sips of soda," she said, "but it's not part of our lives."
Mayim said she is a stickler for meticulous oral hygiene at home, making sure the boys brush twice each day and floss at least once a day.
"We're big on teeth and oral care," she said.
Should anyone protest, Dr. Mom is ready with a science-based explanation.
"My 8-year-old has started asking, 'Why do I have to brush first thing? I haven't eaten yet.' But I know if it doesn't get done, it gets forgotten," she said. "So I say, 'there's all sorts of things that grow in your mouth all night…so brush first thing!' "
The boys don't ever complain about flossing, because they like using pre-loaded floss holders that Mayim buys in bulk online.
"Now that they have those little flossers that you can just hold in your hand, flossing is really a pleasure in our house," she said. "I just keep them in a little glass right next to the toothbrushes so they're open, no one has to reach, they're just right there. And it's really become such a routine, I don't even have to ask them anymore."
Throughout her own childhood, Mayim had excellent oral health — not one cavity! — though she had a "pretty profound overbite" and thinks she probably could have benefited from wearing braces as a child. However, her leading role in the 1990s NBC TV sitcom Blossom made that impossible.
"I never had braces. I was on TV at the time and there weren't a lot of creative solutions for kids who were on TV."
"I never had braces," she said. "I was on TV at the time and there weren't a lot of creative solutions for kids who were on TV."
Now, of course, there are clear plastic aligners and lingual (tongue-side) braces that many performers wear. But without those options, Mayim's orthodontist managed to straighten her teeth using retainers and headgear worn only at night.
"He worked magic without ever having put proper braces on my face," she said.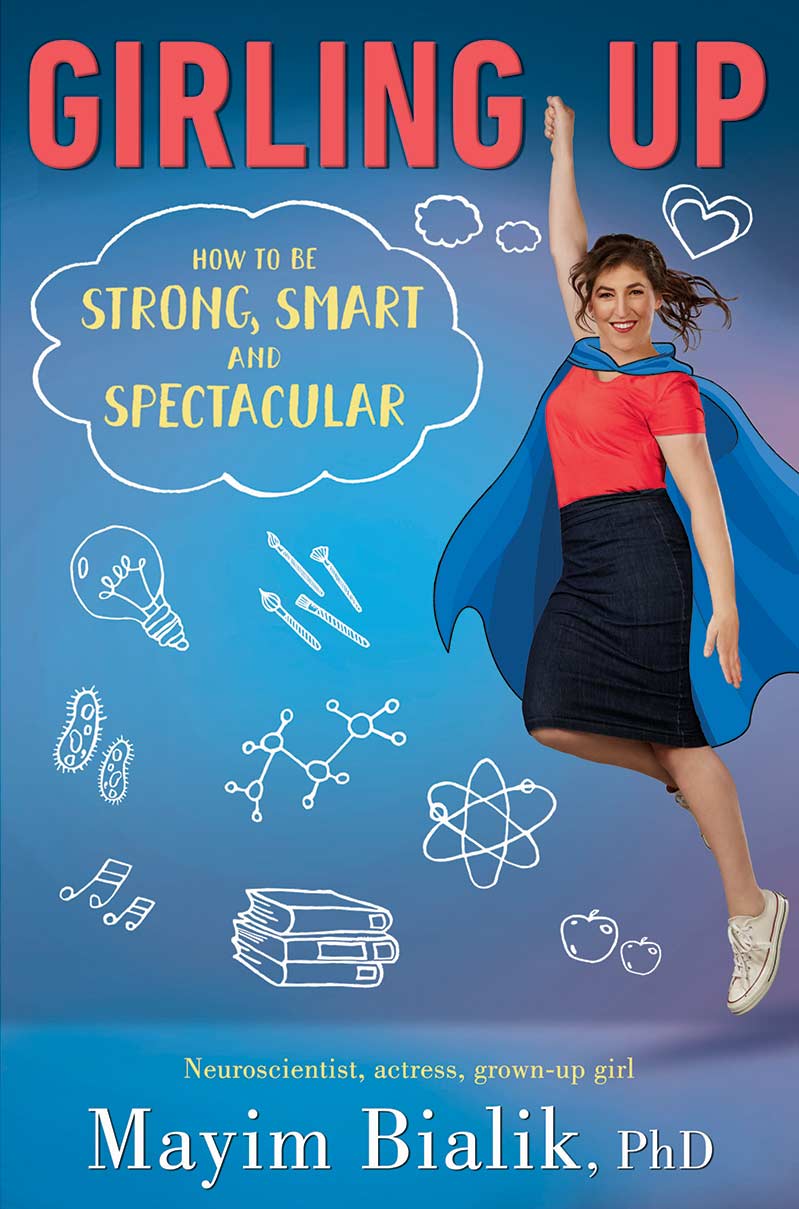 "There are so many things in this book that no one ever explained to me when I was young and I wish that they had, and that's really what I tried to provide."
Mayim's new book for teens was published by Philomel Books in May 2017.
Mayim touches on the challenges of her very public adolescence in her new book for teens called Girling Up: How to be strong, smart and spectacular. She describes the book as "a neuroscience-driven perspective on all aspects of being female, including everything from puberty to dating to the decisions we make." It's the kind of road map to growing up female that Mayim said she wished had been available when she was a girl.
"There are so many things in this book that no one ever explained to me when I was young and I wish that they had, and that's really what I tried to provide," she said.
Mayim, who was born in San Diego and raised in North Hollywood, loved acting in school plays as a child. At the age of 11, she decided she should turn pro; her parents didn't immediately agree.
"Neither of my parents really had a lot of confidence or faith in the show biz industry," she recalled. "They were documentary filmmakers and public school teachers and kind of bohemians, but I was very persistent — I really thought I should be a professional actress even though I had really no idea what that might look like."
Mayim's parents eventually allowed her to sign with an agent and she landed the title role of Blossom at age 14. This led, inadvertently, to her becoming a scientist: On-set she was tutored by a dental student who inspired her as no other teacher yet had.
"Seeing someone who was so passionate about cells and mitochondria and genetics was very inspiring to me," she said, "because I thought you could only be that passionate about great art and things like that."
After Blossom ended, Mayim, then 19, decided to go to college to study science.
"It was hard," she recalled. "I basically walked off of people's televisions and onto the campus of UCLA. But I was a very devoted student."
She was so devoted that she eventually earned her PhD.
"I'm trained in genetics and neuroimaging," she said, "but I ended up studying obsessive-compulsive disorder and the field of psycho-endocrinology for my thesis."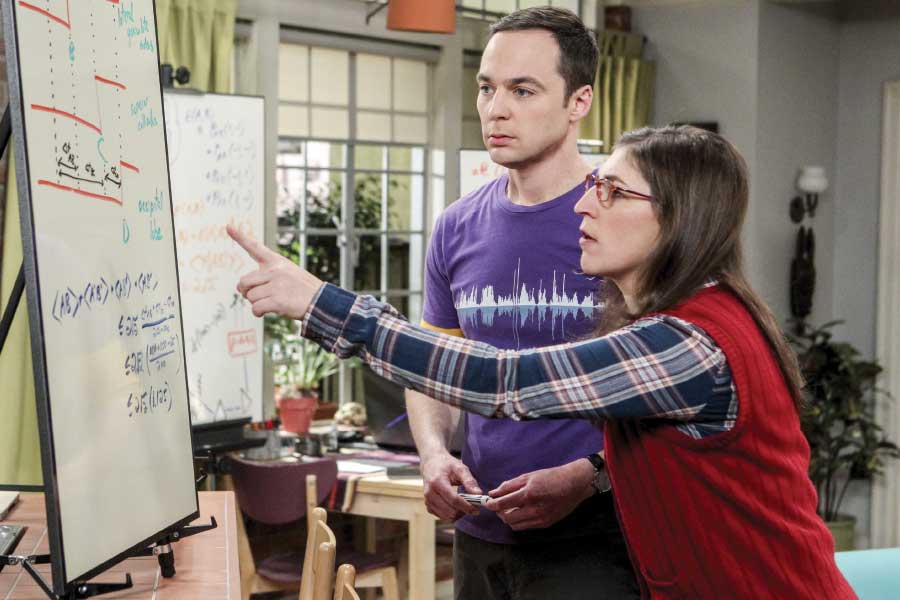 Photo by CBS Photo Archive/CBS/Getty Images
That type of background would prove useful to The Big Bang Theory's Amy, whose boyfriend Sheldon keeps every toothbrush he has ever owned in a large Ziploc bag! So how did Mayim step out of the lab and back onto the small screen? It came down to the practical concerns of providing for her sons.
"I taught neuroscience for about five years after getting my degree, I was tutoring Hebrew, I was tutoring piano, and I didn't have health insurance," she said. "I figured if we could get health insurance from me working a couple of acting jobs — that would be great. I was not expecting to be a full-time actor again but there we are."
And given the popularity of TV's geekiest sweethearts, she's likely to be there for many seasons to come.