Vivica A. Fox
The Independence Day actress talks about the art of kissing, her dental veneers, and the allure of a healthy smile
Vivica A. Fox knows a thing or two about kissing. In fact, the Independence Day actress and her co-star Will Smith won the Best Kiss Award at the MTV Movie Awards for a particularly memorable scene in the 1996 sci-fi blockbuster. So we figured she'd be the ideal person to ask whether good oral hygiene is important to a good kiss. She answered with characteristic directness and humor:
"Ooooh, yes, yes, yes, Honey, 'cause Baby, if you kiss somebody with a dragon mouth, my God, it's the worst experience ever as an actor to try to act like you enjoy it!"
Fortunately, this was not a problem when it came to the pairing of Vivica and Will.
"No dragon mouth for Will Smith," Vivica assured us. "We were both so dedicated physically, mentally — and hygienically! — to Independence Day and making it a hit!"
It's clear that Vivica is as dedicated to maintaining a healthy smile as she is to acting — which, she explained, are intertwined.
"I am at the dentist's every three months getting my teeth cleaned," she said. "Because on screen, your smile and your eyes are the most inviting things that bring the audience in — especially if you play the hot chick. You can't play the hot chick and your grill is jacked up. So I visit my dentist every three months and get my teeth cleaned, I floss, I brush, I just spent two hundred bucks on an electronic toothbrush — I'm into dental hygiene for sure."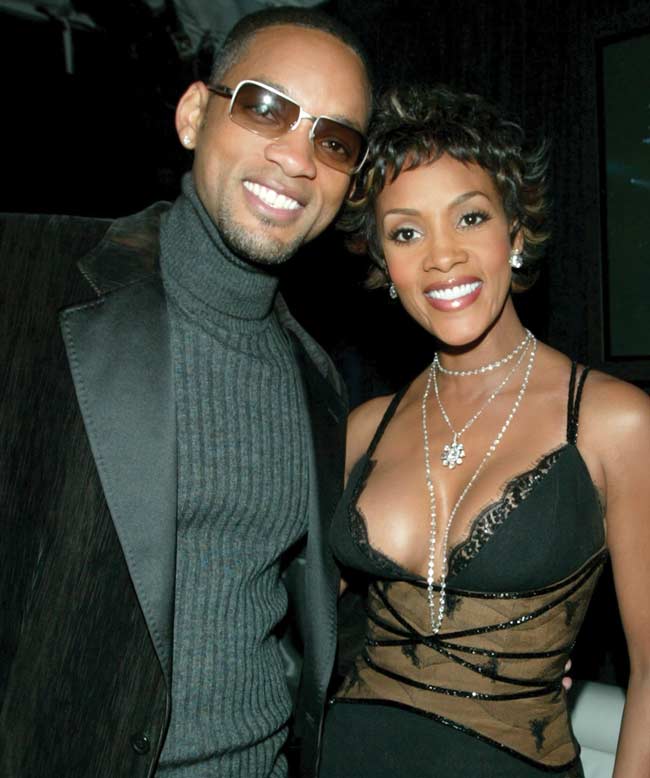 Vivica A. Fox and her Independence Day co-star Will Smith won the Best Kiss Award at the MTV Movie Awards for a particularly memorable scene in the 1996 sci-fi blockbuster.
Will Smith and Vivica A. Fox pose backstage at VH1's Big In 2003 Awards in Los Angeles. Photo By Frank Micelotta/Getty Images
At 52 years old, Vivica can still play the hot chick. Not to mention the police detective, the wealthy suburban housewife and the boutique manager, to list just a few of her recent roles. We caught up with the versatile beauty shortly after the release of Independence Day: Resurgence, the sequel that fans had waited 20 years to see. She had fun reminiscing about the role that had made her a household name two decades ago — and, of course, that famous kiss.
A Scene to Remember
The character of Jasmine in Independence Day was Vivica's breakout role — one for which she almost didn't even get a chance to audition. The young model-turned-soap-opera-actress had called her agent when she heard about the part, and was told it was out of her league. Yet two weeks later, her agent called her back with the news that the producer specifically wanted her to audition. She was thrilled.
"The story that I got later from the producer, Bill Fay, was that his wife was at home pregnant and saw me on The Young and the Restless and was like, 'Have you guys found Jasmine yet?' And they were like, 'No, we're having a hard time.' And she said, 'I saw this girl on The Young and the Restless' and you guys should call her in,' and so they looked me up."
Vivica got the part. But before she and Will shot the film's emotional reunion scene, Vivica felt she needed to get the okay from Jada Pinkett, Will's then-girlfriend (and since 1997, his wife). "Jada was there," Vivica recalled, "and I was like, 'Girl, you know I gotta kiss your man tonight,' and she was like, 'Girl, y'all just load up on the Binaca and dive in!' And we did."
The success of the film brought Vivica a steady stream of TV and movie roles. This included her high-octane performance as assassin Vernita Green in Quentin Tarantino's Kill Bill — a film for which Vivica did almost all of her own stunts.
"I'm a former athlete — I played basketball, volleyball, track, and I was a cheerleader growing up — so I'm a really physical kind of girl," Vivica explained. "And believe it or not, I kind of dug doing the fight scenes. It was challenging. I remember being covered with bruises and being so proud of it. And then when I saw the movie and knew that I did everything, I said, yeah, that rocks."
Fit for Life
Physical fitness remains important to Vivica. "I definitely try to stay fit, just because I've got my own hair line (the Vivica A. Fox Hair Collection), a clothing line (the Vivica A. Fox Collection by Poetic Justice Jeans), so I've got to keep that body tight and right for show," she said. "I do a lot of water aerobics, a lot of stretching and hiking. I'm not a big weight lifter kind of chick. I usually just try to stay nice and long and lean."
To that end, she follows a pretty strict diet.
"I definitely eat healthy six days out of the week," she said. "I eat a lot of kale salad with salmon. I do have a cheat day. My biggest cheats are pizza and pasta."
Vivica said she doesn't really have a sweet tooth.
"I associate sweets with cavities," she said, adding that she thinks avoiding sweets is a good way to help protect the dental veneers she got more than a decade ago to perfect her Hollywood smile.
"I got veneers years ago just because I had some gapping that probably only I noticed," she said, adding that she wears a clear plastic nightguard to protect the thin, porcelain tooth coverings from her teeth-grinding habit. When asked if they have held up well over time, she replied, "Oh, yes, absolutely — I love my veneers!"
Working Her Magic
Vivica said she has a lot to smile about these days, with a recurring role on the hit TV show Empire on the Fox network, and a new show on Lifetime called Vivica's Black Magic.
"I take eight male exotic dancers on a journey of getting them a residency in Las Vegas," she said, acknowledging the obvious: "Yeah, that was a great job, that."
This is not Vivica's first foray into reality TV — she's been a contestant on Dancing with the Stars and Celebrity Apprentice, where she raised $70,000 for a charity that's near and dear to her heart: Best Buddies. The group finds housing and employment opportunities for young people with special needs.
However, Vivica said she's very choosy about what types of reality TV she will do.
"The reality I choose to do isn't like getting on a show, getting drunk, and fighting with some other chicks — that's not me," she said, adding that she prefers programs "where I show my abilities and the drama that comes with trying to achieve."
She said she did Celebrity Apprentice "to show my business side, to show that I wasn't just a pretty face, that I've got a strong business mind. Vivica's Black Magic is kind of a reality show," she continued, "but I'm the head chick in charge running a business. So you have to figure out how that path works for you."
Vivica said she enjoys excelling in various aspects of the entertainment business, whether it's reality shows, feature films, or even being on the production side.
"I love being versatile, because I have found that versatility equals longevity — especially in a business that's changing so much," she said.
That being the case, it's a good bet we'll be seeing Vivica A. Fox on screens big and small for many years to come.