Steven Hauschka, NFL Kicker
Celebrities who gave up dentistry for stardom — and vice versa!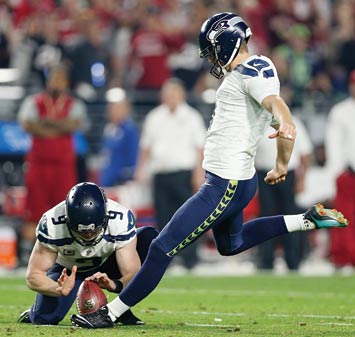 Steven Hauschka
When called upon in each of the last two Super Bowls, Steven Hauschska has been clutch. The Seattle kicker made all three of his field goal attempts and is a perfect 8/8 in extra points. But if things hadn't worked out for the lanky footballer, there was another career waiting for him.
Hauschka is the son of a dentist. He's also the brother of a dentist. Throughout college at Middlebury, Vermont he had planned to be… a dentist. That didn't change when his college roommate suggested Hauschka's experience as a soccer player might make him a good kicker, and he should try out for the football team. Hauschka did and made the cut — even though he had never played football.
By his senior year at Middlebury, a Division III school that hadn't produced a pro football player since 1926, Hauschka had decided to prolong his college career by one year so he could keep playing. He was accepted to North Carolina State — a Division I school — as a graduate transfer in 2007. Yet he still wasn't counting on an NFL career. He applied to dental schools while in Raleigh, getting accepted to UCLA, Tufts and Boston University. But after he made 16 of 18 field goals for the Wolfpack, NFL scouts started sniffing around.
"That's when I realized that I should give this a shot and see if I could make a career out of this," Hauschka said during a pre-Super Bowl media availability in 2015. "I put dental school on hold and started training for combine-type stuff." Given how well things are going in his accidental career, that deferment may well become permanent.