A Tribute to Tony Gwynn
1960-2014
A Major-League Hero Taken Too Soon by Oral Cancer
Sporting News Archive/Sporting News/Getty Images
No recent loss has rocked the world of Major League Baseball quite like the passing of Tony Gwynn, a beloved Hall of Famer, coach and family man who succumbed to oral cancer at the age of 54 on June 16, 2014.
Gwynn achieved legendary status at the plate during his 20-year tenure with the San Diego Padres, with a career batting average of .338 and 3,141 hits. After retiring in 2001, "Mr. Padre" nurtured rising stars as head coach of his alma mater, San Diego State University. He also generously supported educational causes as head of the Tony & Alicia Gwynn Foundation. Yet while his achievements on and off the field were exemplary, the tremendous outpouring of grief among fans, players and sports commentators seems to have more to do with how he made people feel. Said famed baseball broadcaster Vin Scully in a Major League Baseball video tribute:
"The thing I would remember the most: his smile. There are those who smile and get rid of it right away; there are those who smile and then it kind of drips off their face; and then there are those rare ones who will smile and it will just stay in the air and make you feel better. That was Tony Gwynn."
Sadly, Gwynn's ready smile was ground zero for the oral cancer that would ultimately claim his life. The disease started in the salivary (parotid) gland in Gwynn's right cheek. The location, says son Tony Gwynn Jr, was no coincidence: that was the side on which Gwynn Sr. placed the "dip" of smokeless tobacco that was always between his cheek and gum.
"Although doctors couldn't definitively say that dipping tobacco is what caused it, there's no doubt in my mind that it caused it," Tony Gwynn Jr. told Dear Doctor in a recent interview. Gwynn Sr. held the same view. "He let that be known, especially to his family and the close ones around him," Gwynn Jr. said. "I remember him coming out of the first surgery and the doctor [saying] 'we can't say that it's coming from chewing tobacco' and him being like, 'you don't need to. In my mind, that's definitely why I'm in this predicament.' "
But it wasn't his predicament alone.
"It's caused a lot of hurt in our family," said Gwynn Jr., who is also a professional baseball player and has three young daughters.
"Not only do I lose my father at an early age but he doesn't get to see my kids grow up. So there's so much that gets taken away because of this. In my mind there's no doubt that it had everything to do with chewing tobacco."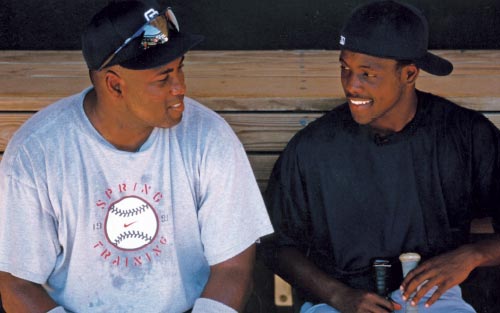 "My dad and I had an extremely close relationship. We talked probably every other day. That void will never be filled ever again." — Tony Gwynn Jr.
An Addictive Killer
In this belief, the Gwynn family is standing on firm scientific ground. According to the National Cancer Institute of the National Institutes of Health, at least 28 chemicals in smokeless tobacco have been found to cause cancer. The most harmful chemicals in smokeless tobacco are tobacco-specific nitrosamines, which are formed during the growing, curing, fermenting, and aging of tobacco. Scientists have found that the nitrosamine level is directly related to the risk of cancer.
Besides oral cancer, smokeless tobacco is also known to cause cancers of the esophagus (tube connecting throat to stomach) and pancreas (gland that produces the hormone insulin). It may also cause heart disease, gum disease, and oral lesions other than cancer, such as leukoplakia (precancerous white patches in the mouth), according to NCI. So while some mistakenly believe that smokeless tobacco — because it is not burned — is somehow safer than cigarettes, nothing could be further from the truth. And since it contains nicotine, it is also highly addictive.
According to NCI, holding an average-size dip in your mouth for 30 minutes gives you as much nicotine as smoking three cigarettes. When tobacco is chewed or sucked (dipped), nicotine is absorbed through the lining of the mouth directly into the blood stream, where it travels to the brain's reward center. Once there, it triggers the release of dopamine — a brain chemical that makes you feel pleasure, at least temporarily. So while it's the nitrosamines that will actually harm you, it's the nicotine that will keep you coming back for more.
And so it was with Tony Gwynn: Though his wife, Alicia, got him to quit several times, he could never stay off tobacco for long.
"I know it was shortly after he became professional that he started using," Tony Gwynn Jr. said. "At that time, there wasn't a lot of awareness — as much as there is now. Dipping tobacco was just what kind of made you a baseball player, so to speak, back then."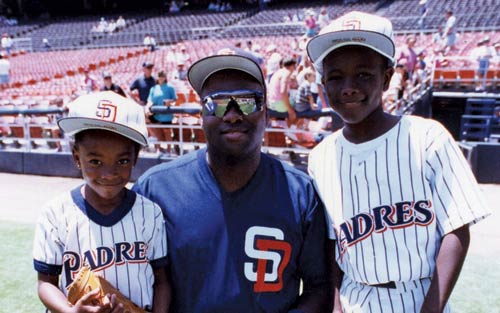 Tony Gwynn with daughter, Anisha, and son, Tony Jr.
Major-League Controversy
With greater awareness of how dangerous smokeless tobacco is — and a recognition of how influential big-leaguers are to their young fans — Major League Baseball has taken some steps to change that. Tobacco was banned in the Minor Leagues in 1993. But attempts by Baseball Commissioner Bud Selig to institute a similar ban in the Major Leagues were beaten back by the players' union, which took the position that adults should be free to make their own choices regarding tobacco use.
The issue became part of the 2011 contract negotiations between MLB and the Major League Baseball Players Association, led by Tony Clark. A compromised was reached: Major League players, coaches and managers are no longer able to carry a tobacco tin or package in their uniforms during games or any other time that fans are in the ballpark. They are also barred from using smokeless tobacco during televised interviews, team-sponsored appearances, autograph signings and other events where fans are present. But they are still allowed to chew it on the field.
Some anti-tobacco groups used the news of Gywnn's death to increase pressure for a ban. In a letter to Selig and Clark, the American Dental Association, American Medical Association, the American Cancer Society, and six others, said:
"There could be no better way to honor Tony Gwynn than to prohibit tobacco use throughout Major League Baseball." — Excerpt from a letter to Major League Baseball officials from health advocates
"Use of smokeless tobacco endangers the health of Major League ballplayers. It also sets a terrible example for the millions of young people who watch baseball at the ballpark or on TV and often see players and managers using tobacco… There could be no better way to honor Tony Gwynn than to prohibit tobacco use throughout Major League Baseball. It is time to take tobacco out of baseball once and for all — both for the health of baseball players and to set the right example for America's kids."
"I think it's a disgusting habit, looking back on it. I was pretty naive when I started. … I didn't think it was going to be such an addiction." — Pitcher Stephen Strasburg
Two of Gwynn's protégés are not waiting for a ban. Stephen Strasburg of the Washington Nationals and Addison Reed of the Arizona Diamondbacks — both pitchers who were coached by Gwynn during their college years at San Diego State — declared they were kicking the habit in the wake of their mentor's death.
"I think it's a disgusting habit, looking back on it," Strasburg told MLB.com. "I was pretty naive when I started… I didn't think it was going to be such an addiction."
"It was something I always told myself I would quit, like next month, and the next thing you know it's been six or seven years," Reed said in a separate MLB.com interview.
Tony Gwynn Jr. said he was very glad the two pitchers, who were some of his father's "closest guys" made public their decisions to quit. "With the platform they had, it probably made a bigger difference announcing it when they did," he said. "It was a good gesture, but more importantly, it benefits them." As for whether all Major League players should be banned from using tobacco on the playing field, Tony Gwynn Jr. says he can see both sides of the issue.
"I'm kind of stuck in the middle," he said. "Half of me wants people to be able to make their own choices. These are all adults, grown men. But the other half of me would hate to see any of them go through what our family has gone through over the last four years."
That ordeal was harrowing — both for the man who endured it physically and the loved ones who are still enduring it emotionally. Tony Gwynn had his first cancer surgery in August of 2010. His doctors opted not to remove every bit of the malignant tumor in his cheek because it was touching a major nerve that controlled facial movement; they did not want to cause permanent paralysis of his facial muscles. The plan was to attack the remnants of the tumor with chemotherapy and radiation post-operatively.
Surgery, Chemotherapy, Radiation — Repeat
After his operation, Gwynn found his face was temporarily paralyzed. He could not smile his famous smile or close his right eye; it had to be taped shut so he could sleep. The radiation treatments that followed dried out his mouth, affected his sense of taste, and caused sores. The only foods he could eat comfortably were oranges and cottage cheese.
In March of 2011, Tony Gwynn was pronounced cancer-free. But unfortunately, this did not last. The cancer came back in the same spot the following year and Gwynn endured 14 hours of surgery in February 2012. This time, the entire tumor, along with the affected nerve, was removed. Doctors grafted a nerve from Gwynn's shoulder to the remaining branches of the facial nerve so that he would not permanently lose control of his facial muscles. This bought the slugger another year, but did not prevent the cancer from returning a third and final time.
"I'm at a point now where I can actually talk about it and not have a breakdown, but there really isn't anything you can do to take the pain away," Tony Gwynn Jr. said. "My dad and I had an extremely close relationship. We talked probably every other day. That void will never be filled ever again. I just try to wake up and put one foot in front of the other. That's really all I can do."