Giuliana & Bill Rancic
Reality TV's dynamic duo talks about the impact of a great smile, the joys of parenting, and the battle of Giuliana's life!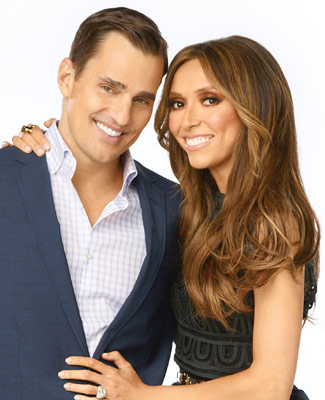 Photo by Andrew Eccles/Style Network
With their own show on the Style Network, several TV hosting gigs, a fashion line, and a full calendar of motivational speaking engagements — just to name a few current projects — Bill and Giuliana Rancic are not the easiest folks to get a hold of. Still, Dear Doctor managed to catch up with the whirlwind pair on the eve of their son Duke's first birthday. They were delighted to reminisce about the day a long-held dream came true.
"Seeing Duke for the first time was the single best moment of my life," Giuliana said. "Immediately, nothing else in the world mattered. He is everything we could have hoped for and more."
"I think any parent can relate to how incredible it is to see your child for the first time," Bill, who won the first season of Donald Trump's show The Apprentice, added. "Especially after our struggle — it was amazing."
That struggle was twofold. First there were fertility issues, which came as a shock to Giuliana, who always believed that having 40 first cousins meant she must have "great Italian eggs." Yet conception was elusive. The couple tried in vitro fertilization (IVF) twice without success. Then they went for a third attempt in late 2011. That's when Giuliana was diagnosed with breast cancer.
"My cancer was actually discovered by my fertility doctor on a mammogram that he made mandatory before going into the final phases of IVF," she explained. "He makes all of his patients get mammograms because it is very dangerous to get pregnant if there is any trace of breast cancer."
The priority immediately shifted from getting pregnant to restoring Giuliana's health.
"After my diagnosis, Bill and I went into planning mode," she said. "Our first course of action was a double lumpectomy. Unfortunately, the margins weren't clear after that procedure so the next step was a double mastectomy."
A difficult recovery period followed, during which Giuliana received radiation treatment. She will continue on medication for a total of five years.
"It definitely took a bit of time to feel like myself again after surgery," Giuliana, an E! News anchor, recalled. "I made a plan to return to work a few weeks after my surgery, pending my doctor's approval, and let me tell you, that helped so much. Getting back into my daily routine made me feel like I was getting back to my normal self."
Still, the desire for a child was stronger than ever. The couple decided their best chance was to attempt pregnancy with a surrogate, also referred to as a "gestational carrier." This is a woman who carries and delivers another couple's baby, in this case Bill's and Giuliana's. And it worked! Edward Duke Rancic was born at the end of August 2012 — just in time to celebrate his parents' fifth wedding anniversary.
So it's perhaps with a little extra joy that Giuliana and Bill can now focus on some of the more commonplace concerns of parenting: like soothing their son through the stress of teething.
"Teething has been tough on Duke," Giuliana said. "He was getting fevers and discomfort that go along with the teething process and it's heartbreaking to see him in pain, but every baby goes through it."
"Cold teething rings help," added Bill, who co-hosts the nationally syndicated TV show America Now.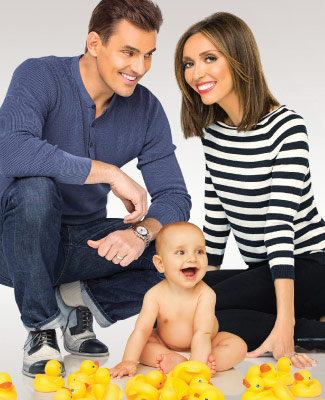 The American Academy of Pediatric Dentistry recommends the first Dental visit happen during a child's first year.
Photo by Andrew Eccles/Style Network
The two are also anticipating Duke's first dental appointment. The American Academy of Pediatric Dentistry recommends the first visit happen during a child's first year, and not surprisingly, the Rancics are on top of it.
"Duke will have his first visit with the dentist very soon, and since he is still a baby, we will make his visit as comfortable as possible," Giuliana said. "We'll probably bring some toys and snacks as reinforcements!"
Said Bill, "I think the earlier you can start the checkups, the better."
Giuliana and Bill have routine dental cleanings and exams every six months, and have also brightened their smiles with professional teeth whitening treatments at their dentist's office.
"We got great results and we will definitely do it again!" Giuliana enthused.
Both are convinced that having a healthy, beautiful smile is important in their fields of entertainment and business.
"First impressions are very important and having a beautiful smile will help anyone make a great impact on others..."
"First impressions are very important and having a beautiful smile will help anyone make a great impact on others," Giuliana said. Bill agreed. "I think a great smile says a lot about a person — especially in our professions," he said.
Their winning smiles have benefited not only from professional teeth whitening as adults, but also from orthodontic treatment with braces as kids.
"I had an overbite," Bill said. "I was the only one in my family to need braces — my sisters had perfect teeth. I didn't mind them; a lot of kids in my class also had braces."
Giuliana did not find wearing braces so easy as a teenager, but in the end she was pleased to have had her teeth straightened.
"I had gaps in my teeth and a bit of an overbite," she said. "I am glad that I had braces because having a nice smile is very important."
Though she did have orthodontic issues, Giuilana has never had a single cavity. Bill, on the other hand, was cavity-prone as a child.
"I can still remember the anticipation of going to the dentist twice a year," he said. "I always hoped I would get out of the checkups without a cavity!"
These days, Bill helps fight tooth decay with meticulous brushing and flossing. It's a good thing, as both he and his wife have, in Giuliana's words, "a huge sweet tooth." But fortunately, they also love healthier foods.
"It's all about maintaining a healthy balance," Giuliana said. "I try to eat a very healthy diet. I love brown rice, sushi and organic fruits and vegetables. I enjoy eating almonds and raw green juice for extra vitamins."
"I love nuts and fruit for a healthy snack," Bill said, adding that physical fitness is also important. The family enjoys hiking and taking long walks on the beach in Santa Monica. And Bill is training for the New York City Marathon. Duke sometimes comes along on training runs — in his jogging stroller. His parents are already thinking about how to keep him fit and healthy.
"I think we will limit the amount of sugar Duke has," Bill said. "I have seen the crazy things it can do to kids!"
The couple also plans to limit Duke's exposure to the limelight. They considered not having him appear at all on their Style Network reality show, Giuliana & Bill. Yet in the end they decided that keeping him off the show completely would be unfair, given how supportive their fans had been during their battles with infertility and cancer.
"I definitely felt encouragement by people who watch me on TV," Giuliana said. "The decision to go public with my health struggles was difficult, but when people come up to me and tell me that my story helped them get through similar situations, it made it all worth it. That's what helped get me through."
Giuliana would now like to return the favor by encouraging her fans to keep on top of their health.
"I would say that the most important thing is to start self exams as soon as possible..."
"I would say that the most important thing is to start self exams as soon as possible," she said. "It is so important for women to get to know their bodies so that if anything changes, they will know and be able to get to the doctor as soon as possible. Also," she continued, "every woman should go to the doctor for checkups every single year and start the conversation with him or her about breast health."
Giuliana now has yearly mammograms.
"Early detection is so important and knowledge is power," she said.