Nolan Gould
The bright young Modern Family star talks about his hit show, his triumph over cavities, and how modern dentistry saved his smile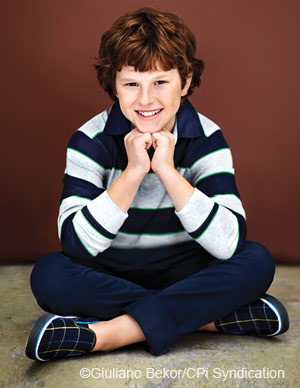 Talk to Nolan Gould for only a minute and you'll realize he's not the sugar-fueled space cadet he plays on TV. Articulate, witty and undeniably bright, Nolan is smart about a lot of things — including his oral health.
"I want to put dental care and oral hygiene first because it's really important," the 13-year-old actor recently told Dear Doctor. "Especially because I have to talk to people and smile a lot, I want to have a nice, clean mouth and nice-smelling breath."
Nolan gives television viewers a reason to smile each week as the goofy, mentally-challenged Luke Dunphy on the acclaimed ABC comedy Modern Family. He's so convincing at playing dumb, this card-carrying member of Mensa (the international high IQ club) often takes people by surprise.
"They always think that I'm dumb in real life," Nolan said with a laugh. "Then they go onto my twitter and read all my tweets. And they're like, hey, this kid isn't dumb, he's making really smart tweets. And they're always shocked. They're like, 'I can't believe you're not dumb, I always thought you were. So you don't run into screen doors, you don't run into walls?' And I'm like, no, that's just the character!"
"I want to put dental care and oral hygiene first because it's really important"
At 13, Nolan is already a veteran actor, having followed his older brother Aidan into acting classes when he was only 3. The boys' mother was looking for a challenge for Aidan, who was 5 at the time.
"My brother was really advanced for his age," Nolan explained. "My mom wanted to find something that would entertain him because everything else was so easy for him. She heard about this theater program and she enrolled my brother in it. And I went along with him because I kind of had to, but I ended up enjoying it — we both did."
The two boys thrived on stage and loved hamming it up. "When people laughed, we just thought it was amazing," Nolan recalled. The boys soon started auditioning for print work and commercials.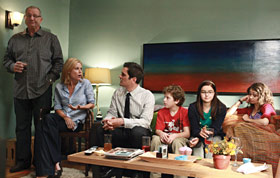 Copyright © 2010 ABC Studios/Richard Cartwright
The earliest job Nolan can remember is a modeling gig when he was 4 or 5 for a costume company. He was the little pirate on the package photo that showed what the costume would look like when worn. Some of those costume packages are still out there, Nolan said. "Every once in a while I'll be walking through a store and I'll see a costume and I'll be like, hey, who is that little kid on that? It looks very much like me. Wait — that is me!"
With his father in the military, Nolan moved around a lot. The family was eventually transferred from Alabama to California — a lucky development for Nolan's career. The boys built up their acting resumes with parts in small student films as they auditioned for bigger things. And for the past three seasons, Nolan has starred on the show that virtually swept the last Emmy Awards.
"I couldn't believe that we won the first four awards of the night and then the last one," Nolan said of his show's success. "I just feel so blessed, so grateful."
As experienced in show business as Nolan already is, he does not appear at all jaded. In fact, it's clear he feels privileged to be doing so many things that other kids only dream about. He has filmed on location in Hawaii and Wyoming, and can even try on a completely different personality.
"The major thing that I love about acting is just the experience I get to have," Nolan gushed. "I get to be a new character and do things I would never do. Luke is the exact opposite of me. He thinks, hey, wouldn't it be fun to jump off the house with a blanket as a parachute? I think, that's gonna get you hurt, but Luke just goes for it. So I get to do a lot of fun things like take a pogo stick on a trampoline, or run into walls or screen doors."
In one episode, Luke crashes through the Dunphy's screen door when he doesn't realize it's closed — something the family dog was able to figure out just moments before. Nolan said he does all of his own stunts and often has the bruises to show for it.
"When I was running into the screen door, the next day I ended up with so many bruises up and down my legs," he said. "Every time I do something like that, I usually end up with a headache. I think I did something mean to the writers, so now it's like, let's write ways for Nolan to hurt himself!"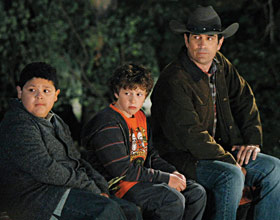 Copyright © 2010 ABC Studios/Rick Rowell
But Nolan said he doesn't worry that much about accidents, on or off the set. "I drink a lot of milk, so I've got really strong bones," he boasted. "So when I fall, and usually people would break their arm, I'm fine." Besides, Nolan said, "If I broke an arm or something, they could always write it into the show. Luke's so crazy, he'd probably break things all the time!"
Of course, as Luke found out, walking into a screen door is one way to open it, and Nolan's portrayal of Luke has opened many doors for this talented young actor. He recently starred in the television thriller Ghoul, and will soon be seen in the feature film The To-Do List, starring Andy Samberg, Bill Hader and other comedy greats.
"It was really amazing but also kind of intimidating working with all those hilarious comedians," Nolan said. "I think there was one person from each comedy on TV, working on the movie. It's a pretty adult movie so my mom wouldn't let me read the script," he added.
Nolan credits his mom, Angela, with passing down her intelligence genes to her sons. "My mom really thinks things through and I think she's pretty smart," he said.
The theatrical genes, he said, come from his dad, Edwin. "He's such a ham, he's always so crazy, like when we're at parties and there's karaoke, of course he's up there singing some rock song from the eighties trying to be all cool," Nolan said.
Neither of Nolan's parents had any experience with show business before their sons became actors. And the adjustment to life as a show biz family has not always been easy, said Nolan.
"It was very difficult. The family had to make a lot of sacrifices," he said. "I work full time and we have all these different other things going on. And it's crazy. My dad has to take a lot of time off work to take my brother to auditions."
Still, it's a lifestyle that offers the family many rewards.
"Because we love acting so much, we're willing to make some sacrifices and use up some of our free time to go out and just live this experience," Nolan said.
When he isn't acting, Nolan is keeping up with an accelerated academic program, going camping with the Boy Scouts, even playing the stand-up bass. And he's looking forward to discovering what his teenage years will bring.
"I'm ready to be a teen," Nolan affirmed. "I don't think it will make a huge difference in my life, though. Hopefully I'm not going to have all that teenage angst like Haley and Alex do," he said, referring to his television siblings. "Hopefully I'll just remain a normal kid."
Continue to the next page to read more of our Nolan Gould Interview.