Kathy Ireland
The former supermodel talks about her past dental experiences and what really makes her smile today — her family and running her own successful design firm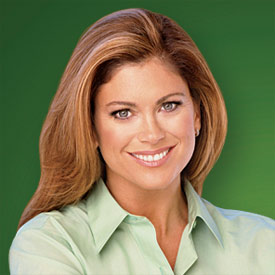 Photo by Jonathan Exley
(Continued)
Kathy Ireland Talks Teeth...
We asked Kathy to share some specifics about her oral health and maintenance routines and what it took to restore her famous smile after the driveway accident. Before we continued, she laughed and said that her smile has required "a cornucopia of help over the years!"
Prior to this accident, had you experienced any major trauma to your teeth and/or mouth?
Yes, I knocked out a tooth when I was a child and later knocked it loose again.
So, what treatments were required after your driveway accident?
I needed numerous veneers and a dental implant to replace a lost tooth.
Do you have any recurring pain or issues from this accident?
No, I am really fortunate. Other than the little scar on my nose that I can usually cover with makeup, nothing reminds me of the accident.
When you had the dental implant placed, how was the procedure?
It was pretty easy. I remember my dentist explaining what was going to happen — that was interesting — and then hearing all of the sounds while all of it was going on. But I have to tell you, after being a mom and having kids, going to the dentist for me is like going to the spa. I get to sit down and relax. Oh my gosh, one time I even fell asleep in the dental chair! I love getting a moment to relax.
"I understand that we all get so busy that sometimes we may feel like saying, 'I don't have time to do that.' However, I am also aware of the link between heart disease and periodontal disease... so I ask, do you have time for a heart attack?"
Do you have to do anything special to maintain your new smile?
No, just regular flossing and brushing. I understand that we all get so busy that sometimes we may feel like saying, "I don't have time to do that." However, I am also aware of the link between heart disease and periodontal disease... so I ask, do you have time for a heart attack? Heart disease is the number one killer of women in America and when you factor in the links to our dental care, you understand the importance of taking the time to do the basics. It is so important that people take care of themselves.
How often do you get your teeth cleaned?
Usually every six months.
Have you ever worn braces?
Yes, I wore them for about three years when I was growing up. Our oldest son just recently had his braces taken off and our daughter has to lose one more tooth before she can get her braces on.
If we interviewed your three children, what would they tell us about any rules or guidelines you and your husband have established for them regarding oral health?
Floss and brush your teeth! And do what they can to avoid injuries to their mouth and teeth. We want our children to still have fun, but balance that with being safe and taking care of their teeth. This also applies to the amounts of sweets they eat... although I tend to have a bigger sweet tooth than any of them!
Have any of your children had any sealants or fluoride treatments to protect their teeth?
That is really an interesting question because our children range in age and I am always reading up on things, in particular about fluoride treatments. At one point, we were doing fluoride treatments regularly, you know the daily drops, then I read there was some controversy with it, so I backed off on using them.
At this point Kathy turned the interview around on us and asked Dr. Mario Vilardi, publisher of Dear Doctor magazine, for his insight on this subject.
Kathy: Dr. Vilardi, what is your take on fluoride and any related health issues?
Dr. Vilardi: It is becoming nearly impossible for parents and dentists to accurately assess the amount of fluoride that is consumed. This is due to a number of factors. For example, whether or not the drinking water is fluoridated, if fluoride supplements are being consumed, and if the bottled water, or other beverages or even the foods consumed are enriched with fluoride. For this reason, the American Academy of Pediatric Dentistry does not recommend fluoride supplements to pregnant women because there is no way to determine how much fluoride they are receiving. Nevertheless, fluoridated water is one of the safest public health measures ever, and is very successful in preventing tooth decay, a factor which has led to its overuse. Just to make sure it remains safe, the Food and Drug Administration (FDA) and American Dental Association (ADA) have recently changed the guidelines for fluoridated water from 0.7-1.2 parts per million to 0.7 for this very reason.
Advice from Kathy Ireland
Throughout our interview, Kathy shared many of the life lessons she has learned from her most important job, motherhood, as well as from business and other areas of success. Here are some highlights:
It is critical that children understand "why they believe what they believe" and have convictions about them because, at some time, they will be challenged to defend them. They need to be able to live them out in a powerful way.

Another important gift we give our children is the freedom to make some of their own decisions rather than always imposing ours on them. Guiding them along and then seeing them choose to be of service to others and demonstrating their faith is really one of the greatest gifts.

Regarding the hot topic of bullying — every single one of us is a role model to someone. We must ensure that the messages we send one another are the ones we want received. Adults must take a really good, long look in the mirror to see where this is coming from and make the necessary changes to be better examples.

I was 40 years old before I learned that "No" could be a complete sentence, although "No, thank you" is better. Sometimes, we have to say no to good things in order to do great things. And it is okay to ask for help.

When others were spending money on clothes and cars, I was investing in people... in art directors, creative directors, production personnel, experts in marketing, vision strategists... never measure success in dollars.

I believe, in life, we can have it all... just not all at once. And we must honor our priorities.

Don't let someone else's opinion silence or stifle you. Don't let someone else define you, put limits on your dreams, or stifle your creativity. Don't let rejection stop you from your dreams. Remember, imagination without implementation is a hallucination.