Florence Henderson
America's Favorite TV Mom Has Many Reasons to Smile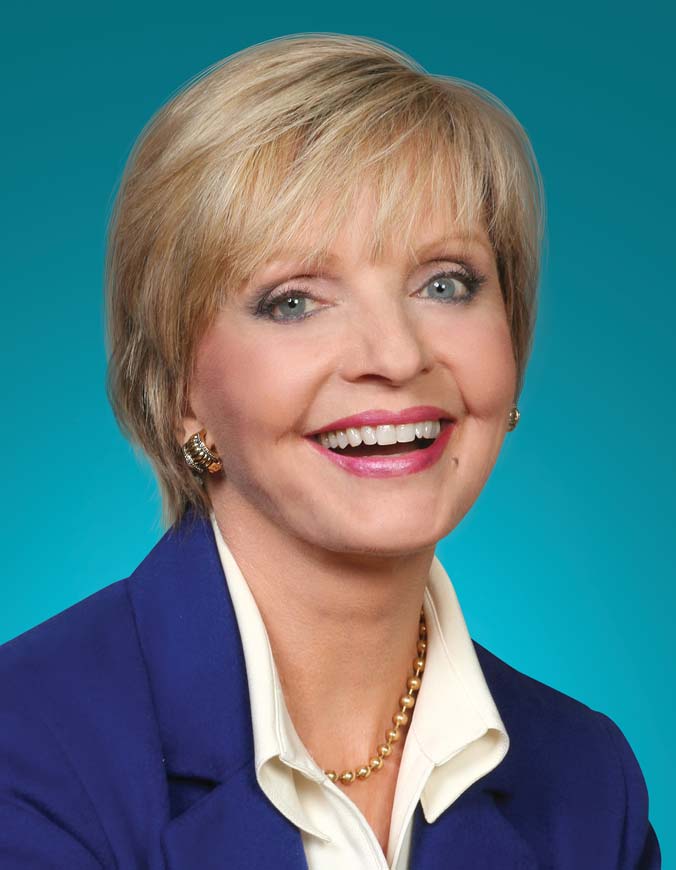 "The Brady Bunch represented what everyone wished they had — a loving family..."
Thanks to the power of syndication, Florence Henderson continues to lovingly guide numerous generations through some of life's funniest family moments with her nurturing warm smile and advice as "Carol Brady" on the hit TV show, The Brady Bunch. In fact, her celebrity in this role earned her the Smithsonian Institute's honor of being a legendary leading lady of American entertainment and her first TV Land Pop Culture Icon Award is on permanent display in the National Museum of American History. While these accomplishments alone make her an American pop-culture icon and international star, she is still constantly pushing herself with new opportunities and has no intention of slowing down. "I'll still be working when I'm 105," she declares. "I'm planning to be the female George Burns."
Born on Valentines Day, February 14, 1934 in Dale, Indiana, Florence Agnes Henderson's own family was even larger than her Brady family. She is the youngest of 10 children born to Elizabeth Elder Henderson, a homemaker who delivered half of her children at home by herself, and Joseph Henderson, a tobacco sharecropper who was 67 years old when she was born. As a child growing up during the depression, her mother taught her to sing and by age 2 she had a repertoire of 50 songs note perfect. By age 8, "Florency," as her family called her, was working in her father's fields, at 12 she was singing at the local store for groceries for her family, and by age 17, she was studying at the prestigious American Academy of Dramatic Arts in New York thanks to financial assistance from a schoolmate's parents. She made her Broadway debut at 18 and two years later originated the starring role of Fanny on stage — a role she performed 888 times.
While the multi-talented actress, talk show host, recording artist, author, Broadway veteran, motivational speaker, and philanthropist has conquered many aspects of the entertainment world, she broke new ground in television, as the star of one of the medium's most beloved and longest-running situation comedies, The Brady Bunch. When Henderson took the role in 1969, she wanted to make Carol a bit more realistic, begging the studio to let the character have a job, but her request was refused. "I played Carol as the mother I always wished I had," and she says, "As the mother a lot of people wished they had." Florence still receives volumes of fan mail addressed to Carol Brady. The classic series aired for five seasons (1969-1974); has never been off the air in this country — celebrating its 40th anniversary this year — and currently airs in 122 countries around the world.
Henderson has also developed a proven track record as a top leading spokesperson with many fans remembering her Oldsmobile, Polident, Tang, Rain Soft, Pepsi Light, and Wesson Oil commercials. In fact, based on consumer appeal, The Wall Street Journal ranked her #5 in their top ten television endorsers.
Today, this mother and grandmother still maintains a very busy schedule. She recently served as spokesperson for the transition from analog to digital television, helping senior adults prepare for this new broadcasting technology. Florence hosts her own national cable talk show, RLTV's The Florence Henderson Show, which gives her insider's view of Hollywood. She also performs her autobiographical one-woman show, "All the Lives of Me...A Musical Journey," throughout the United States. And one of her latest ventures, the FloH club, is an exciting and much needed organization that assists senior citizens with understanding and embracing technology.
As for how she accomplishes all this, Florence attributes much of her success to hard work and lessons from her childhood. From her mother, she learned how to be a survivor and from her father, well, the faith he instilled in her plus his words of wisdom that still guide her today. Joseph Henderson taught all of his children that a person's "character and reputation can never be taken away" but rather "you give that away." These invaluable lessons have enabled Florence to become a consummate hardworking professional with an impeccable reputation. These facts and her resume make it clear that Florence Henderson really is an American treasure.
In an interview with Dear Doctor, Florence answered some questions about her career, family, and her famous smile.
Q + A with Florence Henderson
This year is the 40th anniversary of The Brady Bunch, a show with a role that catapulted your career while making you America's favorite mother. Excluding your hairstyles and fashion, what do you feel has made this role so pivotal across generations in American culture?
Timing is everything. When the show came along, the Vietnam War was ending, we were sending a man to the moon, and we had survived the "Flower Child" era. This show represented what everyone wished they had — a loving family, in this case a blended one.
Do you miss anything about Carol Brady and The Brady Bunch?
When you do a TV series it becomes like a second family. The crew is wonderful and it's a very safe environment. I miss that.
Through syndication, generations have come to know your television mothering skills, but what rules did you have for your own children regarding oral healthcare as they were growing up or even now as adults?
I have always been aware of the importance of dental health. Having grown up in a very large, poor family, we didn't always have access to dental or medical care but even as a small child I learned the importance of brushing my teeth. I stressed oral health care from the time my children were very small and now they are doing the same with their children.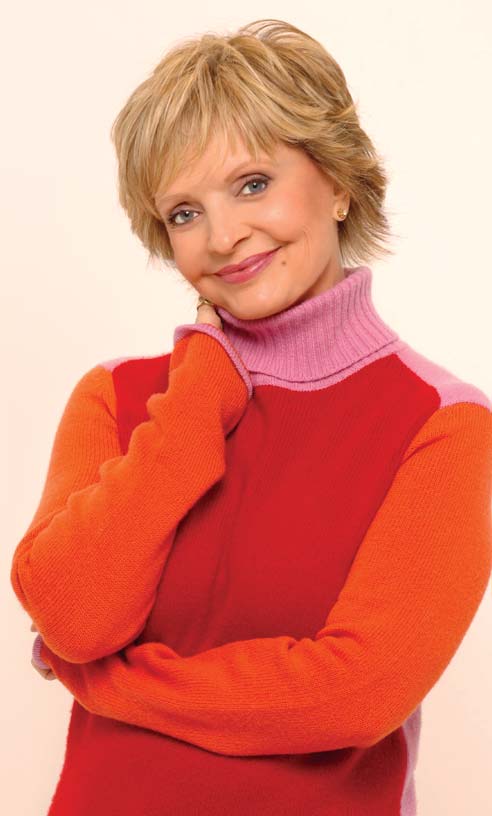 "Flossing, brushing, and regular dental check ups are vitally important if you want to keep your natural teeth."
Do you have any childhood memories or memories as a young adult from a dental visit that still influence you and/or your oral healthcare regimen today?
One of my early memories of extreme dental treatment was when I was 22 years old. My daughter was a few months old and I had 4 impacted wisdom teeth removed at the same time. This experience only made me more aware of how important dental care is and this is why I have always gone every 6 months for a check up.
Obviously, you have been cast in roles based upon you talents; however, do you recall ever being cast in a role based upon your famous smile?
I may have received the Polident® commercial because of my smile. However, I research products before I endorse them so that I believe what I say. And if I can do that with a smile, I feel it is so much the better.
Speaking of those Polident commercials...you have made public that you have your own natural teeth and do not wear dentures. What have you done to keep your natural, beautiful smile? And what advice do you have for others who want to do the same?
I think the most important thing one can do as with any health issue is prevention. Flossing, brushing, and regular dental check ups are vitally important if you want to keep your natural teeth.
Given the tough economic times many are facing in America, what advice do you have for people, especially senior citizens, regarding their concerns with health and dental care?
With these tough economic times, I would advise people if they have to, to let go of things they don't really need but I would fight to hold on to health and dental care. The health of your mouth and teeth is so important and can prevent other health issues.
You are a rare breed in Hollywood as you've always been honest about your age, your childhood, your life — something other celebrities would never do. So what about cosmetic dentistry? Have you ever had any or would you consider having it?
I've always felt that being truthful is the best way for me to live my life. I have always loved to smile and I'm so grateful that I was born with good straight teeth. I'm pretty happy with my smile and others seem to enjoy receiving it. I've never had nor am I planning to have any cosmetic dentistry; however, I have thought about teeth whitening.
Some people feel it is silly for a senior citizen to seek out orthodontics so late in life. What are your thoughts on orthodontics and do you feel any age is too old for them?
I wouldn't care how old I was, if I had misaligned teeth or felt I needed cosmetic dentistry I would certainly do it! Three of my children wore braces and some had to have teeth extracted. However, they had great dentists and they took great care of their teeth.
Do you have any embarrassing or funny experiences such as finding lipstick on your teeth or something caught between two teeth after an interview or performance?
Because I have such a wide smile I have found spinach or black pepper between my teeth after smiling very broadly and confidently. That is one of the reasons I will never leave home without dental floss!
One of your latest ventures has been the creation of the FloH Club, an organization that assists senior citizens with understanding and embracing technology. What prompted you to do it?
I was inspired to create the Floh Club because of my own fear of technology and because I didn't want to keep asking my children for help. I love to inspire and motivate others and especially I want to empower older adults to keep in touch with what's going on and keep growing and learning.
What oral hygiene products do you consider a must in your dressing room or on the set?
I always have mouthwash, dental floss, toothpaste, and a toothbrush on the set. I especially like toothpastes that include baking soda and whitening.
When meeting new people, what do you notice first: their smile or teeth, their eyes, or something else?
When I meet new people I think I notice their eyes first, then their smile, and finally their handshake.