Dental Injuries: Field-Side Pocket Guide
A guide for parents, athletic trainers, caregivers, teachers and... patients!
Dental injuries, whether simple or complex, often require treatment onsite at the time of the injury when typically there is no dentist present. Proper attention can save pain, alleviate anxiety, and years of costly dental treatment. A little knowledge, as they say, can go along way.
Dear Doctor has created a handy pocket guide for managing dental injuries so you can be prepared the next time players come to you holding their mouth in pain.
We have provided this guide in 2 formatting options below. The first is a printer friendly letter size which can easily be printed on any inkjet or laser printer. The second option can be printed and folded to be used as a pocket guide. If you are interested in purchasing professionally printed copies, see the options below.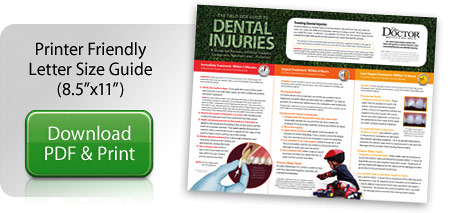 Are you a school or organization?
Dear Doctor can personalize and print our field-side pocket guide to dental injuries for your school or organization. These pocket guides can be personalized in several ways including adding your organizations logo and contact information. If you would like more information or pricing, please contact Dear Doctor at 845-765-2310 x.110 or email us at info@deardoctor.com.
Would you like to purchase professionally printed copies of the tri-fold pocket guide?
If you are interested in ordering professionally printed tri-fold guides from Dear Doctor, please call and speak to a Dear Doctor representative at 845-765-2310 x.110.
This guide is not for commercial purposes or resale.
Reprint Information
To obtain reprint permission or to inquire about any other uses, contact us in writing at the address below:
Dear Doctor, Inc.
889 Main Street
Fishkill, NY 12524
845-765-2310
Credits
This quick-reference guide is a summary of the article, "The Field-Side Guide to Dental Injuries" by Dr. David J. Kenny and Dr. Michael J. Casas published in Volume 3, Issue 4 of Dear Doctor - Dentistry & Oral Health magazine's special issue "Sports Injuries and Dentistry."
Drs. Kenny and Casas are members of the Toronto Dental Trauma Research Group, The Hospital for Sick Children, and the University of Toronto (Canada).
DISCLAIMER: The editorial content in this quick reference guide is a tool to assist you and your family in treating a dental injury/emergency—it is not influenced by commercial interests. Stated actions should be taken as recommendations based upon generally accepted medical and dental protocols. Consult with your dental professional regarding any specific treatments, questions, and/or injuries.
Copyright © 2009 Dear Doctor, Inc. All rights reserved.
Copying, modifying or reproducing any text or graphics is strictly prohibited.