Wedding Day Smiles
(Continued)
The Story of Suzanne's Wedding Day Smile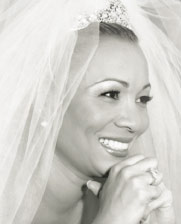 Patient History
Suzanne, a 31 year-old, attractive, fun-loving woman, had been busy building her business for many years. These hard-working efforts had resulted in the creation a very successful high-end clothing boutique. She had found the man of her dreams to whom she was now engaged. With all this and a wedding imminent, she realized she had left very little time to focus on her appearance, particularly her teeth. The future looked bright, but her smile didn't.
Patient's Concerns
She was unhappy with the color of her teeth and felt they were quite yellow. She was also upset with the crowding of her teeth as well. She had attempted tooth whitening in the past with some over-the-counter bleaching products with unsatisfactory results. She wanted something dramatically different and yet she also wanted something that would appear natural and aesthetically pleasing in the end.
As a young child she had not had the opportunity to undergo orthodontic treatment and had been troubled with the crowding of her teeth and a bad bite all her life.
Findings & Diagnosis
Dr. Paquette's examination revealed that, medically, Suzanne was healthy and that her dental health was also generally good. An aesthetic evaluation revealed that crowding of her teeth was not very pleasing or functionally optimal. Suzanne was the perfect candidate for orthodontic treatment to correct her bite and to improve the appearance of her smile by correcting the alignment of her teeth. Because of a discrepancy in the size of the "dental arches" (between her upper and lower jaws), the removal of a lower front tooth would allow for:
The creation of a more functional bite

Placement of the teeth in more perfect position to facilitate aesthetic change with restorative techniques
Treatment Planning
| | |
| --- | --- |
| | |
| Figure 1: Photograph at the completion of orthodontics of Suzanne's right side showing increased space between her teeth. She wanted a larger tooth size to match her facial features. | Figure 2: Photograph after orthodontics of Suzanne's right side showing increased space between teeth in preparation for the porcelain veneers to be placed. |
| | |
| --- | --- |
| | |
| Figure 3: Photograph during orthodontic treatment of Suzanne's left side. | Figure 4: Photograph after orthodontics of Suzanne's left side showing increased space between teeth in preparation for the porcelain veneers to be placed. |
| | |
| --- | --- |
| | |
| Figure 5: Photograph after orthodontics of Suzanne's front teeth showing increased space between teeth. Notice the beautiful alignment of her teeth. | Figure 6: Photograph showing the use of a diagnostic wax up indicating the proposed tooth size and shape for Suzanne's porcelain veneers. |
Figure 7: Photograph of Suzanne's new veneers and her beautiful smile. Notice how natural the increased tooth size looks.
Photos provided by Dr. Jacinthe M. Paquette
As part of the design of Suzanne's new smile, orthodontic treatment was planned to re-space the upper and lower front teeth more evenly for restorative treatment (Figures 1 and 3). Once her orthodontic treatment was complete, the teeth and gum lines were more perfectly positioned to facilitate ideal tooth contouring, shape and color change (Figures 2,4 and 5). The final restorative plan was to place porcelain laminate veneers to create a nicer, larger tooth size to better match the shape and size of Suzanne's facial features. The porcelain veneers would also dramatically lighten the color of her teeth. This was to be what Suzanne had always wished for, a more dramatic, brighter smile.
A diagnostic "wax-up" was made to first assess the proposed restorative plan. This actually amounts to the artistic creation of the new teeth in wax. This excellent technique can serve as a "blueprint" for both the patient and the doctor to not only predict, but also clearly determine whether their aesthetic goals are possible and the final outcome will be satisfactory. It is especially helpful for both the dentist and patient to be able to visualize the planned outcome before more permanent changes are made. Once accepted, the blueprint can become a reality in the fabrication of the final porcelain laminate veneers for the 6 upper front teeth and 5 lower front teeth.
Once the teeth were prepared for the veneers, by removal of the most minimal shell of outer enamel, the temporary restorations were placed to serve not only as the aesthetic template of the teeth but also for thermal protection. The "temporary" veneers are derived from the wax "blueprint," and the final porcelain veneers will be an exact replica of the temporary veneers (Figures 6). This is a very effective way of making certain that Suzanne's aesthetic goals are being met before the final porcelain veneers are created.
Final Result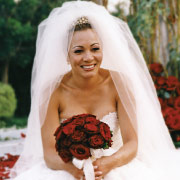 The final result was not only amazing, but a truly dramatic yet perfectly natural looking change (Figures 7). Suzanne felt confident and beautiful on her wedding day. Suzanne's treatment including orthodontics took almost two years to complete. She continues to benefit from the decision she made back then to improve her appearance through her smile. Most importantly though, now many years later, Suzanne has the opportunity to reflect back on that special time through her wedding day pictures that showed her wonderful smile. People now often compliment Suzanne on how beautiful her smile is. Suzanne says, "It was the best decision I ever made."