Taking the Stress Out of Dentistry for Kids
How to Make Sure Your Child is at Ease in the Dentist's Chair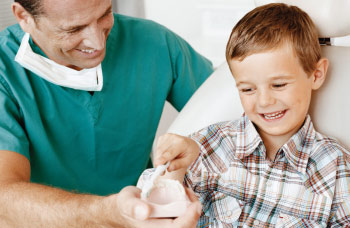 "Look Mom, no cavities!" used to be what we all wanted to hear (and say). But really, oral health means much more than just the absence of tooth decay. What better gift can we give our kids than a lifetime of healthy smiles? To do that, we need to help them become accustomed to — and even enjoy — going to the dentist regularly. Studies have shown that good oral health may improve your child's school performance and psychosocial development. Nowadays, all parents and child caregivers should be saying that their little ones enjoy dental visits and even look forward to them. If this isn't the case in your family, please read on!
Before The First Birthday
Ideally, a child's first dental visit should take place in the first year of life.
Ideally, a child's first dental visit should take place in the first year of life. While there might be only a few baby teeth visible, there's a lot that can be accomplished and importantly, it gets children used to being at the dentist's office. A recent evidence-based study proved that starting dental visits prior to age one reduces oral health costs (everyone wants to do that) and children have more pleasant future dental experiences.
A patient-centered and child-friendly approach involves a little fact-gathering and pointing out a risky activity or two (like drinking juice between meals or in a bottle at night) and putting our heads together to come up with a realistic and specific risk-targeted plan to develop healthy habits. We call it anticipatory guidance — learning about future oral health needs. The first visit includes an examination to make sure there are no signs of early dental disease and an instructional demonstration of the best ways to clean your child's teeth and gums. We also discuss the benefits of fluoride, how much to use and the ideal times to apply it. Please don't forget that toothpaste is not tummy-paste and should not be swallowed.
Home Sweet Home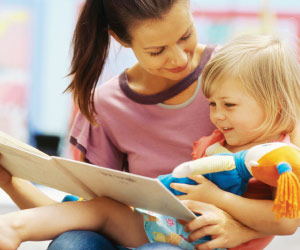 Finding a dental practice should be like finding your child a cuddly warm blanket — a comfortable and secure environment in which real communication can occur. We refer to this nowadays as a "dental home."
Preparing children prior to their first appointment minimizes fear of the unknown and those awkward first impressions. Not too much information though! A little pre-first-dental-visit talk can go a long way. Commonly, pediatric dentists and general dentists trained in child behavior will spend the beginning minutes just chatting and playfully telling and showing a child what's going to happen prior to doing anything. This allays jitters and builds trust and rapport. Gone are the days when dentists lectured kids and their parents — guilt trips are not productive. Real communication means listening as well as talking, and solving problems together.
Actions Speak Louder Than Words
Parents and caregivers set the tone for our kids, both at home as well as in the dental office. First, we should strive to take good care of our own teeth before attempting to show our kids how to. Curbing our own unhealthy habits like frequently eating sugary and starchy snacks between meals can influence our children's dietary intake for the rest of their lives. Ideally, we'd give up non-nutritious drinks and snacks altogether. Sodas, even diet varieties, and sports and energy drinks can be extremely damaging to teeth, as well as to general health.
True, sometimes we all find dental visits stressful, but it doesn't have to be that way. Stress at the dental office depends on a lot of things and can be decreased in children by what psychologists call "shaping and conditioning" behavior. Pediatric dentistry encourages use of these techniques. Getting young people on the right track early makes it more likely they will have positive emotional experiences which pave the way for lifetime dental health-maintenance routines.
When taking the first exciting trip to the dental office with our children, we need to remember to stay calm. When we feel nervous, our children pick up on it; even non-verbal body language conveys nervous tension. Be positive and smile! Pretend you're going to a favorite place. You or an older sibling can even hop into the dental chair first and model how fun and comfortable it is. As children grow and mature, they can assume more and more responsibility for their own health, but this can always be bolstered by our positive attitudes, examples and encouragement.