Great Expectations — Perceptions in Smile Design
Is what you get what you want?
(Continued)
Blueprints for Success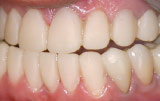 Figure 1: An example of a "provisional restoration" — a try-out smile to assess changes in size, shape, color, speech, biting function and more before final changes are made.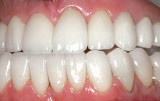 Figure 2: The final restoration replacing the provisional materials with permanent porcelain veneers and crowns.
Photos provided of Dr. Richard Whalen
It doesn't matter if you're having a total "smile-makeover" or just changing one tooth, the ability to preview the change to your appearance may be critical to your ultimate happiness. Computer imaging is a great tool to allow you to visualize a potential change before your dentist even touches a tooth.
A second way a dentist can help us see ourselves before work begins is to actually make a mock-up of the proposed dental work in white tooth-colored wax on models of your mouth. A third way is to build up your teeth with tooth-colored composite resin, which is yet another way of changing tooth shape, size and aesthetics.
Another great tool in dentistry is the "Provisional Restoration" [Figures 1 and 2]. This has become a critical tool in testing the understanding between the dental professional and patient. A provisional restoration allows time for adaptation, to see if the proposed smile changes work for you and if they are compatible with gingival (gum) health, phonetics (speech) and biting function.
If the provisional restoration works, the final restoration is guaranteed to work. The essential difference between the provisional and the final restoration is the materials from which they are made. The final porcelains are more durable and longer lasting than the plastics generally used for the provisional restorations.
The dentist will take impressions of the provisional restoration and communicate all of the relevant information in that blueprint to a "dental technician." Arguably, the most beautiful, lifelike tooth replicas are made of porcelains, in which case it is the ceramist — a dental technician skilled in the art and science of bringing these glass-like materials to life — who is entrusted with this responsibility.
Shades of Difference: Is What You See What You Get — Or Want?
The only way that you as a patient can ensure a positive answer to this question is to communicate fully with your dentist from the outset. By merging your own perceptions of what you want and need with your dentist's keen eye for what works aesthetically, you'll have a much better opportunity to achieve the smile you want and expect.