National Museum of Dentistry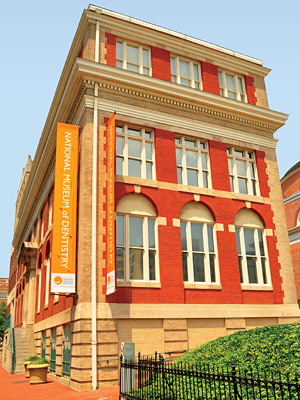 Photo by Robert Creamer
Today we take dental expertise for granted; we know that if we have tooth pain we can go to a healthcare professional who has spent years immersed in the considerable body of knowledge that comprises modern dental medicine.
Yet it wasn't always that way. The evolution of modern dentistry took thousands of years. The earliest human civilizations have yielded evidence of dubious remedies for tooth pain. A Sumerian text from 5000 BC even attributed dental decay to a "tooth worm." Stretching forward across time, it was not until the 17th century that French physician Pierre Fauchard began to approach dental health scientifically, making detailed observations and recording his results. In an unprecedented sharing of knowledge with competitors, Fauchard published the first comprehensive dental textbook.
In the early history of this country, dentistry, if you could even call it that, was practiced by the same people who cut hair and let blood (a misguided remedy to cleanse the body of infection). These "barber-surgeons" were more likely to harm their clients than to do them any good, with crude practices and bizarre advice that might entail picking one's gums with the bill of an osprey to soothe aching teeth. How did we get from there to here?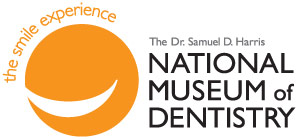 A turning point was the founding of the Baltimore College of Dental Surgery in 1840, which laid the foundation of the science-based profession we recognize today. The specimens assembled by professors from the school's earliest days formed the basis of a collection that still offers some amazing educational opportunities, along with a glimpse into how far dentistry — indeed our civilization — has come.
The Baltimore building that once housed this first dental college is now home to an amazing array of dental artifacts and interactive exhibits. Here you can see a denture actually worn by George Washington, meet the Tooth Fairy herself, and get your children excited about caring for their teeth with hands-on activities in the museum's MouthPower Laboratory. Dear Doctor asked curator Scott Swank, DDS to highlight some of the most intriguing treasures on view at the Dr. Samuel D. Harris National Museum of Dentistry. Here's what he shared with us.
George Washington's Lower Denture
The father of our country was perhaps also its most famous dental patient. George Washington suffered terribly from dental problems throughout his life and began losing his teeth at age 22. By the time he became president, he had only one natural tooth left. Before finishing his first term, he lost that one, too. But contrary to legend, the first president never wore wooden teeth. Dentures made for him over the years contained a variety of materials, including Washington's own lost teeth. The lower denture in the museum's Washington Gallery is made of ivory. This fascinating artifact was given to the museum by the descendants of John Greenwood, President Washington's favorite dentist. "There's only four places in the world you're going to see one of George Washington's dentures, and we happen to be one of those places," Dr. Swank proudly declared.
Circa 1870 Office of Dentistry Pioneer G.V. Black
Just as our country has its father, so, too, does American dentistry, in a Civil War-era practitioner named G.V. Black. A largely self-taught Illinois farm boy with less than two years of formal schooling, this future dean of Northwestern University Dental School managed to learn everything there was to know about mid-1800's dentistry in a matter of months. He then singlehandedly brought his profession into the modern age with invention upon invention. "Apparently he had one of those brilliant minds and school was really kind of holding him back," Dr. Swank said. "He was one of those people who learned better on his own." Dr. Black created everything from hand instruments (more than 100) to silver alloys for restoring teeth. His system for classifying different types of cavities and how they should be filled is still in use today. The museum has recreated his office with the furnishings and tools actually used by this pioneering doctor, who also served as a volunteer scout for the Union Army during the Civil War.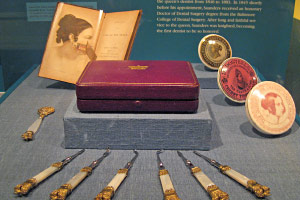 The 40,000-object collection of dental instruments, furniture, and artwork is one of the largest and most significant in the world. Included in the collection is a regal set of picks and tooth scrapers used by Queen Victoria.
Queen Victoria's Personal Oral Hygiene Instruments
Across the Atlantic from Dr. Black's 19th Century office, England's reigning monarch was grooming her teeth with an opulent set of personal oral hygiene instruments. "During the Victorian period they were very hygiene-oriented," Dr. Swank explained. "So men carried toothpicks and women carried chatelaines (decorative hooks) with toothpicks on them, and if you had the money you had your own set of scalers to take to the dentist with you." With their mother-of-pearl handles and gilded crown ornamentation, Victoria's instruments truly are fit for a queen.
Boar's Hair Toothbrush
Many of Victoria's subjects used toothbrushes made of boar's hair mounted on a bone handle. According to Victorian-era catalogues now owned by the museum, children and people with gum disease were advised to forgo the boar's hair in favor of gentler brushes made with goat or badger hair.
As bizarre as primitive toothbrush materials sound to us, we are still using oral hygiene implements of roughly the same design: a brush with a handle. In fact, even during the space age NASA engineers found they could not really improve on the basic design of the toothbrush. "There were two things an astronaut could take that did not have to be approved by the NASA program, and that was a toothbrush and a spoon," Dr. Swank said. "Now what they did with the spoon in space, I'm not really sure." Hmm... good question.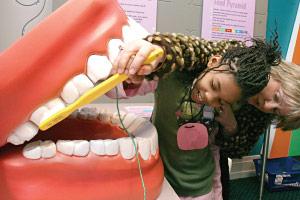 Learn about how to brush your teeth, what tobacco can do to your mouth, and how to make healthy food choices in the MouthPower Laboratory!
MouthPower Laboratory
While the basic design of the toothbrush has changed little through the centuries, our knowledge of how to keep teeth healthy has grown by leaps and bounds. The museum has a special interactive exhibit to pass some of this important information on to its younger visitors. In the MouthPower Laboratory, children practice brushing and flossing on a larger-than-life model mouth, discover how tobacco harms teeth, and don lab coats for role play in a child's-size dental office. This is just one of many age-specific educational resources the museum has created. "As time progressed, we got more into the promotion of oral health," Dr. Swank said. "Kids really enjoy being in MouthPower."
What is the secret to a healthy smile? Taking good care of your teeth!
This preview is only the tip of the iceberg, or perhaps we should say the cusp of the molar. Be sure to visit the museum's website www.dentalmuseum.org for more information on programs, exhibits, and dental health tips. If you exit through the online gift shop, you can even pick up some bacon-flavored dental floss!