How To Choose A Cosmetic Dentist
Finding the Right Professional to Enhance Your Smile
(Continued)
The First Consultation
By the time you visit the cosmetic dentist you believe is the one, you will probably know a lot about that person's credentials, experience and philosophy. In your first face-to-face meeting, you'll want to make sure he or she is a good listener. After all, your smile makeover is going to be a collaborative effort between you and your dentist, so two-way communication will be extremely important. Put simply, you should ask yourself: Is this someone I can work with? You should feel confident and comfortable you are in the right hands before proceeding. This is also the time to have a frank discussion about cost. Your dentist should be able to give you detailed pricing for different treatment scenarios. But only you can say what fits in your budget.
Getting the Results You Want
Of course, getting the smile you've always dreamed of takes more than simply sitting down in a dental office, pointing to a picture and saying, "I want that." While it's very important for your dentist to know what you want, it's equally important for him or her to know what's possible given your own unique situation. This can only be determined after a thorough oral exam to assess the health of your teeth and gums, and the mechanics of your bite. The dentist will go over the results of this exam with you, and then the two of you will decide on a plan. In order to demonstrate what your smile could look like after treatment, your dentist can offer you the opportunity to preview the results before committing fully to any plan. Here are some ways dentists accomplish that:
1) Computer simulation (imaging). The dentist can manipulate a digital photo of your smile to demonstrate the effect of whitening your teeth or placing porcelain veneers, for example. The limitation of this technique is that there is no way to guarantee that the photo touch-ups can be duplicated exactly in real life; but it can act as a good guide.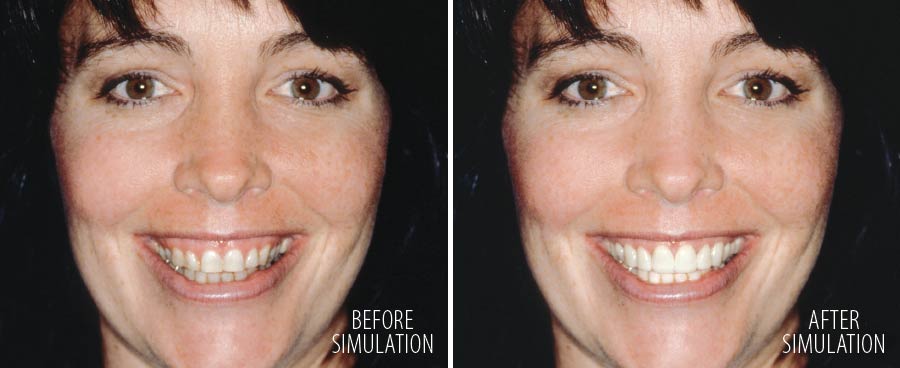 Left: This patient was unhappy with the amount of gum tissue displayed when smiling.
Right: A computer simulation allowed her to see how she would look if she received periodontal plastic surgery and porcelain veneers.
Photos provided by Dr. John C. Kois
2) Wax-up. The dentist can take a mold (impression) of your bite to create an exact model of your teeth. Tooth-colored wax can be added to the model to create "veneers," "crowns" or other cosmetic enhancements to show you what outcomes might look like. This, too, has limitations. While the results are more accurate than a computer simulation, it can be hard to picture what the changes would actually look like as part of a smile with surrounding facial features.

Left: The dental lab uses a stone model of the teeth on which to create a wax prototype (known as a "wax-up") of what the final result will look like.
Right: This wax-up shows how tooth form will change, greatly enhancing the smile's overall appearance.
Photos provided by Dr. Brian P. LeSage
3) Trial smile. This is the most effective preview technique, whereby the dentist applies temporary bonding directly to your teeth. It doesn't hurt to create the trail smile and you can then look in a mirror and actually see the changes in your own mouth. Because you can't really eat with temporary bonding, the dentist will likely remove the trial smile before you leave the office. But before doing that, he or she might take some pictures and make a mold over your new teeth if you like them. You may also get photographs of your trial smile to take with you. That way you can get the opinion of friends and family as well!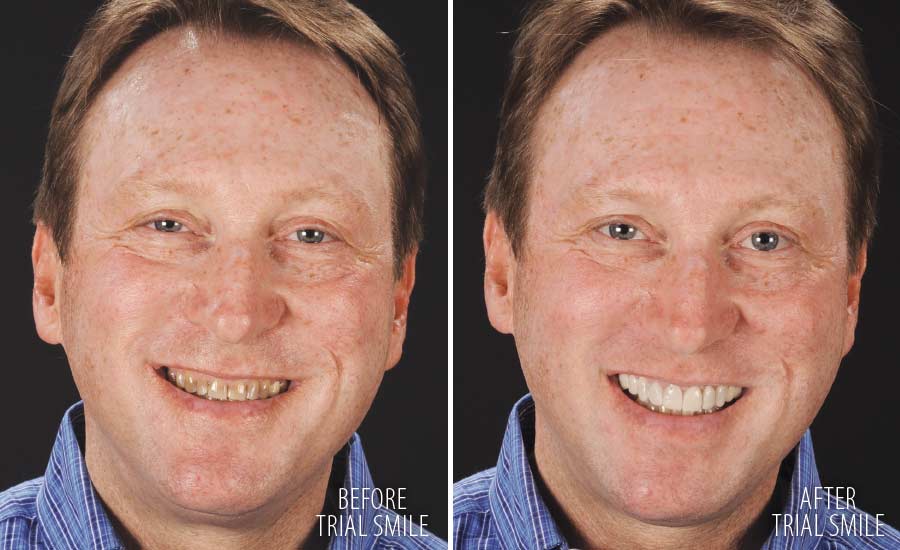 Left: Before cosmetic dentistry, this man was unhappy with the color and size of his teeth.
Right: A trial smile created with temporary composite bonding material allowed him to see his smile's full potential.
Photos provided by Dr. Susan Hollar
When it comes to cosmetic dentistry, surprises are not really what you're after; the goal is predictable — and beautiful — results. This is an achievable outcome as long as you have the right cosmetic dentist by your side.