Age One Dental Visit
Why It's Important For Your Baby
(Continued)
"Here We Go Round and Round" — Breaking the Cycle of Decay
These conditions form a cycle of events, even in babies, that slowly unravel oral health: decay causing bacteria interact with the carbohydrates (sugars) to produce acid; the acid in continual contact with the teeth slowly demineralizes (dissolves) the tooth enamel; as demineralization continues, cavities form.
Because all three of these conditions must be present for a cavity to form, there are at least three opportunities for intervention: (1) eliminate or reduce the bacteria through oral hygiene; (2) reduce the presence and frequency of carbohydrates by dietary changes; and/or (3) make the tooth more resistant through the use of fluoride.
Until a child is about seven years old, an adult needs to brush the child's teeth for them.
Age One Visits provide insight into these three opportunities for both the child and parents. For example, Age One Visits can help parents or caregivers learn the proper techniques for cleaning their children's teeth. Until a child is about seven years old, an adult needs to brush the child's teeth for them. Parents can allow the child to brush his or her own teeth, but at least once a day, preferably at bedtime, an adult should carefully and thoroughly brush the child's teeth.
The child's dentist can demonstrate the proper way to clean a child's teeth, a procedure that usually takes less than two minutes with a very small child's toothbrush or by simply wiping the teeth off with a wet cloth.
Dental professionals can also provide important information on the types of food and their frequency that promote a child's oral health. At first glance, many foods like cereals, granola bars, and similar snacks may seem healthy and good for a child to have throughout the day. They aren't — and neither are foods like raisins or fruit juices, even though they contain natural sugars and are full of vitamins and minerals. Carbohydrates in cereals, crackers, and granola bars will stick to the teeth where bacteria can easily interact with them over extended periods of time. And, regardless of whether the food contains processed or naturally-occurring sugars, bacteria metabolize both and form acid. Parents are advised to avoid giving their children sugary foods, especially in high frequency, that have any form of sugar listed as the first or second ingredient.
It's not just baby drool; frequent snacking also inhibits one of the mouth's most important cavity-fighters — saliva. Saliva neutralizes acid and supplies calcium and fluoride to protect and even reverse early decay. But it takes time — about two hours to neutralize the effects of acid. So, a snack every hour — which promotes the continual presence of acid in the mouth — won't give saliva the opportunity to work effectively.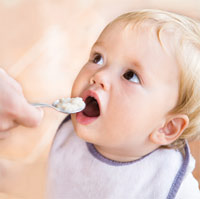 Breast Feeding, Baby Bottles and Other Practices
Generally, breast-feeding is highly recommended for babies and doesn't necessarily inhibit good oral health in young children. Breast milk by itself does not promote tooth decay any more than other forms of fermentable carbohydrates. On the other hand, once a child begins to consume foods or liquids in addition to breast milk, the combination of breast milk and other sugar-rich foods may potentially put the child at risk of developing ECC. Babies should be removed from the breast when they are finished feeding and children should not be allowed to nurse at will throughout the night.

Baby bottles are frequently used by parents or caregivers to modify the child's behavior by giving it during sleep time to stop fussing or crying. Other methods of improper bottle-feeding include propping the bottle or round-the-clock feeding. All these practices promote the constant production of acid in the mouth, so the use of baby bottles should be limited to meal-times.

Pacifiers dipped throughout the day in a variety of different sweeteners, including jam, corn syrup or sugar, results in frequent exposure of the teeth to fermentable carbohydrates and promote higher acid levels in the mouth.

Children with chronic illnesses or special health care needs may also be at increased risk of ECC if their medication contains sugar. Also, certain medications such as antihistamines may cause decreased saliva production causing mouth dryness and diminishing the protective effects of saliva. Daily oral hygiene care for these children is critically important.

Every time bacteria are exposed to sugars, either refined or "natural," they produce acid — so the more frequently a child eats sugar, the more frequently the teeth are exposed to acid. Frequent sugar exposures equals frequent acid exposures. Parents can therefore reduce the chances of their child developing cavities by limiting the frequency and amount of sugar their child consumes and not snacking on sugary products especially between meals.