Brian's Smile Makeover Story


The idea first popped into his head as he sat in his dentist's office reading the latest copy of Dear Doctor. "Hmmm," he thought, as he saw the ad for Dear Doctor's Ultimate Dental Health Makeover Contest — but soon moved on and continued reading the magazine's other articles. When he got to a consultation article on dental implants, the contest idea surfaced in his head again, as Brian was missing some back teeth due to an old baseball injury from years ago. Back then he had had a partial bridge to restore his teeth; however, that had long since broken leaving him with just the other side of his mouth for chewing food. As he read the article on dental implants, he had an odd feeling — it was like this issue and article was written just for him. But it wasn't until later that evening as he sat in front of his home computer that he decided to try his luck and enter Dear Doctor's Ultimate Dental Health Makeover Contest.

Time passed by, in fact Brian had nearly forgotten about entering the contest, before he got "the call" from Dr. Mario Vilardi, the president and publisher of Dear Doctor magazine, telling him that he had been selected as a finalist. He was at work and immediately shared the good news with his wife, some co-workers, and close friends. For Brian, this meant going to see Dr. Wayne Sutton of Sonoma County, CA, a well-known cosmetic and restorative dentist. Brian remembers that initial consultation vividly as it opened the door to what was to become a great partnership and even friendship in restoring Brian's dental and oral health. "From the moment I arrived at Dr. Sutton's office, I felt welcomed and comfortable. He has an awesome staff and he is a fantastic dentist." After that initial consultation, Brian, like the other 9 finalists throughout the country, walked away with a clear understanding of his dental problems and what could be done to restore a beautiful natural smile as well as full functionality. "Restoring oral health as well as function and cosmetics to our winner was paramount for us here at Dear Doctor," said Dr. Vilardi. "Yes, porcelain veneers can dramatically change a person's smile and self-confidence; however, our goal was much more than just cosmetics. We truly wanted to change our winner's oral health and life."

When Brian received his second call from Dr. Vilardi, he was in shock and total disbelief. "At first, I thought it was a joke that a friend or someone was playing on me. Then I listened to what he [Dr. Vilardi] was saying, as well as the sound of his voice, and it hit me. I really had won and was finally going to get my teeth fixed!"
Dear Doctor's Smile Makeover Dentist
When Brian visited Rohnert Park Dentist, Dr. Wayne Sutton's office, he knew he was in a special office. According to Brian, "Dr Sutton is an honest, genuine, friendly dentist who cares deeply about his patients. He is also on the cutting edge of technology and very comfortable using it. His honesty was especially helpful when he suggested that I consider sedation dentistry, as some of the treatments planned would take a long time. He explained that I would be less anxious and more comfortable. I couldn't believe the difference from previous dental treatments without sedation. With sedation, I was calm and comfortable the entire time."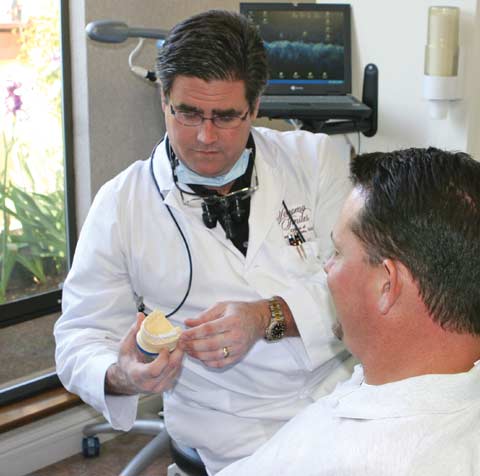 Brian is very thankful for Dr. Sutton's expertise in helping him select the perfect veneers — a tough decision for some patients. "My natural front teeth really weren't in that bad of shape. I mean, I did have a few small chips from old sports injuries, and of course they weren't white like they are now, but I knew I did not want a George Hamilton, perfect Hollywood smile." For this reason, Dr. Sutton helped design very natural looking veneers that would beautifully restore his smile, correct any minor misalignments, and give his face a more youthful appearance. "I recently went to my high school reunion and was thrilled with the feedback I received. Many of my classmates complimented how youthful I looked and what a great smile I had, without any knowledge of what I had done."
As for Dr. Sutton's feelings about Brian and this entire process, "My staff and I pride ourselves on providing our patients with the best individualized care possible using the latest techniques available. It is also critical for us to establish a great rapport with our patients so that we understand their concerns, worries, challenges, as well as their vision for their makeover. Brian is a great guy and has been a pleasure to work with throughout his journey back to good oral health. And it's great to see him with a winning smile."
However, the road back is not always as simple as just the "before" and "after" pictures. There's a long process in between, really more than meets the eye. Brian's case was not different. Prior to replacing his missing back teeth with dental implants, Dr. Sutton worked closely with another Dear Doctor specialist, a periodontist, on a comprehensive plan to restore Brian's smile. They would need to perform a surgical procedure to lift Brian's sinus membrane so that he could literally grow additional bone in his upper jaw for anchoring his implants. While this is a quite common procedure, it does have some risks. And it was during this time that they experienced a challenge — one of Brian's implants failed. While occasional implant failures only occur less than 5% of the time, one of Brian's three implants required an additional procedure before his smile makeover could get back on track. Dr. Sutton added, "As dental professionals, we use our experience, expertise, and artistry to deliver our best dental care. However, in Brian's case — and through no fault of his own or anyone participating in his restoration — one of his implant sites did not respond the first time. The one implant that failed to integrate with the bone the first time was simply removed and subsequently replaced, and 'took' the second time. The only thing lost was some time." It is important that we share this information so that other prospective patients understand the risks yet see how we can overcome them. However, as we promised Brian, we delivered on all of our promises. And Brian couldn't agree more, "Dr. Sutton always made me feel like part of the team. Because he kept me in the loop, I never doubted or questioned his direction. He has an awesome staff and he is a fantastic dentist. Nothing less than perfection was acceptable to Dr. Sutton. My teeth look fantastic thanks to his artistry and unwillingness to settle for anything less than the best."
Inside Brian's Treatment
The old expression, "anything worth having is worth waiting for," describes Brian's thoughts on his final results. When you see makeovers on television, you naturally or initially may assume that your makeover will magically occur within an hour (and with limited commercial interruptions — remember, this is your dream makeover). However our goal, returning Brian to complete health and function, could not occur overnight. It required the following phased approach.
Phase 1: The Initial Consultation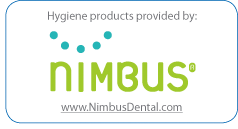 During this phase, Dr. Sutton examined Brian's mouth, obtained the necessary x-rays, conducted an oral cancer screening, and provided Brian with the original Nimbus® toothbrush. He also instructed Brian on flossing and brushing techniques to address some minor gingivitis (gum inflammation). "Nobody had ever physically instructed me in proper brushing and flossing techniques. I never realized that using a soft, properly contoured brush and a gentle technique was that important. It made a huge difference."
Phase 2: Tooth Extraction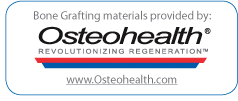 Our Dear Doctor team of specialists had their work cut out for them when extracting a hopeless tooth caused by a failed root canal that had been treated many year ago. By using BioOss® collagen bone grafting material manufactured by Osteohealth®, Brian's bone volume in his tooth's socket was retained, thus stopping the natural resorption or melting away process.
Phase 3: Dental Implants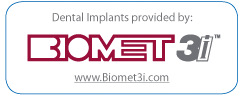 Dental implants are one of the greatest technological innovations in dentistry in the last century. And Brian needed several of them to replacing his missing back teeth so that he could finally chew on that side of his mouth again. Brian received three Biomet 3i dental implants, a world-renowned and well researched implant system with many cosmetic and functional advantages.
Phase 4: Porcelain Veneers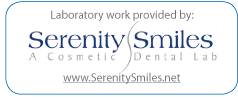 Before selecting the perfect veneer color, Dr. Sutton bleached Brian's teeth so that they had a new, brighter and whiter base from which to start. After working with Dr. Sutton to make his decision, his beautiful, new, custom veneers were artistically hand sculpted and provided courtesy of Serenity Smiles, one of the premier, cosmetic dental labs in the country.
Phase 5: Porcelain Crowns
Brian's restoration included porcelain crowns attached to his implants via porcelain abutments, achieving the most desirable and natural tooth-like cosmetic result. Brian received his superior crowns thanks to Serenity Smiles. Dr. Sutton also replaced all of Brian's old metal fillings with tooth-colored material so that even when Brian opens his mouth wide, you see nothing but beautiful, naturally white teeth and the appearance of never having had any cavities.
A New Outlook
Prior to the smile makeover, Brian had never really verbalized how depressing it was to have missing teeth and problems chewing food. Winning this contest restored Brian's ability to enjoy eating the foods he loves with an attractive, fully functioning mouth. Perhaps Brian summed it up the best when he said, "My smile makeover allows me to be myself. My smile is back with beautiful, natural veneers. I am no longer self-conscious about smiling too wide and exposing my missing teeth."
Brian summarizes his overall experience as follows. "I can't thank Dr. Wayne Sutton, Nimbus Dental, Serenity Smiles, Osteohealth, Biomet 3i, and all of the other people behind the scenes for their expertise, artistry, and gift of my new smile. I am especially grateful to Dear Doctor for creating and sponsoring the contest. I don't think I received one procedure or treatment that I hadnít read about in Dear Doctor magazine. They explained everything and in a way that everyone can understand. I felt confident about making decisions with Dr. Sutton and the team. I also am thankful that I was attracted to Dear Doctor's magazine in a reception area for me to review and take with me. Otherwise, none of this would have been possible."
A Final Note From Dear Doctor
Could you be our next winner? You will never know unless you enter to win the smile makeover. You can increase your odds of winning by entering once each day up until the cutoff date for each contest. Enter today and often. And who knows, you could be our next winner!
In addition to Brian's heartfelt thanks and praise, Dear Doctor wishes to thank Dr. Wayne Sutton, his staff, and all of our Dear Doctor dental professionals for making this contest possible. We also want to acknowledge all of our contest sponsors for their invaluable contributions throughout this smile makeover. Their professionalism, expertise, artistry, and commitment to the dental profession truly makes them role models. This fact clearly denotes why they are so well respected and sought out within their specific areas of expertise.