Dental Library The Largest & Most Trusted Online
Reap the rewards of an educated patient-base!
The Dear Doctor Digital Library is personalized for your
office and can easily be added to your existing website
providing the very best in dental patient education.
Set-up is quick and easy... Get started today!
Buy Now
Over 1,400+ Pages of Searchable Dental Patient Education
In-Depth Feature Articles
With beautiful design and colorful graphics, features articles are written by the country's leading dental acamedicians and professionals - offering up-to-date, accurate information on all aspects of dentistry.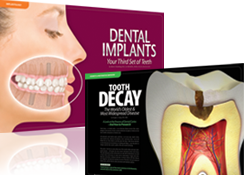 "Quick" Consults
Dear Doctor's easy-to-understand, consultations are dedicated to educating patients by answering their questions with informative, easy-to-read articles covering all topics related to dentistry.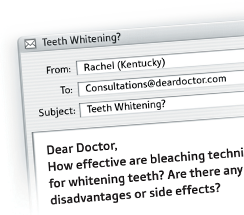 Fun "Did You Knows"
Smile-inspiring Dental "Did You Knows", fascinating facts and amazing stories encourage good oral health and engage readers with quick quotes and useful information that they can pass along to their friends.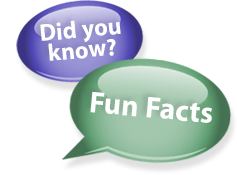 Celebrity Interviews
Celebrities of Pop-Culture, Sports, Music and Entertainment have discussed their dental history with Dear Doctor. Find out what makes them smile and how they keep their "Hollywood Smiles" looking good while the cameras are rolling.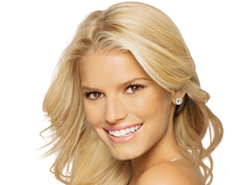 Easily Added to Your Practice Website
Dear Doctor provides powerful and interactive elements which can be easily added to your website.
Powerful Search Bars
Google-like search bars can be sized, colored and placed on your homepage or any other page of your website.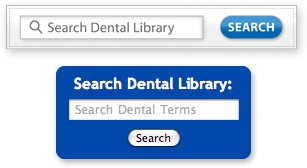 Interactive Homepage Banners
Eye-catching interactive banners can include a celebrity presence and news outlets that have profiled Dear Doctor.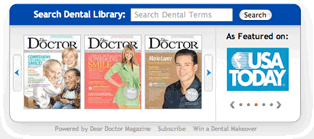 "Dental Library" Pages
By simply adding a new "Dental Library" link to your main menu, your site can include the most popular articles in dentistry.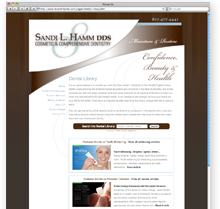 Brand Your Practice in Your Community
No matter how viewers choose to get into the Digital Library, they'll know where to turn should they need the help of a dentist. Your portrait or practice logo are on every page along with your contact information… And with one click they can return to your site or contact your office via phone call or email.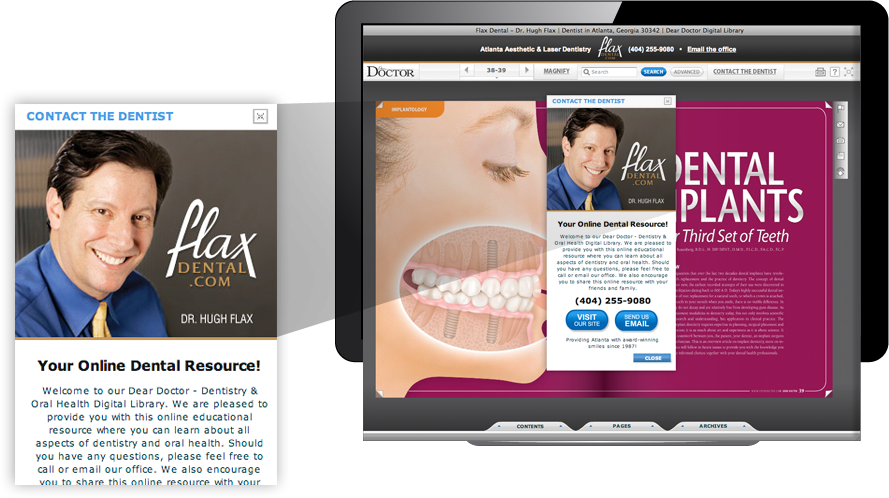 The Most Powerful Search Engine in Dentistry
Advanced search options allow patients to enter a keyword in the search-bar or choose from a list of "Hot Topics", "Common Concerns" or view articles by the "Departments of Dentistry". When a topic is clicked, the library quickly goes to work – pulling all feature articles, short answer consultations and even dental did you knows into a Google-like results list.

The Uses are Immeasurable
The Digital Library has many uses. Your office can print out entire articles with a click of a button - or email specific articles to certain patients before or after treatment. Use the diagrams, photography, case studies and illustrations to better explain upcoming procedures and/or encourage patients to read articles chairside as they await treatment.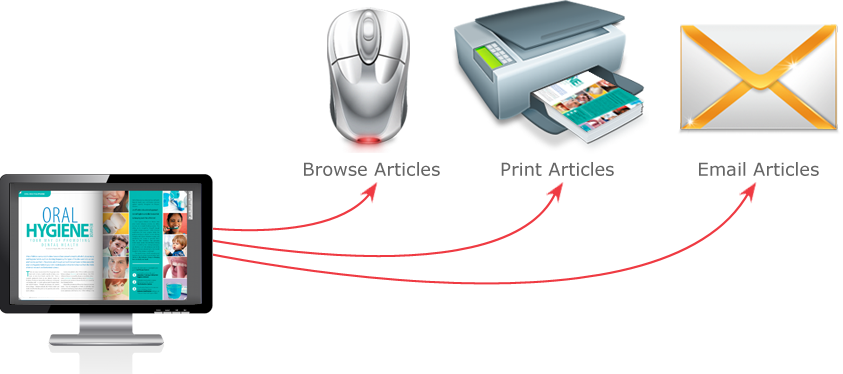 Leverage the Power of Social Networking
Chances are, you or someone you know uses social networks - like Facebook, Delicious or Twitter.
Leverage the power of social networking by inviting patients to share the content of YOUR Digital Library.
When they do, your name and contact information will also be shared with your community.

Dear Doctor Marketing Solutions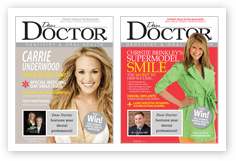 Dear Doctor provides innovative, effective and comprehensive marketing solutions above and beyond the digital library including the highly regarded Dear Doctor - Dentistry & Oral Health magazine.
Learn More