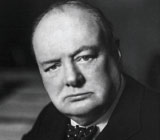 A set of partial dentures was auctioned off on July 29, 2010 for the incredible price of approximately $24,000. Of course, these were not your everyday dentures, having often been referred to as the "teeth that saved the world." The gold-plated upper dentures, one of several sets, were worn by Prime Minister Winston Churchill during his famous World War II radio broadcasts.
From early childhood, Churchill had many problems with his teeth and gums that required extensive dental care. He also had a distinctive lisp which caused trouble when pronouncing the letter "S". The dentures helped, enabling him to speak clearly over the radio. Not wanting his already famous "slurry" speech to be altered, the dentures were made purposely to never quite fit securely against the roof of his mouth, according to the Royal College of Surgeons. Churchill had such high regard for his dentist that he nominated him for knighthood. Likewise, the dental technician who made his dentures became equally important to him. The technician, Derek Cudlipp, made three sets of identical dentures that Churchill used during the war on a rotating basis because he would often flick his dentures across the room when he became frustrated and impatient with the war effort. As his personal dental technician, Cudlipp became indispensible to Churchill who actually prevented him from joining the army so that he would always be available to fix or create new dentures as the need arose, guaranteeing that he would always sound the same during his radio speeches.
The dentures were auctioned on behalf of Nigel Cudlipp, the son of the man who created them. A British auction house had estimated that the teeth would sell for a maximum of $7,800, but they actually fetched over three times the amount. In an electrifying atmosphere, bidders drove up the price all wanting to own a small bite of history. It seems fitting that the buyer was a British and a collector of Churchill memorabilia; he also owns the microphone said to have been used by Churchill to announce the end of the war in Europe in 1945.