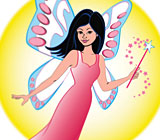 Dear Doctor asked kindergarten and first graders what happens to their teeth after the tooth fairy takes them.
They responded as only children can! They said...
she uses them to make teeth for old people!
she makes bracelets and necklaces with them!
she has the power to turn them into money!
she gives them to people who don't have any teeth!
they become stars in the sky!
she builds an ivory castle with them!
she grinds them into fairy dust to give her the magic she needs to fly!
she gives them to new babies who are ready to grow teeth because I'm getting big teeth now!
she gives the good teeth to dentists to make false teeth!
she grinds them up and makes sand for the beach!
she sands them real smooth and makes pearl necklaces!
she gives them to hockey players because they really need them!
she has the biggest tooth collection ever!
Every child needs a toothfairy to dream about!
You can become a toothfairy to give a child a healthy smile! Dear Doctor magazine encourages you to support the National Children's Oral Health Foundation and The Toothfairy Campaign!