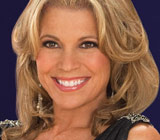 The latest issue of Dear Doctor – Dentistry & Oral Health is now available and features Vanna White, co-host of America's favorite game show, Wheel of Fortune, on its cover! In our exclusive feature article, Vanna discusses her career, her two children as well as some of her tips for maintaining her internationally acclaimed smile.
This issue also includes our most recent endorsement from the prestigious International Congress of Oral Implantologists (ICOI). It is the fourth professional association to endorse our magazine — specifically our Implantology department — and further illustrates our commitment to providing you with easy-to-understand, unbiased and evidence-based patient education that will never be influenced by advertisers. Look for the article, "Sinus Surgery – Creating Bone for Dental Implants Out of Thin Air" in this issue.
Additionally, we have expanded this issue to include a new section, "Facial Health, Beauty & Aging." This new section will continue our tradition of providing you with entertaining yet insightful content that is focused on hot topics within the billion-dollar industry of health and beauty. We are confident that it will quickly become a "must read" for anyone interested in combating the aging process while obtaining optimal facial health.
Other topics to round out this issue include: