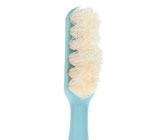 What's the big deal about a used plastic toothbrush with a broken rubber tip and the usual signs of wear? Plenty when it's been to the moon and back with the second man ever to walk on the lunar surface. Recently the toothbrush belonging to Apollo 11 astronaut Buzz Aldrin sold at auction for the astronomical sum of $22,705 — more than double the opening bid of $9,000.
The light-blue S-19 "Tooth Tip" model made by Lactona, a Dutch manufacturer of oral hygiene products, and accompanying plastic holder with a blue Velcro closure, came with copies of two pages from the Apollo Operations Handbook showing information on the contents of the oral hygiene set. Also included was a letter of authenticity signed by Aldrin who attested: "It is one of only two toothbrushes taken to the lunar surface during the first moon landing" on July 20, 1969. The letter indicates that blue was Aldrin's "individual designator color for personal flight equipment" and that he used the brush both in Command Module Columbia, piloted by Michael Collins, and Lunar Module Eagle, which Aldrin piloted to and from the lunar surface with mission Commander Neil Armstrong.
The price of the dental device may have you seeing stars, but you might pay that and more for dental treatment if you neglect to use your own toothbrush regularly!