The latest iPhone app for parents and kids pairs the fun of losing a tooth with important dental tips from the expert herself. The Tooth Fairy Beacon app transforms mobile devices into a magical portal giving kids a peek into the Tooth Fairy's world. Exciting animation, sound effects and narration by the Tooth Fairy adds a sense of wonderment to losing a tooth [1]. The app includes a personalized, gender specific experience for boys and girls, oral hygiene tips from America's Toothfairy [2], a personalized message from the Tooth Fairy, and a tooth scanner and beacon. The app also features a digital postcard that allows users to share the news of a lost tooth with a personalized message to family and friends sent via email, text, Twitter or Facebook.
"One of the toughest parts of my job is taking care not to disturb light little sleepers when removing a lost tooth from under the pillow," said the Tooth Fairy. "This beacon virtually eliminates this problem by having children leave their teeth on or near their parent's iPhone or iPad. Not to mention, it gives me the chance to communicate directly with the children I love so much — helping them to understand why it's so important for them to take good care of their teeth and gums."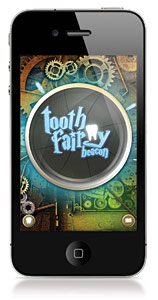 The app was developed by Digital Apparatus, a mobile entertainment company, in partnership with the Tooth Fairy and National Children's Oral Health Foundation (NCOHF).
NCOHF is America's Toothfairy®, a national nonprofit organization dedicated to eliminating America's number one chronic childhood illness — pediatric dental disease. Though almost completely preventable, every day more than 4 million children suffer from dental pain so severe they have trouble eating, sleeping and learning. The NCOHF Affiliate network of community-based oral health programs provides at-risk children with ongoing preventive, restorative, and educational oral health care in an effort to permanently break this cycle of disease. Every download of the Tooth Fairy Beacon app, available on iTunes for $1.99, will trigger a donation to help NCOHF Affiliates reach more children with the care they desperately need.
Fern Ingber, NCOHF president and CEO, stated, "We are grateful that Digital Apparatus, a group that shares our commitment to eliminating America's #1 chronic childhood illness, has chosen NCOHF as the charitable beneficiary of the Tooth Fairy Beacon app. Not only does every download of the Tooth Fairy app help support vital NCOHF oral health programs, but Tips from America's Toothfairy included in the app reinforce our goal to teach all families the importance of proper oral care [3] for healthy futures."
To learn more about the Tooth Fairy Beacon and America's Toothfairy, visit www.ToothFairyBeacon.com [4] or www.AmericasToothfairy.org [5].