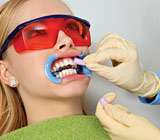 Teeth whitening may be the most popular cosmetic dental procedure available today — and perhaps the most economical, too. While it's possible to use over-the-counter products to lighten your teeth, these solutions aren't as powerful as those provided at a dental office. Plus, you won't receive the benefits of professional treatment and supervision. What should you expect from our specialized teeth-whitening procedure?
First, you'll receive a thorough oral exam, to make sure that any discoloration of your teeth isn't due to a dental problem that needs another kind of treatment. Next you'll have a choice of two teeth whitening methods: In-office whitening or take-home trays.
In-office treatment uses the most highly-concentrated whitening solutions, and offers the most dramatic results. Your teeth may be lightened from two to eight shades after a single one-hour treatment! While you're being treated, your dentist will carefully protect and monitor sensitive areas of the teeth, gums and mouth.
In take-home whitening, your dentist will first make a cast of your teeth, which is then used to custom-fabricate a set of flexible mouth trays. You fill the trays with whitening gels we provide, and wear them at home for about an hour at a time. You'll get nearly the same results, but the process may take a few weeks. Interested? Learn more by reading the Dear Doctor magazine article "Teeth Whitening Questions Answered."