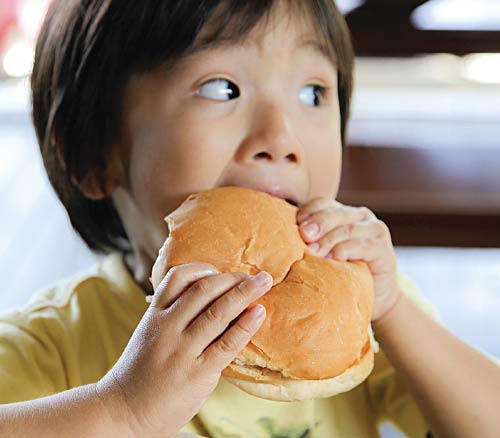 Want to order a kiddie meal from one of the popular fast-food restaurants? You'll see several main-dish choices, like a hamburger, cheeseburger, or chicken nuggets, plus a side dish and beverage. But there's one thing you won't see listed on the menu any more: fountain drinks, like soda.
Bowing to the demands of consumers and advocacy groups, fast-food restaurants have been quietly removing soda from the menu boards and online listings for their kids' meals. In March 2015, Burger King became the last of the "big three" chains to stop promoting sugary drinks for kids. Wendy's and McDonald's had removed sodas from their kids' menu listings in prior months.
It doesn't mean fountain drinks aren't available as part of the kiddie meal package — but you'll have to ask for them specifically. Instead of soda, the restaurants are displaying images of reduced-fat white or chocolate milk, bottled water, and 100% juice. And that's a good thing, according to watchdog groups like the Center for Science in the Public Interest.
"It will help children eat better now, as soda is the leading source of calories in children's diets," noted Margo Wootan, the group's director of nutrition policy. She said that not promoting soda "helps to set kids on a path toward healthier eating in the future," and keeps them from getting into the habit of having soda at every restaurant meal.
The focus on soda couldn't come at a better (or perhaps, a worse) time: Child obesity rates have soared to near 18 percent in the past few decades, an increase blamed largely on poor diet and inactivity. Meanwhile, a study by the Harvard School of Public Health showed that children's daily calorie intake from sugary beverages rose by 60% in recent years. Obese kids have more risk factors for heart disease, diabetes, bone and joint conditions, sleep apnea, and psychological or social problems.
And then there's tooth decay: the most common chronic disease of childhood across the world. When decay-causing bacteria process sugar, they release acids that produce cavities. That's why reducing or eliminating sugary drinks from the diet helps prevent tooth decay. Of course, chocolate milk and even 100% juice are also high in sugar, but promoting healthier beverage options at popular fast-food restaurants is an excellent first step. Next, perhaps they could start offering toothbrushes as prizes in kiddie meals…
Read more in: