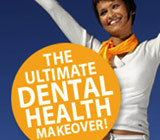 If you haven't yet entered Dear Doctor – Dentistry & Oral Health magazine's latest smile makeover contest that ends on May 31, 2010, you are missing out on the opportunity to win up to $35,000 (US) in restorative and cosmetic dentistry. Imagine finally being able to look into a mirror and smiling back at the dazzling white smile of your dreams. It may seem to good to be true; however, it could become your reality—just like it did for Brian, the contest's previous winner.
Brian was missing some teeth from his football days years ago and now was struggling to keep yet another tooth due to a root canal procedure that had not delivered healthy results. He also had a few chipped teeth and moderate discoloration. And just like millions of Americans, he had always planned on maintaining optimal health, but as the married father of small children, it seemed his hard-earned money had to pay other higher prioritized bills first. It was never the "right time" to address his oral health properly, nor was there ever enough money. But all of that changed after he entered and won Dear Doctor's first makeover contest. Now, Brian has a fully functioning mouth with a stunning, natural smile.
If you relate to Brian's story, or know someone who can, let Dear Doctor provide you with a free solution. And to make this offer even sweeter, you can enter once daily until the contest ends on May 31, 2010 to increase your chances of winning. As always, Dear Doctor wishes you the best of luck and would like to thank all of our contest sponsors and Dear Doctor dentists for making this wonderful opportunity possible.