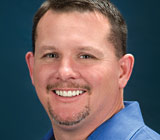 When it comes to a smile makeover, nearly everyone has something they would like to address. However, for Brian R., the first contest winner of Dear Doctor–Dentistry & Oral Health magazine's 1st Ultimate Dental Health Makeover Contest, this wish is now a reality that has surpassed his imagination.
Dr. Wayne Sutton, a well-known Rohnert Park cosmetic dentist, led the Dear Doctor-assembled group of highly trained dental experts for Brian's makeover. "My staff and I pride ourselves on providing our patients with the best individualized care possible using the latest techniques available," said Dr. Sutton. "It is also critical for us to establish a great rapport with our patients so that we understand their concerns, worries, challenges, as well as their vision for their smile makeover. This is especially true when it comes to cosmetic and restorative dentistry."
Equally as important as the skills of the dental team are the top products the makeover team used that included bone grafting materials courtesy of Osteohealth; dental implants from Biomet 3i; porcelain veneers and crowns by Serenity Smiles; and oral hygiene products from Nimbus Dental.
Prior to the makeover, Brian had never really verbalized how depressing it was to have missing teeth and problems chewing food—a problem that exists no longer. Winning this contest restored Brian's ability to enjoy eating the foods he loves with an attractive, fully functioning mouth—a fundamental goal established by Dr. Mario Vilardi, president and publisher of Dear Doctor. "Restoring oral health as well as function and cosmetics to our smile makeover winner was paramount for us here at Dear Doctor. Yes, porcelain veneers can dramatically change a person's smile and self-confidence; however, our goals are greater than just the cosmetics. We truly want to change our winner's oral health and life."
Perhaps Brian summed it up the best when he said, "My smile makeover allows me to be myself. My smile is back with beautiful, natural veneers, and I no longer am self conscious about smiling too wide and showing missing teeth. I am free to be myself."
For more information or to enter for a chance to win, visit Dear Doctor's smile makeover contest entry page at www.DearDoctor.com/makeover. To read Brian's complete makeover story and see before and after photos, visit the smile makeover contest results.