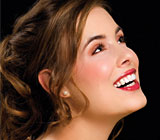 Your wedding photos will capture the memories of your special day that you will cherish forever. Flashing your best smile is a must. So how can your best smile be captured every time? Following are a few tips that you can try that may help to ensure that you love those life-long lasting photographs.
Professional photographer Michael Polito offers Dear Doctor magazine some of the advice he would offer every bride and groom on their wedding day. First and foremost, the most important advice he can provide you with is for you to feel totally comfortable with your photographer and your images will reflect that.
Slightly Tilt Your Head
Celebrities know how to flash their perfect smile for the cameras. They have studied exactly how to pose and angle their heads to get the most attractive smile possible. It is usually recommended to tilt your head slightly to the camera because most people have a-symmetrical faces. This also explains why one side of your face may photograph better than the other.
Moisten Your Teeth Just Before the Photo is Snapped
A quick swipe of your tongue over your teeth just before the photograph is taken can help your teeth twinkle and add brightness to the photo. Celebrities often place Vaseline on their teeth when they are expecting to smile repeatedly to help their teeth shine brightly and to also help prevent their lips from sticking to their teeth.
Smile With Your Teeth Slightly Parted
When your teeth are slightly parted during your smile, a more natural smile is conveyed. A very rigid appearance comes across when your teeth are together.
Wear A Creamy Lipstick
A creamy lipstick can accentuate your lips and make your teeth look brighter.
Practice Makes Perfect
Practice smiling in front of the mirror to ensure that the smile you are about to show off in your wedding day photographs is the smile that you like. Learning how to accentuate your smile is a skill that can be developed. Most importantly, don't force your smile — relax and have fun.