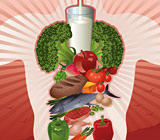 Pretty much everyone knows that brushing at least once a day helps to keep teeth clean and healthy. But your hands wield more power over the condition of your oral health than you might realize, especially if they are holding a piece of dental floss as opposed to a doughnut late at night.
Proper oral hygiene requires a delicate balance between what you do and what you do not do with your hands. For example, using dental floss daily after brushing, by wrapping it around the surface of each tooth and moving it up and down, is a very positive preventative method, and one that should be seamlessly incorporated into your life. Conversely, snacking between meals, and especially late at night, is a very bad behavior that can greatly compromise your oral health. The more times your teeth are exposed to the acid-producing bacteria found in many sugary snacks and those that contain high amounts of refined carbohydrates, the higher your risk for tooth decay will become.
Your hands can also become dangerous weapons if you exert too much force while brushing. Overzealous brushing can cause damage to the gum tissue, causing it to recede.
To learn more about a wide range of oral health topics and the proper way to care for your teeth, please read the following Dear Doctor magazine articles: