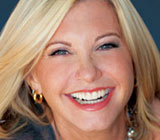 If you are one of the many who fell in love with Oliva Newton-John way back when she played "Sandy" in the move Grease, you'll be happy to know that the 63-year-old singer is as radiant as ever — even after battling breast cancer. "I took good care of myself with diet, exercise, meditation and positive thinking to get myself through it," the multiplatinum superstar says in an exclusive interview published in the latest issue of Dear Doctor – Dentistry & Oral Health. "I am happy to say that this year marks my 20th year as a cancer thriver." Olivia also shares some healthy cooking tips and updates us on her latest movie — in which she swings from a chandelier!
You might think that the water you buy in a bottle is better than the water that comes out of your tap. But is it? Analysts from the Environmental Working Group, a highly regarded not-for-profit research and advocacy organization, think that consumers have a right to know what's in those pricey plastic bottles that we Americans buy at a staggering rate of 85 million a day. So they undertook a detailed study of major bottled water brands. Their findings, detailed in Bottled Water: Health Or Hype?, may surprise you.
Dentistry can do amazing things to improve the way you look, feel and function. But how does a dentist go about getting the best possible results for each individual patient? There's actually a lot more that goes into the process of planning cosmetic and restorative dental treatment than you might think. Renowned cosmetic dentist and educator Dr. John C. Kois walks us through the steps in Successful Dental Treatment: Getting the Best Possible Results. This article is followed by a real-life example of a woman who benefited from a carefully planned smile makeover that she says has held up "super-well" over the years.
What do you know about your own saliva? Well, you probably realize it helps you chew and swallow, and that it makes your mouth feel moist and comfortable. But did you know it can actually reveal important information about your state of health and disease? In Secrets of Saliva, one of the country's foremost experts on salivary diagnostics explains how we are entering a new era in which this ordinary fluid will help us detect the deadliest forms of cancer before it is too late.
Other topics covered in this issue include: