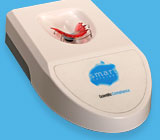 Thousands of dollars after orthodontic treatment (braces) — they're finally off, the smile beautiful, the bite perfect. All you need to do is wear your retainer to ensure the great result stays that way and make sure the investment pays off. Your child needs to wear his retainer. Short of following your kid around 24 hours a day what can you do? Did they wear it... Didn't they wear it? The answer is the SMART retainer.
Get SMART
New from "Scientific Compliance" — Microsensor technology embedded in the retainer — frees everyone from judgment and guilt — the device essentially speaks for itself.
There is a direct correlation between keeping teeth straight after the braces are removed and the amount of time retainers are worn. But how can you make sure the retainer is in use enough to give your teeth the best chance for success? How do you know the amount of time the retainer is actually in use? Here's how: A small SMART retainer "microsensor" is embedded in the retainer and used in the same way any other retainer is used — there's no difference.
Except - the SMART retainer utilizes medical device technology to gather and store retainer use data. When the user returns to the orthodontist, the SMART retainer is placed on a special reader. The reader uploads the retainer use data and provides an accurate record to a computer. This helps the doctor make the best recommendation for retainer wear. And for the orthodontist or dentist responsible for the treatment, reading it is a snap. The program is easy to use, and most importantly, foolproof — eliminating the age old debate of "did they wear it... didn't they wear it."
The SMART retainer is a low cost, high-tech solution that is becoming the standard of care for orthodontists, placing the responsibility of compliance of retainer use where it belongs, with the patient.
Dr. Marc Ackerman, Scientific Compliance Chief Scientific Officer, summarizes as follows. "In my opinion, the SMART retainer will revolutionize compliance in orthodontic retention. As a matter of fact, I can't think of any reason why an orthodontist wouldn't want to offer this low-cost, high-tech solution to their patients. It's state of the art technology addressing one of our profession's biggest problems."
See your orthodontist or general dentist or go to the SMART retainer website at www.scicomply.com for more information.