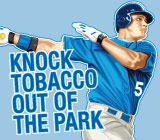 Recognizing what powerful role models they are to young fans, Major League Baseball players agreed to a new contract that limits their use of chewing tobacco. The 2012 baseball season is the first ever to be played with restrictions on smokeless tobacco — which, unfortunately, has been used on playing fields since the game's earliest day.
According to the new five-year contract, players, coaches and managers will no longer be able to carry a tobacco tin or package in their uniforms at games or any time that fans are in the ballpark. They are also barred from using smokeless tobacco during televised interviews, team-sponsored appearances, autograph signings and other events where fans are present. They can, however, continue to chew it while they play as long as those familiar round tins are not visible in their back pockets.
The restrictions were championed by Baseball Commissioner Bud Selig and an alliance of public health advocacy groups known as the "Knock Tobacco Out of the Park Coalition," which includes the American Dental Association and Oral Health America. The coalition members released a statement praising these limits as a good first step, while renewing their call for a complete ban on chewing tobacco during Major League games.
"This agreement marks the first time that the league and the players have recognized it is time to break this unhealthy addiction," the coalition said in its statement. "We urge individual players to go further than the agreement, and completely eliminate their use of smokeless tobacco at games."
Far from being a safe alternative to smoking, chewing tobacco is a direct cause of oral cancer, other oral health problems, and nicotine addiction. A 2009 survey by the federal Centers for Disease Control and Prevention found that as many as 15 percent of high school boys use smokeless tobacco. Youth who chew tobacco are more likely to become smokers, according to the CDC.
The new baseball contract also calls for big-name players to take part in a youth-oriented anti-tobacco advertising campaign, a move applauded by the "Knock Tobacco Out of the Park Coalition."
"At a time when the tobacco industry is spending record sums to promote smokeless products and hook a new generation of youth, we are pleased that Major League Baseball and big-league players will join forces on a nationwide public service campaign on tobacco use that is aimed at youth, and particularly at young baseball players," the coalition said.
The group noted that MLB's new rules will only be effective if enforced. Parents and others who are concerned about tobacco use by kids are urged to report any violations they spot during games by going to the coalition's website at www.tobaccofreebaseball.org.