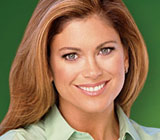 After skyrocketing to fame as the cover model on Sports Illustrated's 25th Anniversary Swimsuit Edition in 1989, Kathy Ireland parlayed her keen sense for business into the creation of her own billion dollar design firm. She currently balances her time between running that empire, mothering her three children and writing books that provide guidance for other mothers and their children. These wonderful attributes, along with her past experiences in the dental chair, has landed her on the cover of yet another magazine — Dear Doctor - Dentistry & Oral Health's latest issue. She attributes her still radiant smile to some much-needed restorative and cosmetic dental work and her fastidious oral hygiene routine.
This issue also includes a glimpse into the future of dentistry in a story that focuses on the scientific and technological discoveries that will enable amazing new treatments and outcomes in the coming years. The article covers several possibilities, including the ability to use stem cells to grow a tooth to replace one that is missing and the likelihood that dentists can someday use information about a person's genetic makeup to protect babies from tooth decay.
You will also see the final results for Debra, the winner of our second Ultimate Dental Health Makeover Contest, in this issue. Debra's smile makeover was spearheaded by Dr. Jessica Logan, and the process required a variety of treatments including periodontal therapy, orthodontics, implant therapy and restorative cosmetics, to name a few.
Other topics covered in this issue include: